LA VIRGEN, Heredia — When I was shown to my room at the Tirimbina Biological Reserve in Sarapiquí, my host pointed to a shared kitchen/dining area and said that was for researchers — apparently inviting me not to go there.
Little did he know I'm a researcher too, though I specialize in the investigation of Homo sapiens.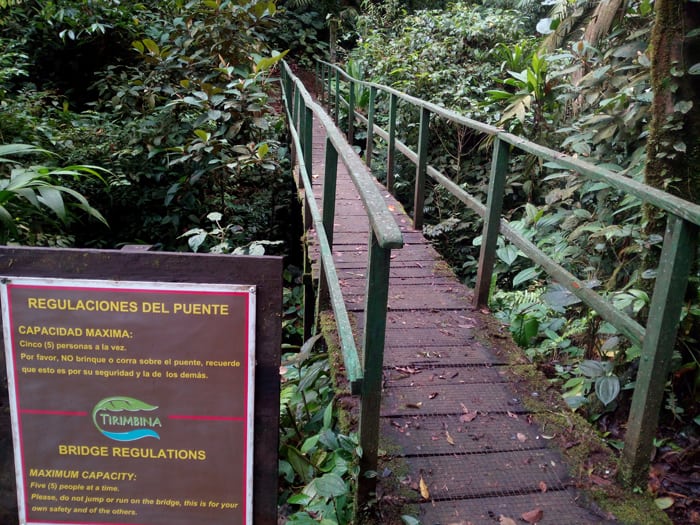 So the next day I walked over to the kitchen area and struck up a conversation with a young Tica washing her dishes there, and I asked if she was a volunteer.
"No, I'm a researcher," said Melissa, who is working on a thesis project for the University of Costa Rica on arboreal mammals. I refrained from excusing myself for invading her kitchen.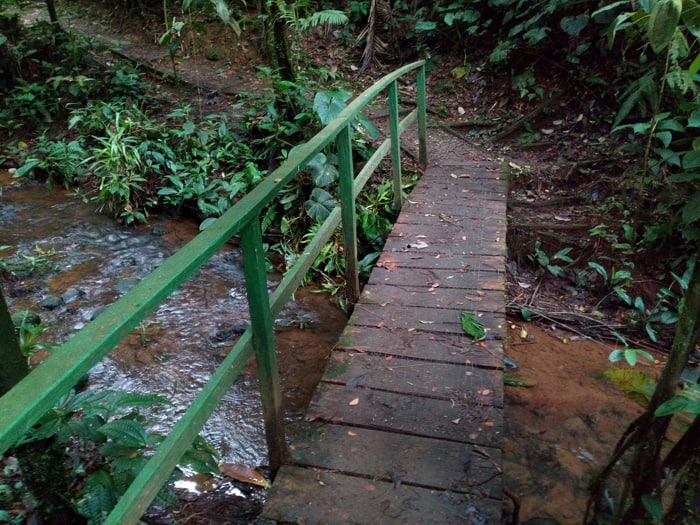 Melissa was very friendly, explaining that she sets traps in the forests of Tirimbina's private nature reserve to lure arboreal mammals into cages with bananas. She specializes in the wooly opossum but has also caught anteaters, raccoons, coatis and kinkajous.
I told her I saw a wooly opossum at Drake Bay. She showed me photos and videos of her prize catches, some of which would break the needle on a Cute-o-Meter.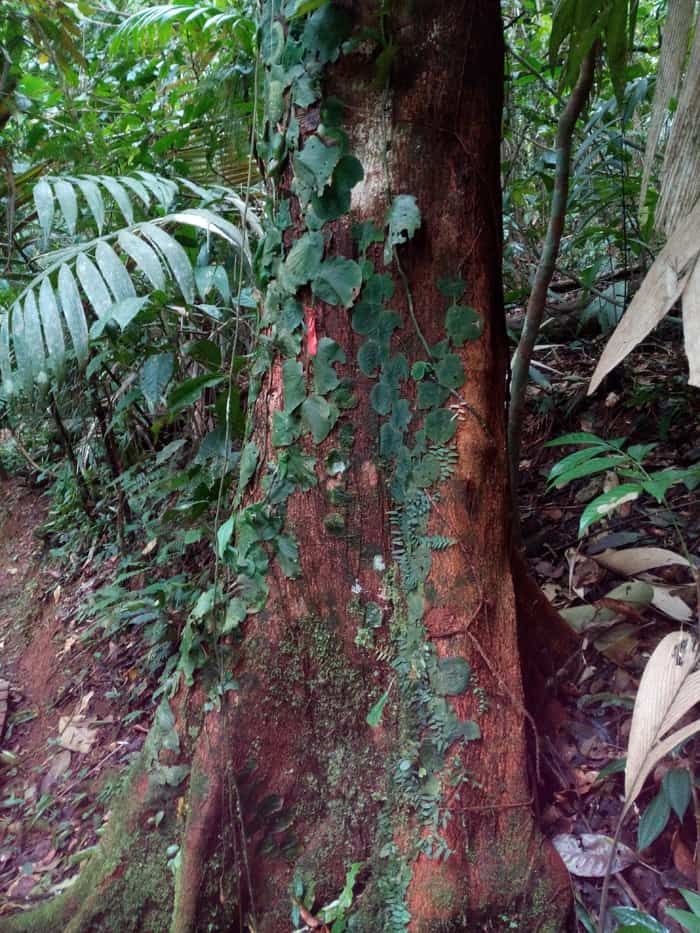 What does she do when she catches them? She lets them go. So what's the point? The point is, she's going to get a very impressive biology degree from UCR.
Melissa explained that her project is focused on the home range of arboreal mammals in this region. She goes out every morning about 5:30 to see what has walked into her traps.
She usually just determines the sex of the animal, takes a few notes and releases it. She has authorization to handle the woolly opossum, with an assistant, but other animals she just lets go.
She's more or less conducting a very selective census of the arboreal mammals of this area — but since woolly opossums don't fill out questionnaires, she has to catch them in order to count them.
I asked if any of these adorable kinkajous and opossums, angry from being cooped up all night, ever decide to attack her. She said no, fortunately, but sometimes the animals do get very angry.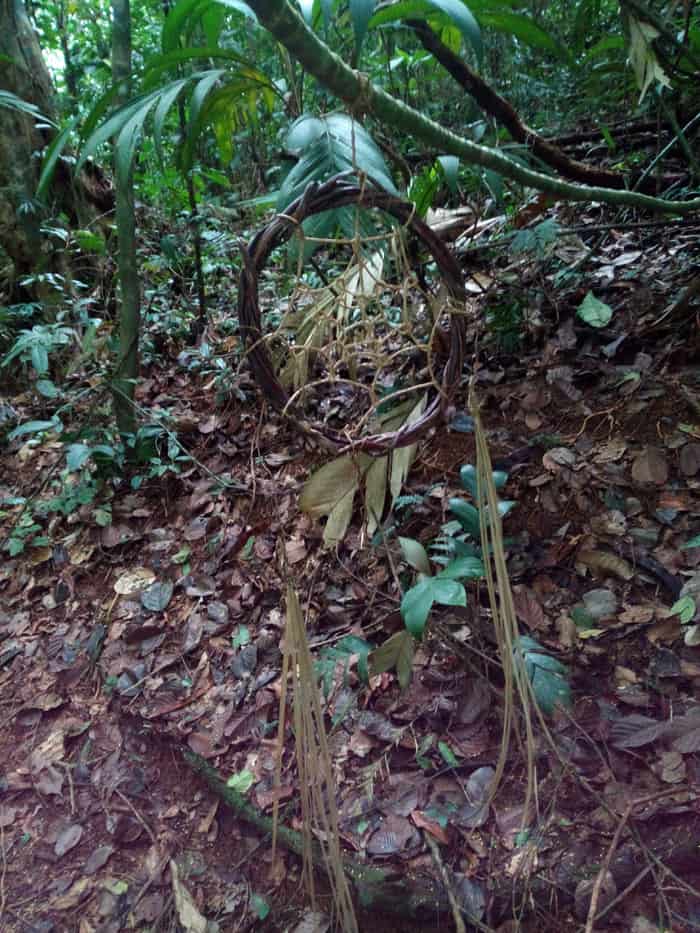 Tirimbina, on the highway between Puerto Viejo de Sarapiquí and La Virgen, is a 345-hectare (850-acre) private nature reserve that bills itself as an "educational, scientific and ecotourism destination," and it is all of that.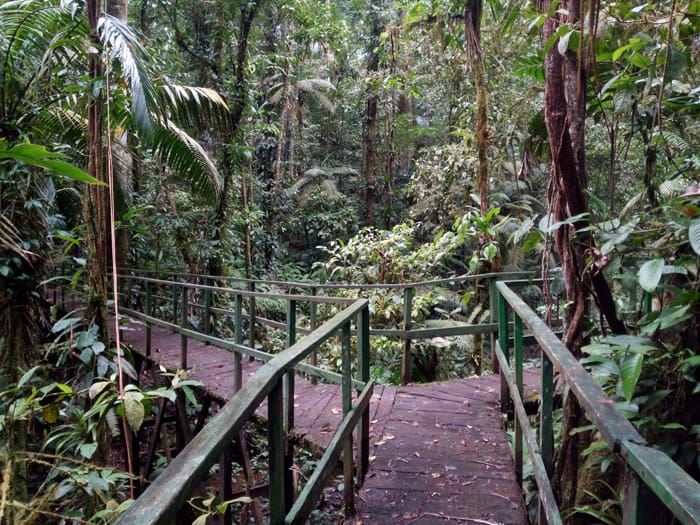 I went on a solo hike for about an hour on the Canopy and Ceiba trails (910m/3,000ft. and 700m/2,300 ft. respectively), skipping two longer trails because it looked like rain.
The coolest part comes first: crossing the three-tower suspension bridge over the Sarapiquí River. A Tirimbina manager named Kathia told me some call it the longest suspension bridge in Costa Rica — 264m — but she admitted that the crown is disputed.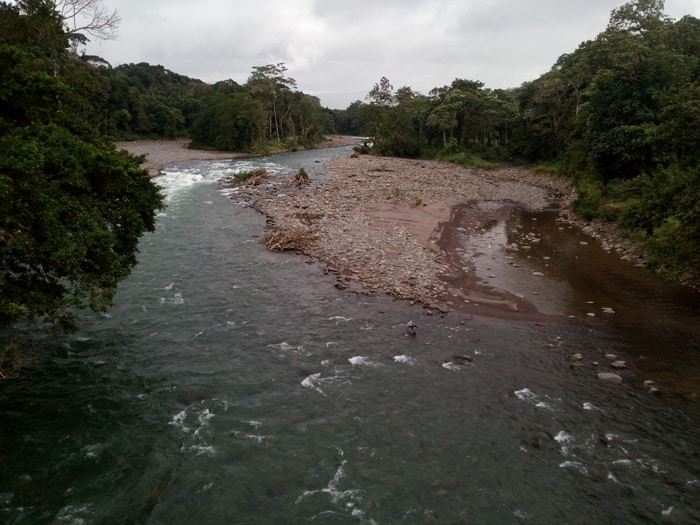 Walking this bridge was a delight, as it was just the right mix of sturdy and scary. I played a game with myself: Stop looking ahead at the long, enclosed bridge and look straight down at the fatal drop below. I got butterflies every time. But the bridge is so long, I had lots of time to practice.
The trails were well-maintained and easy to walk, and the woods were lovely, dark and deep. But amazingly I didn't see a single animal — even an insect — except one little bird from the bridge. I asked a German couple who had just done a longer hike if they saw anything interesting, and they said, "A couple of birds."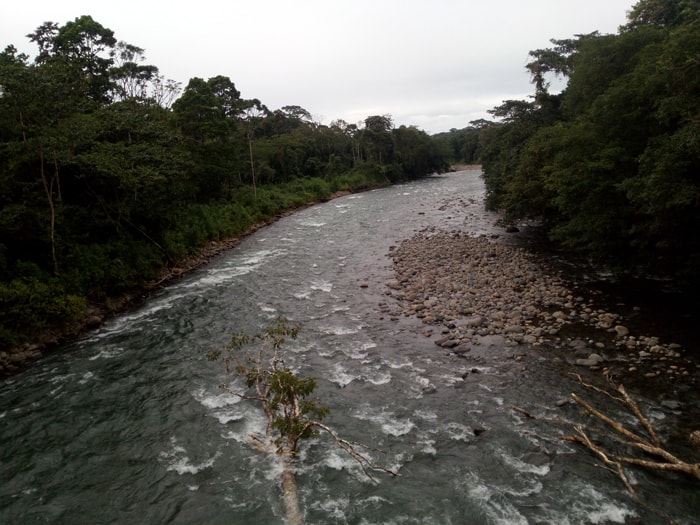 I'm sure I would have seen more with an experienced guide, but I'd been on a guided hike yesterday and wasn't in the mood.
As for the accommodations, I paid $100 for one person for two nights with a shared bathroom. Breakfast was included, but I made a reservation for dinner also, for a pricey $16.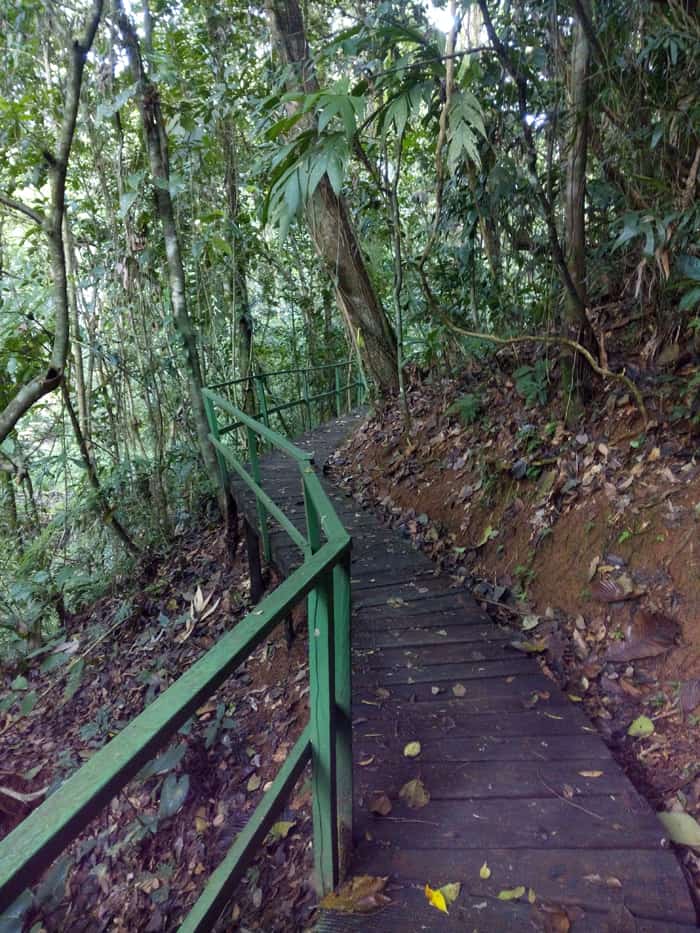 I saw no evidence that anyone but me used the shared bathroom. Also, I couldn't find a mirror, even in the bathroom, so I used my phone to take a look at myself. (I wish I could go back 30 years and tell my younger self: "In the future, you will pull a device out of your pocket one-third the size of a pack of cards that contains the sum of all human knowledge, and you will use its high-resolution reverse video to see if you have food on your face.")
My room had two bunk beds, a desk, a bookshelf and a fan. The honey-blond wood on three of the walls and the ceiling was a nice touch, and the two windows provided lots of natural light. I was grateful just for the desk.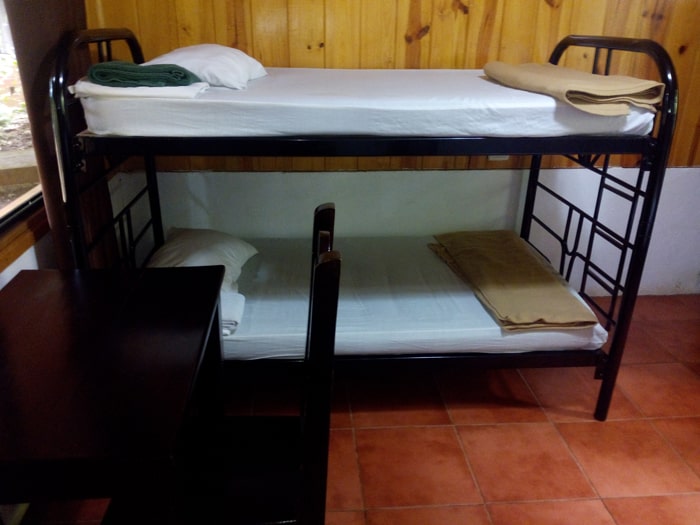 By the way, smokers are welcome here — to smoke on the highway, outside the parking lot. The nice guard lady at the gate, Fátima from Nicaragua, said this is a protected area for animals and birds — as if visitors' secondary smoke were going to give the toucans cancer.
The buffet dinner was palatable, especially the grilled fish filet, but it wasn't worth $16.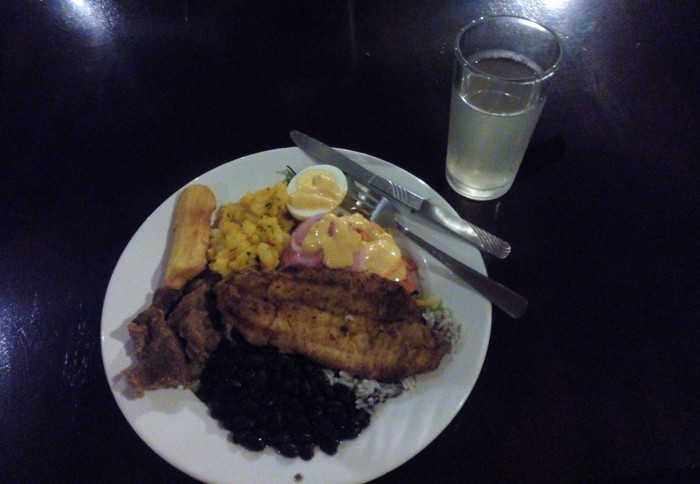 My final morning at Tirimbina, I walked to the front desk to check out and mentioned that I was a travel writer hoping to talk to a manager to update some important datos on this hotel. The front desk soon fetched Kathia, who answered all my questions and gave me a tour of the premises.
I had completely forgotten that I chose the cheap "economical" room with shared bathroom for $50 a night, when I could have had air conditioning and a private bathroom for roughly double that.
Kathia said Tirimbina recently earned the maximum "5 Leaves" from Costa Rica's Certification for Sustainable Tourism program. It has its own sewage treatment plant, and solar panels to heat the water in the showers (in the showers that have hot water, which mine didn't).
Kathia said the preferred name is not Tirimbina Rainforest Center, as the website has it, but Tirimbina Biological Reserve. Established in 1995, it has roughly 40 owners from all over the world.
In the National Museum in San José you can find 5,000 butterfly specimens collected at Tirimbina, Kathia said, from "13 years collecting info on butterflies, the longest in the tropics."
Kathia said Tirimbina is dedicated to research and environmental education, and always welcomes school groups — and busloads of aging Europeans, I noted. There are bird, frog, bat and night hikes. The lodge is currently building a 250-meter interpretive trail through its gardens that will be completely accessible to the disabled.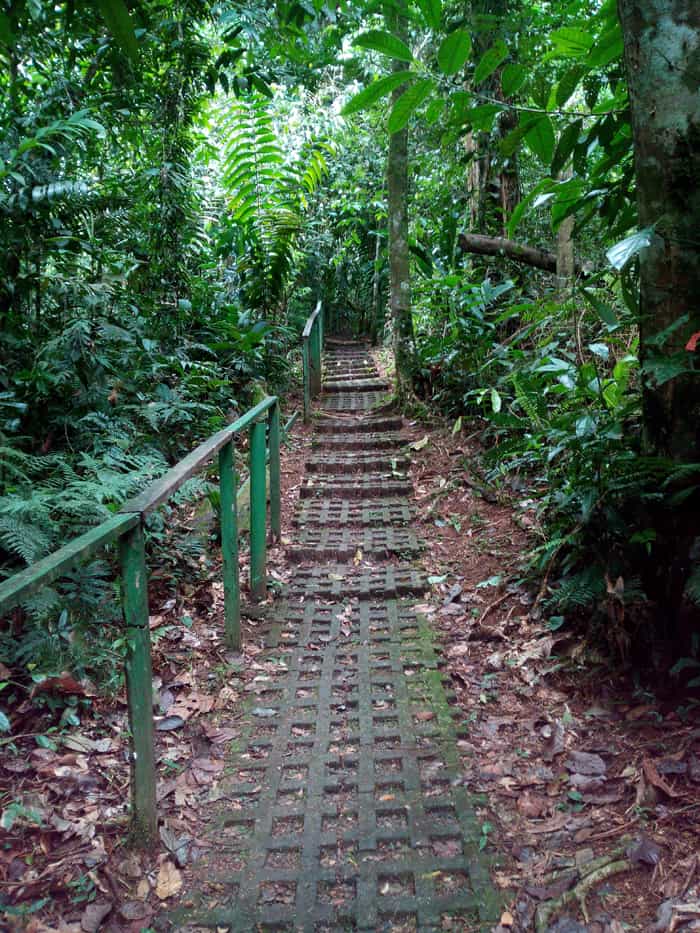 Final note: Although Fátima the security guard warned me that Highway 126 was very hilly, I took this hilly-curvy road home rather than Highway 32 through Braulio Carrillo National Park, and I didn't regret it for a minute. It was the most scenic highway I've ever driven in Costa Rica.
IF YOU GO
Getting there: Tirimbina is on Hwy. 4 near La Virgen on the road from Puerto Viejo de Sarapiquí, and is well-marked with signs. The road is paved all the way to the parking lot.
Rates: $90 double standard, $53 double economic, breakfast and taxes included. Dinner is $16.
What to bring: Insect repellent, rain gear, hiking shoes, flashlight.
For more info: http://tirimbina.org
The Tico Times checked into this hotel anonymously and paid full price for lodging and food.
Contact Karl Kahler at kkahler@ticotimes.net.