MANAGUA, Nicaragua – Despite having no famous players, no high-profile league and inadequate stadiums, football in Nicaragua is starting to awaken, grabbing more and more attention in a nation traditionally crazy about baseball.
Analysts say the growth is spurred by several factors, chiefly TV, which is more frequently showing games from the Spanish league and big events like the World Cup.
There is also the improvement of the national squad, which last year surged 56 notches to 96th spot in the latest FIFA rankings.
Certainly there is passion and interest building among younger sections of the public in the Central American country.
"It's like someone has football in the blood," said Michael Peña, a 20-year-old playing for a local side in the San José Oriental district of the capital Managua. "Though work doesn't let me do it more often, every time I get a chance I play."
Focus on foreign clubs
But thus far attention goes more towards foreign clubs than domestic ones. Nicaraguan fans follow more closely Lionel Messi, Cristiano Ronaldo and Barcelona and Real Madrid than they do local teams.
"I like football but only when the national team is playing other countries," said Bosco García, a high-school student who is a Barcelona fan.
Former professional footballer José María Bermúdez, who played for Nicaragua and used to be a member of the country's FENIFUT football federation, said more could be done to get the public behind domestic teams.
"They should organize club supporters so there is better identification with the people," he said.
Nicaragua adopted baseball in the early 20th century with U.S. military intervention and occupation. U.S. Marines built baseball fields and taught locals how to play, starting what went on to become a national sport.
Now, around a century later, "I think there is a big shift of fans from baseball to football," despite the former being more heavily promoted, said Bermúdez.
"Stadiums were filled for the national team's games in the last international meets — up to 18,000 people. No other sport has managed that," said the former player.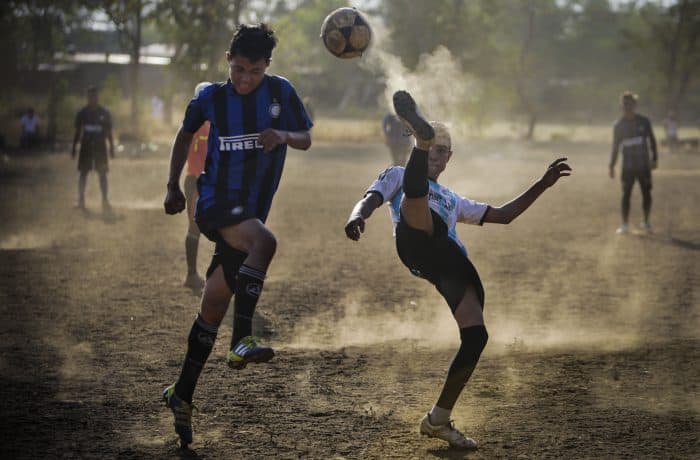 Sponsors lacking
Geographically, the passion for football is strongest in two northern cities, Estelí and Somoto, and one in the southeast, Diriamba. It is also catching on in Managua neighborhoods, where children and youths play games in streets or on empty lots.
Hundreds of youths aged 15-25 are joining local football teams in districts that have two tournaments a year. Some of the country's second- and first-division players have emerged from them, including several chosen for the national team.
One of the aims of the federation is to lift football's profile, to show private companies that "football is profitable," said Idelfonso Agurcia, secretary of FENIFUT.
Attracting sponsors is crucial for clubs in the national league, which are struggling to keep going. Fields are in poor condition and there is no money to pay players' salaries.
The national team, however, is doing relatively well. It put in greatly improved performances in 2015 after taking on a Costa Rican coach, Henry Duarte, managing to get as far as the third round of regional qualifiers for the 2018 World Cup in Russia.
"From a tactical point of view the team has grown a lot," Duarte said. "I'd say it's one of the teams that grew the most in 2015, not only in Central America, but around the world."
Agurcia said the team's rise was "not the result of magic, not the efforts of one person," but a decade's worth of gradual improvement.
Part of it was a generational change underscored by the fact that younger players today had access to 19 training schools, 11 of them financed by FIFA, the scandal-mired world football body.
"I think football has already taken hold and now the hard part is to nurture it and keep it growing," said Bermúdez. "If the support keeps flowing like it is now, we'll manage that."