TEMIXCO, Mexico – When gunmen burst into her home, the freshly-installed mayor of Temixco, south of Mexico City, told them to leave her family alone and surrendered to them, witnesses recalled.
Gisela Mota, who lived with her parents, was still in her pajamas on Saturday morning when the masked commando jumped a wall and stormed the house.
The 33-year-old single woman's parents were home along with her newborn nephew, whose grandmother was preparing to give him a bottle.
The assailants beat up her relatives until Mota "gave herself up so that they would let the others go," said the mayor's mother, Juanita Ocampo.
"I told them that if they wanted to kill me, they should kill me first," Ocampo told reporters. "But she told them, 'I am Gisela.' They took her because she was very brave."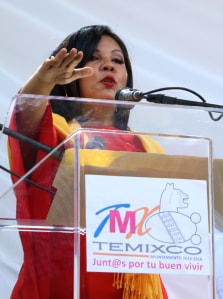 But the triggermen pulled Mota from her bedroom, took her to the living room and killed her in front of her parents. Her desperate father ran after the killers.
Mota's murder has become a tragic symbol of the threats mayors face across Mexico and the violence that has engulfed Morelos, where drug cartels fight turf wars while kidnapping and extorting citizens.
Mota was killed just one day after taking the oath of office amid hopes among supporters that she would fulfill her promise to curb crime in the city of 100,000, known for resorts and water slides, just two hours from Mexico City.
But the left-of-center mayor became one of the victims of the gangland violence that has plagued the city, as authorities blamed Los Rojos drug gang for her murder.
Her home stands out among the other houses in the humble neighborhood. It has a rustic wooden door and a brick oven in the patio.
Neighbors recalled that on the eve of her murder, Mota had celebrated her new job with music and dancing.
"The next morning, six shots were heard. We thought it was firecrackers. But we heard them scream that they killed Gisela," said Pablo Ortega, a 48-year-old neighbor, who said seven armed men had arrived in a car.
Shortly after the murder, the police killed two suspects in a shootout and arrested three others, including a 17-year-old boy and a 32-year-old woman.
Gangland strife
Morelos Governor Graco Ramírez said Los Rojos killed Mota as a warning to other mayors who back his controversial plan to place state and municipal police under a "unified command."
Ramírez praised his late colleague from the Democratic Revolution Party as "independent and combative."
Los Rojos are engaged in brutal conflicts with the Guerreros Unidos drug cartel in Morelos and the neighboring state of Guerrero.
The Guerreros Unidos became notorious when they were identified as the suspected killers of 43 students who disappeared in Guerrero in September 2014, with prosecutors saying the gang had confused them with Los Rojos.
In Morelos, authorities say Los Rojos are the main gang in Temixco while the Guerreros Unidos dominate in the neighboring city of Cuernavaca, a famous weekend getaway for Mexico City residents that is also infested with crime.
It was in Temixco that the 24-year-old son of renowned poet Javier Sicilia was found dead along with four friends in 2011.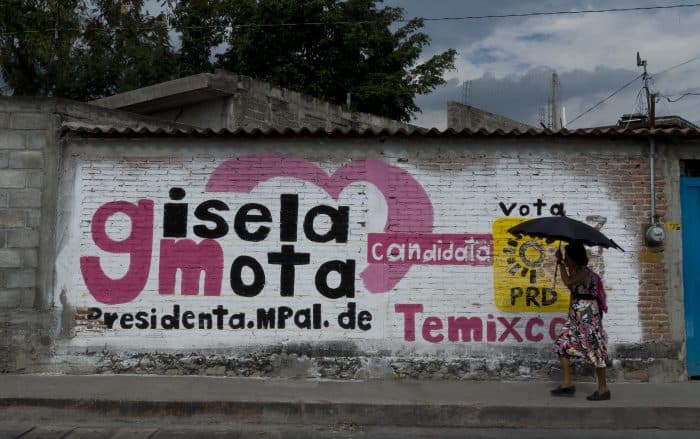 100 mayors attacked
Now the city and the state are mourning Mota, with the nation's flag flying at half-staff outside the municipal office, whose walls were adorned with two large black ribbons and two wreaths.
At the dusty cemetery, some 20 large wreaths, some with the words "you were my hope," and an assortment of flowers were placed on Mota's tomb.
"She was very determined to make things different" in Temixco, said Miriam Martínez, the Workers Union secretary general.
Martínez said that Mota's predecessor, Miguel Ángel Colín, had left the municipality in disarray, with debts and unpaid wages. The governor said that Colín is under investigation, but he did specify for what.
Mota didn't have time to do much, as she was killed just hours after taking office.
Nearly 100 mayors and more than 1,000 municipal workers have been victims of attacks across Mexico in the past decade, according to the Association of Local Authorities of Mexico.
"It is dangerous to work as a politician when you want to do things right and you face people who don't share the same ideas," Martínez said.