MEXICO CITY – Mexican forces clashed with suspected organized crime figures in the hometown of fugitive drug kingpin Joaquín "El Chapo" Guzmán, killing two and netting 4.5 tons of marijuana, the Navy said Saturday.
The armed suspects attacked the forces on Christmas Day patrol Friday in Badiraguato in Sinaloa state, it said in a statement.
The forces called in air support, and the alleged bandits also attacked the Navy helicopter that responded.
In fending off the attack, two suspects were killed, according to the Navy. Their criminal affiliation was not immediately clear.
Mexican forces seized six large weapons and ammunition, as well as 4.5 tons of marijuana that was packaged and ready to be shipped. It was incinerated on site.
Marinos se enfrentan con grupo armado en #Badiraguato #Sinaloa https://t.co/7pxAWrSwWJ pic.twitter.com/GnooIYp7U6

— Debate (@ELDEBATE) December 26, 2015
"El Chapo" — the chief of the Sinaloa drug cartel — is on the run after staging a brazen prison break in July during which he slipped through a tunnel leading to an escape hole under his cell's shower in the Altiplano maximum-security prison in central Mexico.
After exiting the tunnel, Guzmán was driven 135 kilometers (85 miles) north to an airstrip, where he boarded a small plane that took him to Sinaloa state, his northwestern bastion, authorities have said.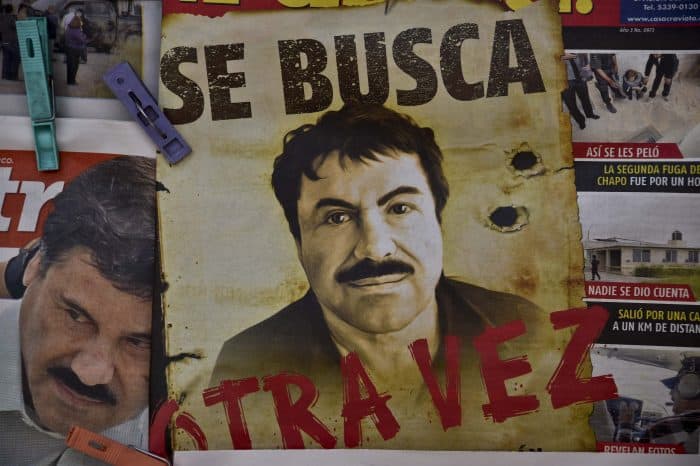 Badiraguato, Guzmán's birthplace, is near the states of Chihuahua and Durango, a region known as "The Golden Triangle" where drug traffickers have grown marijuana and maintained opium poppy fields for decades.
Guzmán eluded special forces in rough mountain terrain during a manhunt in October.