Music for movie buffs, whale fest, and other happenings around Costa Rica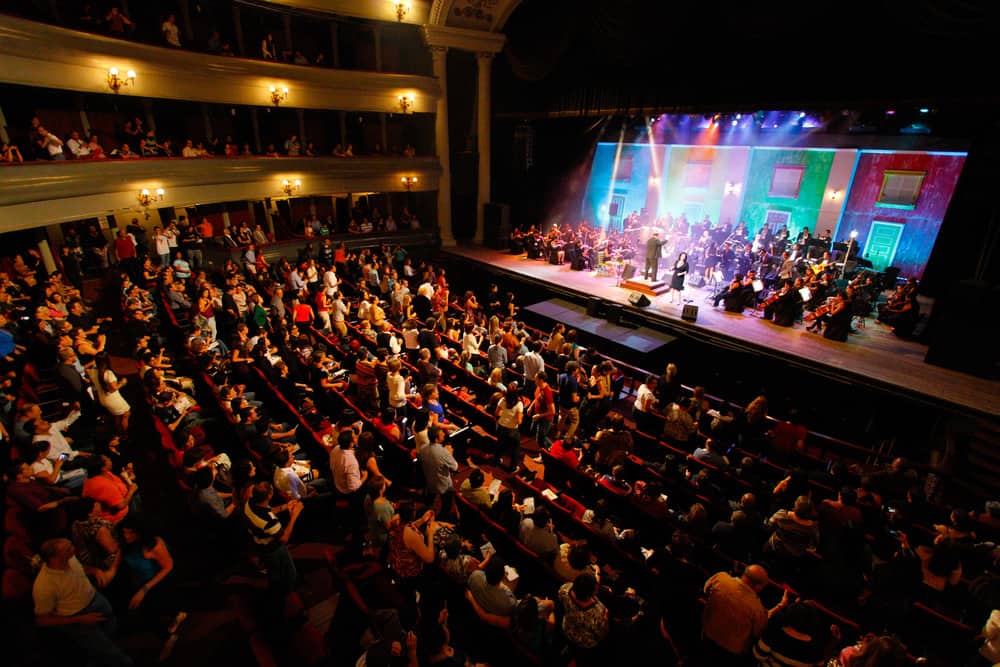 Music: "La música en el cine"
The Philharmonic Orchestra is offering three concerts that bring to life Hollywood's most famous soundtracks. Selections from the scores of the "Harry Potter" films, "Titanic," "Pirates of the Caribbean," "Skyfall," "The Bodyguard," and, of course, "Star Wars" will make an appearance, along with music from children's films such as "The Lion King," "Frozen" and "Aladdin." Special guests Charlene Stewart, Eduardo Quesada, and Grace and Sharon Abarca round out the program.
"La música en el cine" will be performed September 5 at 4 p.m. and 8 p.m., and September 6 at 6 p.m. at the Melico Salazar Theater, downtown San José. ₡10,000 – 15,000 ($20 – 30). More info: Special Ticket Website.
Fashion Brunch
Make your Sunday a little more fabulous with the first-ever Fashion Brunch at west-side restaurant 8ctavo Rooftop. Eight Costa Rican designers will showcase their work; attendees can purchase clothes, thereby supporting national talent, or just enjoy the brunch menu.
"Fashion Brunch" takes place September 6 at 8ctavo Rooftop, San Rafael de Escazú. Free. 9 a.m. – 4 p.m. For more information call 4055-0588.
Music: Camila
The first time the band visited Costa Rica was in 2011 when they still were a threesome, now for its second visit they will come as a duo promoting their latest album,  "Elypse," a mix of musical genres including Latin pop, funk, blues and electronic.
"Concierto de Camila" takes place September 5 at the National Museum, San José. 7 p.m. ₡9,900 – 59,900 ($20 – 120). More info: ETicket Website,
Festival: VII Whales and Dolphins Festival
The seventh edition of the Festival in Ballena National Marine Park offers guided whale-watching tours, athletics, biking, family walks, a sand sculpture contest, many concerts, environmental workshops, lectures and more.
 "VII Festival de Ballenas y Delfines" takes place September 4, 5, 6, 12, 13, 19 and 20 at Ballena National Marine Park. Free. More info: Festival Website or call 2743-8562 / 8729-3624.
Film: "The Vargas Brothers"
As part of its monthly film series, Espressivo Theater will screen a documentary about Eduardo, Juan, Eddy and Álvaro Vargas, major figures in Costa Rican rock, and their recovery from addiction to drugs and alcohol. The screening will by a film forum with special guests.
"Los Vargas Brothers" takes place September 10 at Espressivo Theater, Curridabat. 7:30p.m. 3,000 ($6). More info: Theater Website or call 2267-1818.
Theater: "Como si fuera jugando"
Class struggles, workers' rights and the ethics of technology, all explored by music, colors and wordless puppets? You've got to see it to believe it.
"Como si fuera jugando" will be performed September 5-6 at Teatro de la Danza, CENAC, downtown San José. 3 p.m. and 5 p.m. ₡2,500 – 5,000 ($5 – 10). For more information call 2256-4838.
Music: "Lo mejor de la zarzuela"
The National Symphonic Orchestra and the National Lyric Choral Company present two famous operettas, "Luisa Fernanda" and "Doña Francisquita." The show will feature Cuban soprano Bárbara Llanes, Peruvian tenor Juan Antonio de Dompablo, and Costa Rican soprano Fitzgerald Ramos, led by famed Spanish director Carlos Aransay.
"Lo mejor de la zarzuela" will be performed September 4 at 8 p.m. and September 6 at 10:30 a.m. at the National Theater, downtown San José. ₡10,000 ($20). More info at the National Theater Website.
Upcoming Concerts:
Tribure to Korn: Hits of the band interpreted by members of bands including Adrenal CR, Akasha, Dream Of Fire, INERSIA CR, Insano, and Sight of Emptiness. September 4 at MundoLoco El Chante, San Pedro. ₡4,000 ($8). 9 p.m. For more information call to 2253-4125
Resurrectio: After two years of absence, the band Niño Koi comes back, accompanied by guest band Saturno Devorando. September 4 at Hoxton, San Pedro. ₡3,000 ($6). 9 p.m. For more information call 6105-9296.
The Wall: The Surrogate Band presents a special tribute to Pink Floyd and one of the legendary band's most famous albums, The Wall. September 5 at Jazz Café, Escazú. ₡5,000 ($10). 9:30 p.m. For more information call 2253-8933.
Premier of Café Surá new video:  Reggae fusion band Café Surá will be offer a concert in celebration of its new video. September 4 at Community Pub, San José. 9 p.m. Free. For more information contact info@cafesura.com / cafesuracr@gmail.com.
You may be interested