Nostalgia for the taste of meals prepared in wood-burning stoves is what prompted Tico company Perfection Group to start selling one of their star products abroad.
Juan de Dios Mora Díaz acquired Industrias Perfection, the company that began importing the stoves from U.S. manufacturer Perfection Stove Company, in 1970. That same year the Alabama-based company stopped making them. But Mora decided to keep his business and bought part of the manufacturer's machines to start offering "Made in Costa Rica" Perfection stoves.
Last May the Tico company started selling them in Honduras after signing several contracts at business meetings organized by Costa Rica's Foreign Trade Promotion Office (PROCOMER) in that country.
Mora had actually started pondering the idea of selling his stoves abroad a few years ago, after he found scattered buyers in Puerto Rico, Surinam, Guatemala and Panama. Mora firmly believes wood-burning stoves are "icons of Costa Rican traditions," but he knows people in other, nearby countries also appreciate them.
"I think Central America is the natural market for domestic companies, and ours is now seeking to consolidate an export business," he said. Perfection Group currently sells various iron products to other countries in the region.
Even though many people in Costa Rica's rural areas still use the big, heavy stoves, Mora believes they now are becoming mostly a luxury item for preparing meals on special occasions, on weekends and even as a collector's item for vintage decoration.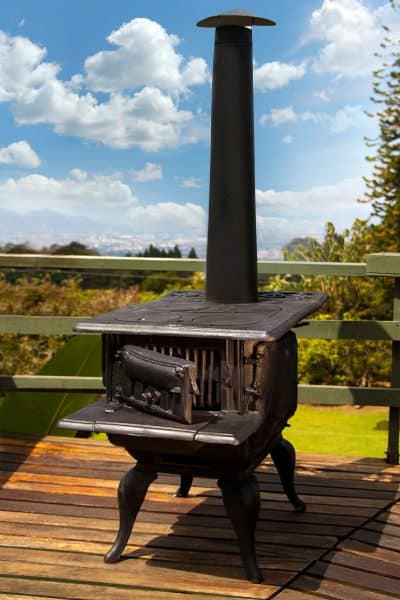 Many restaurants in tourist areas across the country also cook their meals in wood-burning stoves in order to offer that particular taste.
"People also buy them for their nostalgic appearance and for tradition," Mora said. "I think we are supplying a very specialized niche."
The company currently sells five different models of stoves at major retail chains, appliance stores and some hardware stores. Prices here range from ₡140,000 to ₡275,000 ($255 to $510) depending on the model.
Thanks to contacts made during PROCOMER's business meetings, Mora is currently in negotiations to start sending his stoves to potential customers in Panama and Nicaragua. "Some South American countries also have shown interest in doing business with us," he said.
PROCOMER Director of Trade Promotion Itzamn Huelat said innovation in exports can help local businesses reach their target markets.
"Perfection Group identified a business opportunity with wood-burning stoves. This is a perfect example of how innovation and specialization is essential to giving a country's exports added value," Huelat said.