Hydroelectric dam construction and conservation have historically been at odds worldwide. But Costa Rica thinks it can do both. The government announced a one-of-a-kind matching grant program Tuesday designed to protect a jaguar migration corridor near the site of what will be the largest hydroelectric dam in Central America.
By encouraging farmers and landowners to maintain their forests, the National Fund for Financing Forestry (FONAFIFO) and the Environment Ministry hope that the corridor will contribute to stronger genetic diversity of the big cats and other wildlife, while mitigating the environmental impact of the dam's construction. The first 18 contracts covering a total of 325 hectares are to be signed on Thursday.
The state-run Costa Rican Electricity Institute (ICE) announced it would match up to $1.6 million in environmental service payments made by FONAFIFO within a 804-hectare biological corridor at the tail end of the Reventazón hydroelectric dam reservoir in Siquirres.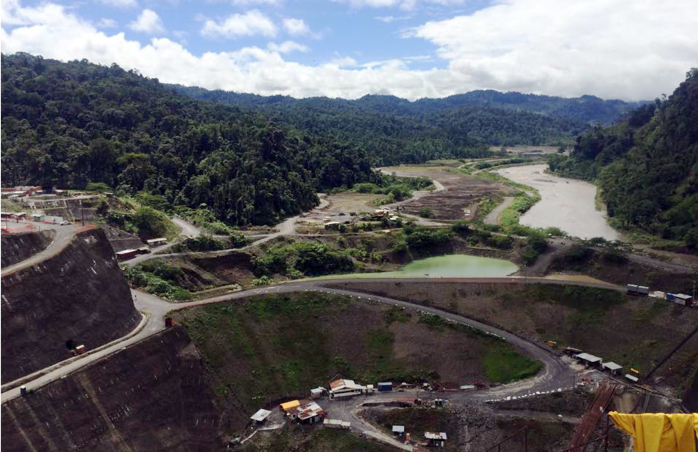 Along with the matching grant, ICE agreed to plant 34,000 trees in the area.
FONAFIFO uses payment for environmental services to incentivize private landholders to maintain or reforest their land in exchange for modest annual payments. But FONAFIFO Director Jorge Mario Rodríguez said the fund's $30 million annual budget for the entire country is not enough to involve all those who want to participate.
Plus, payment for environmental services often doesn't pay landowners enough to make it worth their while, said Irene Cañas, vice minister of energy.
"Participation from ICE should help make this option more attractive," Cañas said.
Mitigating the environmental impact of the dam will not be easy. The 130-meter-high dam will contain 9 million cubic meters of material and handle up to 118 million cubic meters of water from the Reventazón river.
The 305.5-megawatt plant will provide electricity to an estimated 525,000 homes. When complete, it will be the largest dam in Central America.
Over 80 percent of Costa Rica's electrical generation comes from dams.
Recommended: Costa Rica's renewable energy streak is still going, but what does that really mean?
Allan Retana, chief environmental manager for the Reventazón hydroelectric project, said that the corridor slated for conservation was identified as the shortest distance between two important ecosystems. Besides encouraging landowners to maintain their forests, ICE is supporting environmental education and conflict resolution for ranchers who lose livestock to jaguars, Retana said.
"We see this as a unique opportunity to show that development and wildlife can go together hand in hand," Retana said.