Never trust a prankster, Ken Kesey, the late author of "One Flew Over the Cuckoo's Nest," used to say, a credo that either spoke to his loosely formed collective's philosophy or just sounded cool on a T-shirt.
But a planned 50th anniversary celebration of Kesey's famous acid tests — set to take place alongside the Grateful Dead's farewell celebration in Chicago July 4th weekend, no less — has collapsed so spectacularly it's better described with a more common cliché.
"If it sounds too good to be true, it just might be," says Walter Flores, a Deadhead who spent $250 to camp and see a gig organized by the Oregon-based Groovy World Media billed as the "50th Anniversery (sic) Acid Test with The Merry Pranksters & 50th Anniversery (sic) Grateful Dead Family Reunion."
Now, like countless others, Flores waits for a refund and watches a delicious flood of charges, counter-charges and one-liners that have become a stage show of their own.
Related: $100,000 for a 3-day pass to the Grateful Dead's final shows
A bit of background: Kesey and the Merry Pranksters held the acid tests, starting in 1965, on his farm in California so folks could dose up and twirl to the house band, a ragged, unknown local group known as The Grateful Dead. Eager for adventure, the Pranksters drove around in a psychedelic school bus, "Furthur," commandeered by Kerouac hero-slash-speed freak Neal Cassady. Tom Wolfe wrote it down in "The Electric Kool-Aid Acid Test."
Kesey died in 2001 and now his son, Zane, 57, rambles around in a second "Furthur" and looks to recruit a new generation of Pranksters. And naturally, Zane Kesey, like virtually anyone with a '60s connection, jam band or a bracelet weaving-kit, realized the place to be the first weekend in July was Chicago, trying to score a contact high off the summer's hottest gigs.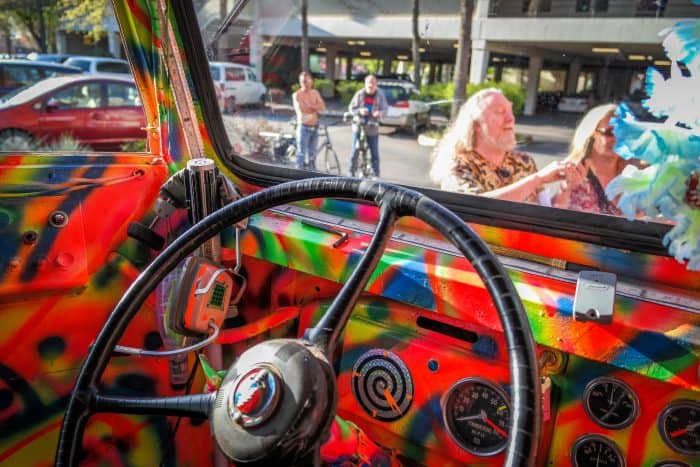 Enter Normal Bean, a musician and promoter. He and Kesey agreed to organize a series of acoustic (i.e. drug free) acid tests and concerts. It will be huge, Derek Stevens, Kesey's Prankster partner, says he was told by the promoter. Bean, according to Stevens, said he had a $20 million budget, a line on bringing in John Fogerty, Carlos Santana and Neil Young and planned to film the whole thing. Without asking, the Pranksters were offered $200,000.
"Dude, if somebody offers to pay you to do something like that," Stevens says, "you're going to say yes."
Local bands were also thrilled. Stevens talked to Doug Hagman, the singer and guitarist in the Dead-inspired Terrapin Flyer. He could get $6,000 to play the 4,500-seat FirstMerit Bank Pavilion and with likely appearances by Fogerty and Young. Then Hagman heard the event was moving to nearby McCormick Place. Then a campground in Yorkville, an hour west. Then nobody sent him a contract. Meanwhile, tickets had sold for as much as $500 a pop in a category labeled, yes, "Totally Trust Us."
"I contact Zane and said, 'What's going on,'" said Hagman. "He said, 'I don't know if Normal can handle this' and the next day he said, 'I'm out.'"
That was June 7. Kesey's announcement hit Facebook. Bands were also dropping out, though they remained listed on the event page, against their wishes, even after Brown Paper Tickets froze the site Tuesday. ("Highly unusual," said spokesman Barb Morgen of the company's action, "but we decided they were breaking the terms of their agreement with us.") A Fogerty representative said he was never involved in the show. Santana's camp told The Washington Post the guitarist has been confirmed to be in Europe for the last six months.
What does Bean say? He didn't respond to interview requests. Bill Hinckley, a consultant who has been working with Bean, did return a call and blasted Zane, Stevens and the Pranksters. He said they misled Bean to believe they had the rights to produce the Pay-Per-View broadcasts of the Grateful Dead's Chicago shows. He said Bean did want to talk with The Post but couldn't at the moment because he was heading to the state of Oregon attorney general's office to deliver documents to show that Kesey blackmailed him and destroyed his business.
"This was supposed to be a culture of love, not this," Hinckley said. "This is a disaster. Kesey destroyed his family's name. That bus doesn't even belong to him. It belongs to his mommy and he's going to lose his bus."
It is true, Kesey confirmed, that his mother, Faye, owns "Furthur." But that's about all he and Hinckley seem to agree on. The head Prankster (is there a head Prankster?) said Thursday that he had no idea how Bean could possibly think he'd get the rights to film the Dead shows. He says he came to regret trying to work with the promoter.
"We never had a venue," Kesey says. "I couldn't believe he was selling tickets when he never had a venue or any of the bands signed. So I was terrified. At a certain point, I could have people continue to follow me in this sinking ship or try to get as many people in lifeboats as possible."
So what's next? Hinckley said anybody who wants their money back will get it. The campground event will remain on the schedule. Who will perform? He won't say, for fear that Kesey and the pranksters will sabotage the show. The manager of Kofi Baker, son of Cream's Ginger Baker, did call late Wednesday to say he had just gotten off the phone with Bean and struck a deal.
"Zane Kesey does not own the words 'acid test,'" said Hinckley. "He does not own the words 'Merry Prankster.' We're doing what we set out to do as a business."
Stevens, late Wednesday, said the Pranksters were finalizing a deal to produce their own event at a 4,000-seat theater within 10 miles of downtown Chicago. The "Furthur" bus won't be making the trip from Oregon. But Kesey and his current band of Pranksters will.
Can we trust you on that?
"I could make a joke about trust us, but I'm not going to do that," says Stevens. "We're learned a valuable lesson. I'm not going to tell you anything until it is absolutely nailed down."
See also: Grateful Dead logo creator looks back on a long, strange trip
© 2015, The Washington Post