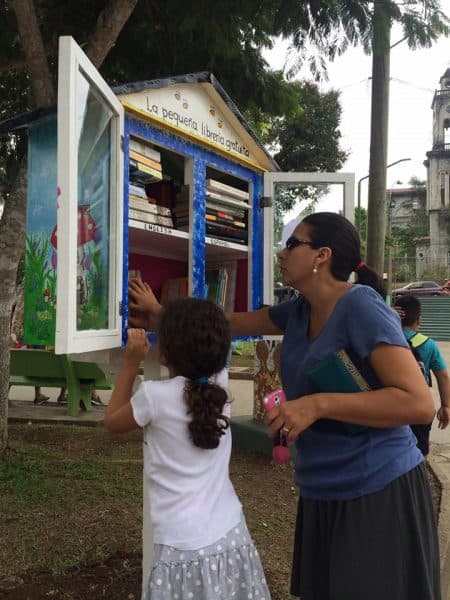 Jessica Peck was visiting her hometown of Chico, California, when something piqued her curiosity: Peck's father had built a small structure, about the size of a dollhouse, and packed it with books. Peck learned that this was a "Little Free Library," an idea that started in small-town Wisconsin in 2009 and has briskly expanded around the globe.
"I thought, 'Oh, my God, I'm putting one of these in Puriscal,'" recalled Peck.
Peck moved to Costa Rica with her husband Paul a few years ago. If their names sound familiar, it's probably because the Pecks are co-founders of Perro Vida, the celebrated craft beer company. But the Pecks thinks of themselves as more than just entrepreneurial expats residing in a bucolic hill town: They want to help the community, and a Little Free Library seemed like a fun and easy way to do that.
"Borrowing books at a library is not always a concept that gets taught in Costa Rica," said Peck during a conversation with The Tico Times. "New books are sacred. I once saw a new copy of 'Twilight' in the supermarket for like $50. Giving them away is not even a concept. We have the first [Little Free Library] in Central America."
The shtick seems so simple: Construct a little building and set it up outside. Patrons can take a book from the stack, read it, and bring it back. If you have an extra paperback, drop it off for someone else to enjoy. All books receive a sticker, indicating that they should be returned. There's no card catalog, no librarian, and no reason to whisper.
But the Pecks faced some challenges: The little structure had to be durable, or else the rainy season would corrode its roof and walls. For this, they consulted a local carpenter friend, who built and waterproofed the surfaces. The Pecks were also concerned about vandalism, but according to Little Free Library organizers, this is very rare. Indeed, the organization estimates that 25,000 libraries exist around the world, and street thugs rarely touch them.
"Everyone was like, 'They're going to steal the books,'" recalled Peck. "And I was like, 'If they're stealing books, then that's kind of a good thing.'"
The Pecks have had a knack for collaborating with local government: Perro Vida was established and legal within a year, and when they proposed several community-building projects for Puriscal – including improved trash pickup, a public yoga class in the central park, and the Little Free Library – all three proposals were approved.
When the Pecks finally erected their library, they stocked it with paperbacks they no longer wanted, including picture books, which are particularly expensive in local bookstores. Within 24 hours, they had all vanished. For the next few days, Jessica was anxious and upset, thinking the books had been carried off and the project was a failure. But Paul was more optimistic.
"Do you expect them to read a book in three days?" he opined.
The shelves gradually filled once more, and Jessica even found a pleasant surprise: Eight of the titles bore no stickers, indicating that they were donations. Not only was the library working, but they were also receiving fresh editions.
"People love it," concluded Peck. "You should see them. They take pictures in front of it."
Like the library, the yoga classes are simple and inexpensive: An Argentinian student from UPEACE comes to Puriscal every Saturday at 8 a.m. and teaches a class. (Donations are suggested.) Peck notes that this is not the usual yoga studio experience. Downtown Puriscal is often busy with traffic and construction, car alarms and barking dogs. But for small-town Costa Ricans unfamiliar with yoga, the class has been a revelatory experience.
"I'm probably a bit of a Pollyanna," said Peck with a laugh. "As an expat, I always think: What do you love and what can you teach? What can you give without expectations? What can I contribute that someone might find interesting? I get that in the beer community, too. At the Craft Beer Festival, it was so great seeing the brewers hug each other and say, 'How are you? Have you seen…?' That doesn't happen during the festival. That happens while you're setting up."
For more information about the Little Free Library in Puriscal, visit its Facebook page.