One night, Kelly Mason received a phone call. It was a local woman, and she was frantic. She said her child had stopped breathing. The mother didn't know what to do. She needed help. She was terrified that her child would die.
"That's when I knew this was where I needed to be," Mason remembers. She had come to Montezuma with a vague notion of helping people. Now, out of the blue, she had the chance to do just that.
The child survived the night, but the source of the apnea remains endemic in the Nicoya Peninsula: unpaved dirt roads. Ever since roads were first carved into this remote tropical coast, they have remained rugged and potholed. Vehicles coast slowly down the packed earth, for fear that an unseen crater will wreck their suspension. As they drive, they throw billows of dust into the air. On still afternoons, the yellow clouds accumulate. Most people sneeze or get watery eyes, but people with pulmonary issues risk life-threatening attacks.
Mason moved to the remote Pacific community three years ago. Thanks to a spiritual vision, Mason had felt a calling to live a simpler life in this remote beach town. She had toyed with the idea of building a health and wellness retreat, but when she received that phone call, everything changed. She wanted to do something practical and hands-on. She wanted to help solve a problem as obvious as the ground beneath her feet.
Mason decided she would find a way to pave the roads.
•
If anyone is a child of a globalized world, it's Mason. Much of her family is ethnically Lebanese, who in turn settled on the island of Trinidad. Mason grew up in Canada, but she split much of her youth between Trinidad and British Columbia.
Today, Mason has the carefree ease of a yoga instructor. She's fit and friendly and smiles easily. It's difficult to imagine her working for big-budget Hollywood studios; she doesn't seem like the type to saunter around a movie set for films like "Freddy vs. Jason" or "X-Men: The Last Stand." Yet that was her life for more than 20 years. Mason has worked as a clapper loader and focus puller for more than a 100 films. She's on a first-name basis with Hugh Jackman. In Trinidad, she was accidentally hired as cinematographer for a Merchant-Ivory film. She started in the Canadian movie business in her mid-teens, and she continued at a breakneck pace until 2006.
About 10 years ago, an accident changed all that. Mason was at the height of her career. She was living in Los Angeles, her schedule was packed with projects, and she was making good money. She knew the industry and the technical aspects of filmmaking inside and out. Then, out of nowhere, Mason attempted to ride a horse on a beach. The horse reared, she fell off, and she hit the ground. And just like that, her life transformed.
•
Mason says she had a vision. For her, this is not a metaphor. Sometime after the accident, as she started to reevaluate her life and career, Mason did some deep meditation, and she says that a spirit spoke and implored her to find a higher calling. Mason resolved to move to Montezuma, the tiny Costa Rican surf town on the tip of Nicoya. She was not married but had two young children, so the move would be difficult. But her destiny seemed clear.
"I thought I'd be this exotic healer with this beautiful wellness center," she recalls with a laugh.
Yet the road struck a chord with Mason. It was something urgent and practical. It was a problem that clearly affected the entire community.
"I started by planning to make a documentary," she recalls. "I wanted to put these politicians on camera and ask them about the roads."
Bit by bit, Mason is still making that documentary, and she plans to complete and release a feature film sometime in 2016. Yet Mason can no longer hide behind the camera, because she has gradually found herself leading the effort. Mason has learned that dirt roads cause more than coughing fits: Removing dust also requires enormous volumes of fresh water, which is in short supply in Montezuma. She has learned that there are many different kinds of paving materials and techniques, which are used in different circumstances. She has learned that the Ministry of the Environment must approve the project before the community can proceed. She is helping oversee the elaborate testing process, and she's helping coordinate preliminary paving in front of several local schools. She is personally lobbying politicians and asking for financial support.
Along the way, Mason formed a nonprofit organization called Pave the Road. Beside regular community members, her list of notable supporters is extensive, and she even won a sponsorship agreement with Toyota, which has supplied her with a special truck for business operations (pictured above). She works closely with the National Laboratory of Materials and Structural Models (Lanname), whose resident scientists are in charge of surveying the road.
Nearly every aspect of the project seems to thrill her.
"I've always been interested in science," says Mason. "I thought I would become a doctor, but I got sidetracked by the film industry. There was something about road machinery and construction that interested me."
Then something happened that transformed the project altogether: a businessman from India.
•
The story is long and convoluted, involving a cruise ship, a croupier, and unlikely promises made in the middle of the ocean. But long story short, a friend of Mason's put her in touch with a man named Ahmed Khan, a businessman who builds roads out of recycled plastic.
Khan had spent most of his career manufacturing plastic, but when he realized he could recycle petroleum waste to help construct roads, he patented the technology and put it to good use: Khan has helped pave more than 2,000 km of roadways in India. Historically, India has had some of the worst roads in the world, where dust is only one of myriad problems. Khan is transforming the infrastructure of that desperately poor nation, and in a way that aggressively reuses the very waste products his company once generated.
This eco-friendly approach was never part of Mason's original plan. Indeed, Khan's patent has rarely been used outside the Indian subcontinent, and as far as Mason knows, plastic roads have never been constructed in the Western Hemisphere. She reckoned that a "green" country like Costa Rica was the perfect place to introduce the new paving technique.
This is particularly vital for Costa Rica, where recycling is a piecemeal practice. While recycling centers exist, their collection services are wildly inconsistent, and specific bins and drop-offs – which have become standard in North America and Western Europe – are difficult to track down in your everyday home or office building. Mason adds that plastic products are everywhere, from water bottles used by tourists to the plastic bags that enwrap banana bunches on the plantations.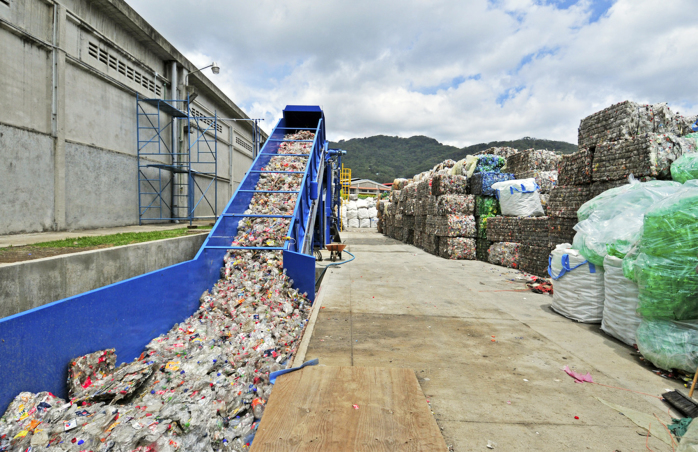 The materials are not permanent, of course, but Khan has made claims that his roads in India survive one or two years longer than traditional paving techniques. Such roads can incorporate a nearly endless variety of waste, from rubber to retired car parts.
"Using these materials for the road is much better than the way they've been disposed of," says Mason. "And when we add these modifiers, we reduce the amount of asphalt."
The Costa Rican government has been slow to respond to Mason's project, but interest has grown exponentially in the two years since Pave the Road's collaborators started serious tests. Mason recently met with President Luis Guillermo Solís, and she counts numerous mayors, caregivers, and police officers as her allies. One of her biggest political supporters is Vice President Ana Helena Chacón Echeverría.
But the other hurdle is more personal: Montezuma is a small town, and some locals felt suspicious of Mason's intentions. To help clarify the project, Mason and her Toyota sponsors are co-producing a 23-episode online video series that will document different aspects of the road for a general audience. While Mason admits that the "pilot" essentially behaves like a car commercial, she says that future episodes will have the more traditional feel of a documentary.
"I think 99 percent of the people in the Montezuma area are on board with the project," says Mason. "But it takes time. They weren't sure what I was doing. People were starting to get impatient. They want this to happen for their children."
"Personally, it's been a growing experience," she adds. "I'm just learning all the time. Every meeting is just another step closer to victory. It's all been really progressive. The [final] documentary is going to be a very fascinating film, because it's going to define a lot of the questions from communities and the public for many years – about the government, and how it all works."
And then, as if pleasantly surprised, she shrugs her shoulders and says, "It's all unfolding. I'm realizing that I'm becoming a road builder."