Weather-wise, Saturday was a confusing afternoon: The sky couldn't decide whether to rain or shine, bluster or be still. But despite the recurring overcast, the showers never fell. The folks who attended Tropic Bowl V got only the best of the tropics. For football players who had traveled thousands of miles to compete in San José, this was something of a blessing.
When I arrived at the Concha de San Francisco, a humble stadium in suburban San José, scores of fans had already taken advantage of the weather. They sat in rows on the sidelines, eating hot dogs from the local kiosk and letting loose an occasional cheer. Before them, dozens of Costa Rican and U.S. football players trotted across the sod, throwing, catching, and kicking their way around the field.
Now and again a player would chant, "Let's go, Costa Rica!" And the audience would erupt with applause. But the atmosphere was laidback, almost amused. It didn't anticipate the mayhem of the Saprissa-Alajualense games that were scheduled for the following week. This was not the shirt-tearing, face-painting, war-whooping enthusiasm of the World Cup. It didn't even compare with the heavy-drinking, tailgating, fight-picking madness of a serious U.S. game.
Instead, it was just plain fun.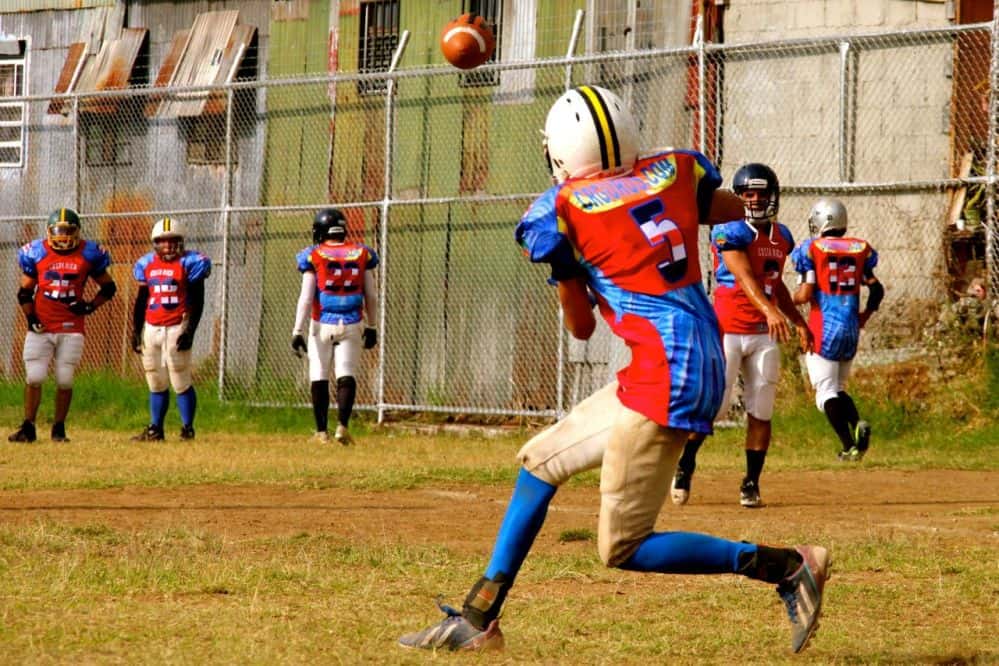 "American" football has grown in popularity for the past few years, so much so that the franchise recently divided into two separate leagues. The particulars are confusing: The "Caribbean Bowl" was recently played in Jacó (which is obviously not the Caribbean), and the American football championship wrapped up last weekend in Cartago. This weekend's Tropic Bowl included a semi-pro U.S. team, the North East All*Stars, as well as the Costa Rica All*Stars, a team that held tryouts only a week before. Meanwhile, Tropic Bowl was originally scheduled to take place in Desamparados, but it was shifted to Barrio San Francisco only a couple of days before the game.
Yet once I settled into the crowd, I forgot about all these pesky details. Watching the U.S. and Costa Rican players practice was as close to a Spring Training atmosphere as I had even gotten. These were some of the best American football players in the country. These were athletes who had turned away from their diehard soccer tradition to serve as fullbacks and tight ends. It takes chutzpah to face off with 120-kilo goliaths on the line of scrimmage. It takes more chutzpah to do this among people who think American football is a bunch of guys falling down in a pile, over and over.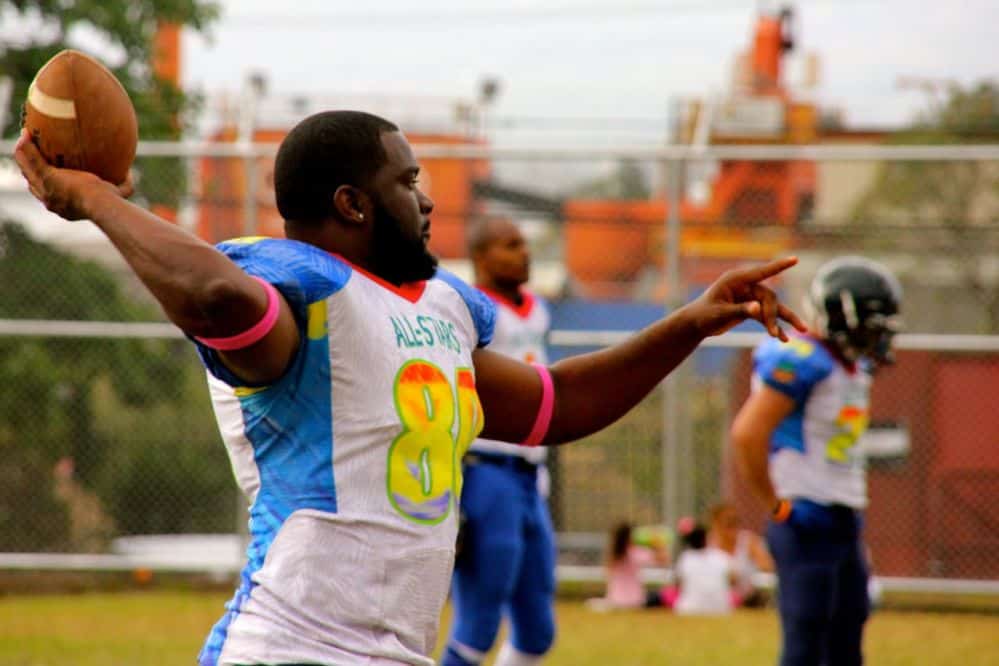 In all of Costa Rica, I was the least-likely U.S. citizen to attend Tropic Bowl V. For the first half of my life, I knew nothing about American football. I never played a team sport. I didn't know a single rule. Throughout my childhood, the Super Bowl meant scarfing down junk food at my parents' friends' houses, nothing more. As a native Vermonter, I had no idea I was supposed to root for the Patriots. I was hopeless.
This all changed in 2004, when I ran into an old classmate in Pittsburgh. After some flirty conversation, she asked whether I was watching the Steelers game on Sunday. I said matter-of-factly that I didn't really know anything about football.
Her eyes nearly exploded. "WELL THEN I'LL TEACH YOU," she exclaimed.
Partly this was an excuse to make out on her couch. That was certainly my motivation. But it was also a chance to figure out what football was all about. We watched another game the next Sunday, and on and on, until – after a long, lukewarm decade – the Steelers advanced to the playoffs, earning a 15-1 record for the season, the best they had played since 1978.
The next season, the Steelers won the Super Bowl, the "one for the thumb" that Pittsburghers had yearned for since the days of Terry Bradshaw. By that point, I was screaming at the TV, singing "The Pennsylvania Polka," and gushing with friends about "The Steel Curtain."
The courtship with my old classmate didn't last. It ended miserably, some months later. But she gave me the gift of football, and that is something I'll always appreciate.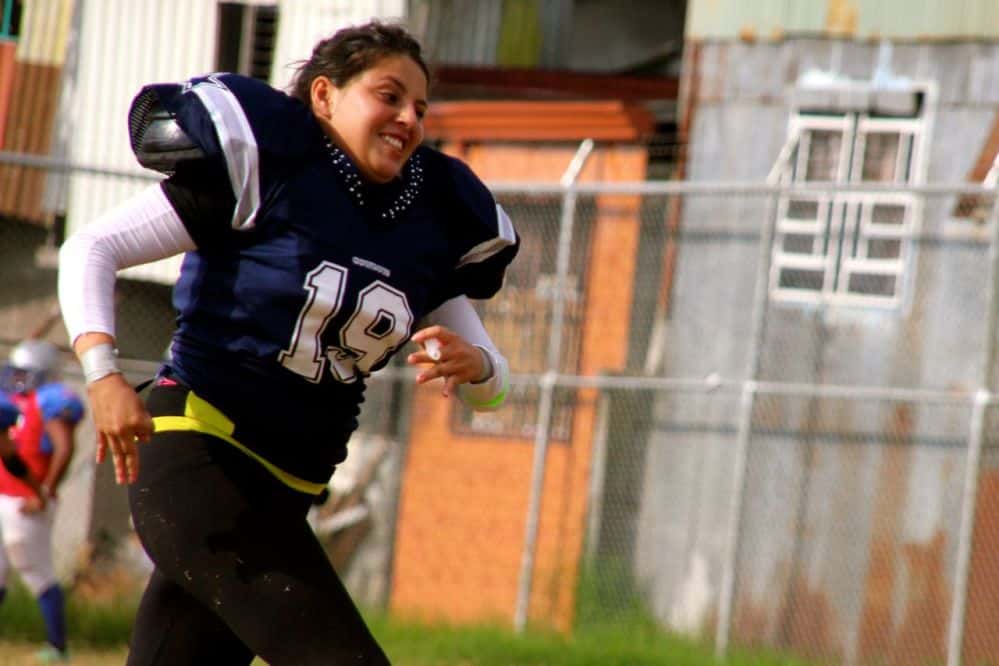 Years later, I was standing on a field in Costa Rica, watching these newly minted fans cheer for these newly minted players. The lineup of squads included two all-women teams.
"There are Costa Ricans playing backup for the North East All*Stars," said Gloriana Ordóñez, who had seen every single game of the 2015 season, minus one. "Which I think is a good thing."
In a way, Ordóñez is the perfect fan: She grew up in Costa Rica, but she also spends a lot of time visiting her mother in North Carolina. She is perfectly bilingual, and she's studying physical therapy at the University of Costa Rica in the hopes of working with professional athletes. She volunteers part-time for the Santa Ana Bulldogs, one of the Costa Rica teams. Her boyfriend is also a skilled football player, and it is a passion that has informed much of their relationship.
"I love it," she said. "But I love all sports."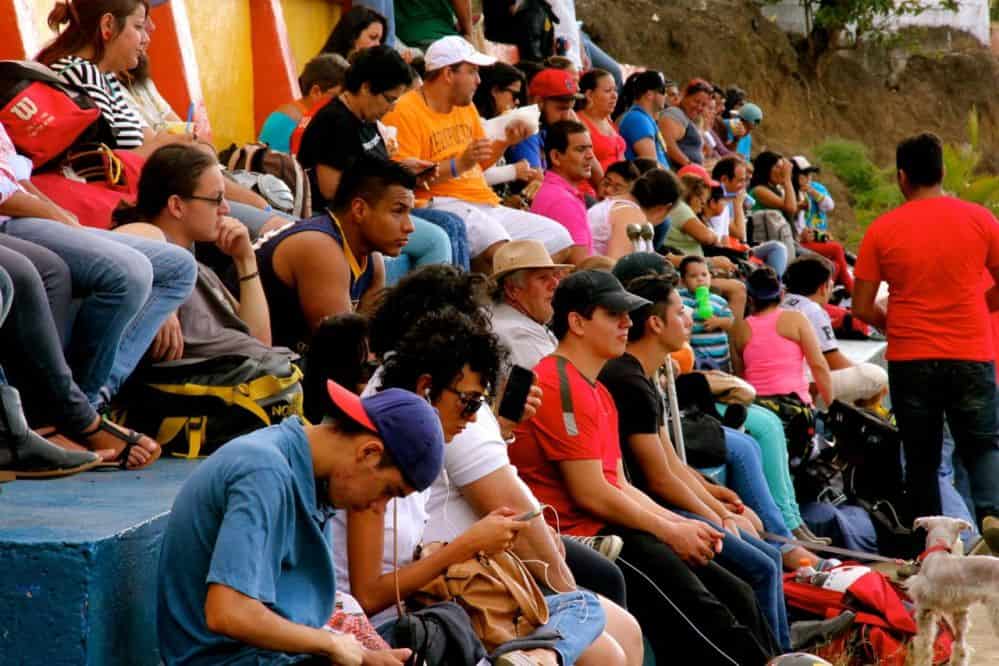 She was not alone. The crowd was sizable, and adolescent fans tossed balls to each other on the sidelines. The scene was relaxed; there was nothing at stake here, and the "bowl" was clearly meant as a cultural exchange, a way to enrich local and visiting players. But the enthusiasm for a novel new sport was palpable.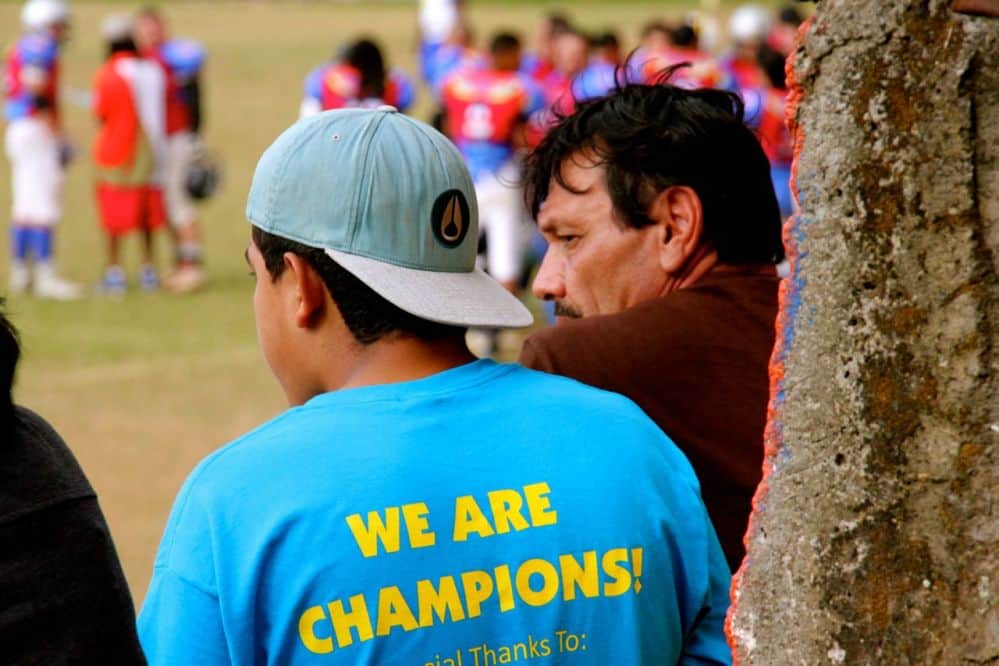 And then, without warning or fanfare, a kicker launched himself toward a ball and punted it across the field. His teammates charged across the grass, and it wasn't until the ball landed in an opponent's arms that that I realized how far he'd sent it.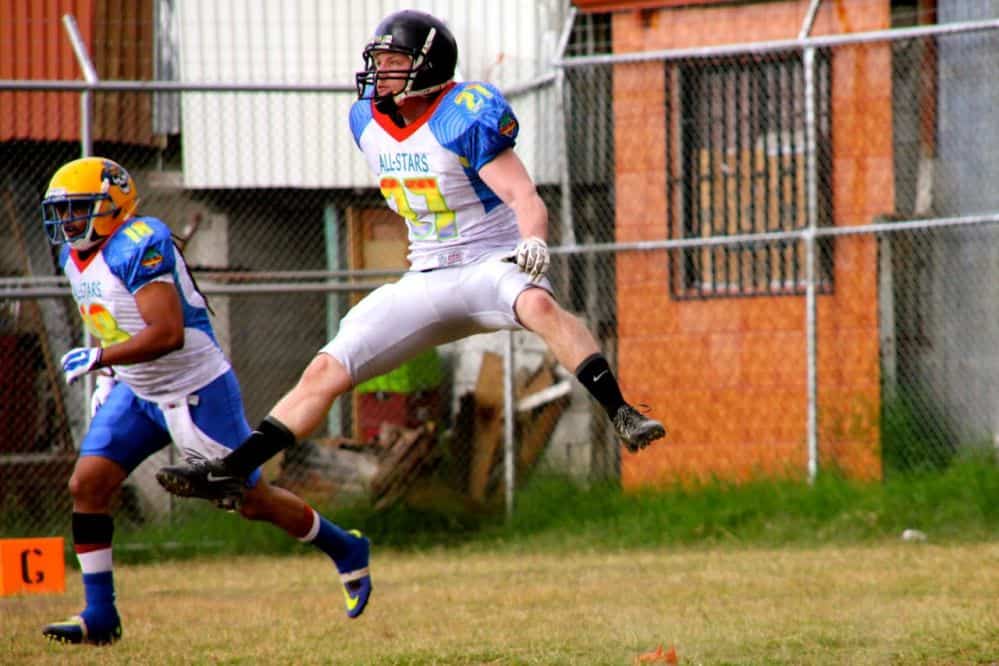 I watched the teams huddle; I smiled at the familiarity of the scene. As the crowd clapped and hollered, offering a mix of Spanish and English cheers, I remembered my first full soccer game. Not until I moved to Costa Rica and visited a sports bar in Alajuela did I actually watch a soccer match from beginning to end. I had never heard the songs or chanted the chants. It took me the first 10 minutes to identify which team was Costa Rica, which was absurd, since the players were essentially dressed in the national flag.
The World Cup changed all that. After cheering myself hoarse for a month, I can proudly call myself a La Sele fan.
But watching the two nations face off on the football field triggered a much deeper nostalgia.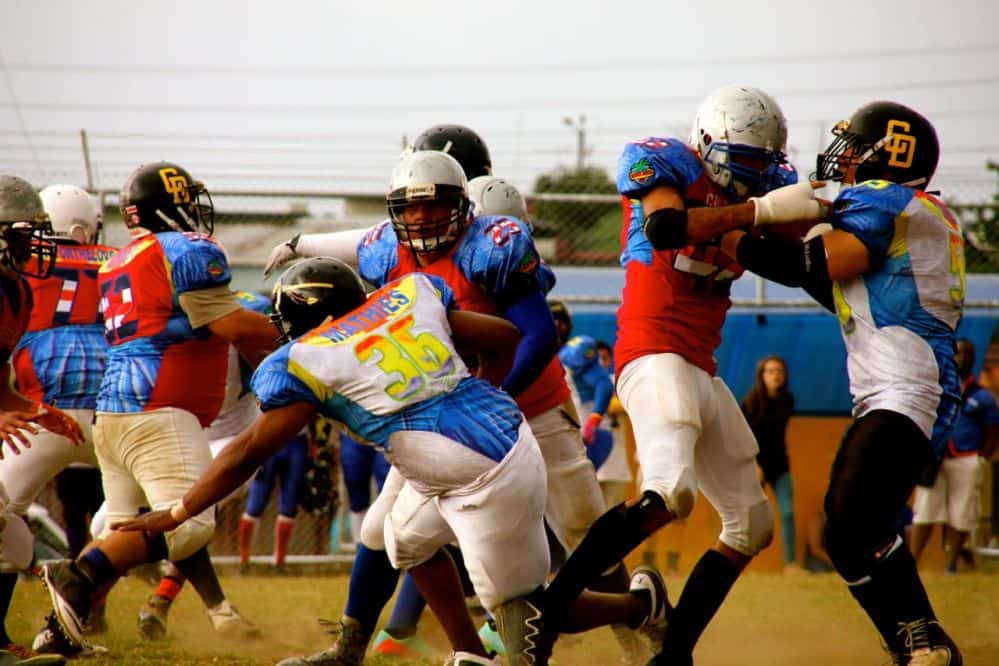 I can still remember not knowing anything about American football. Like those Costa Rican fans, who had lived most of their lives in a world without end zones or touchdowns, the sport has been an acquired taste, a gradual conversion. We may all be fair-weather fans. I will never be the guy who pores over stats, monologues endlessly with his buddies about precise strategies and the likelihood of trading players. Our affection may remain impressionistic – an excitement that comes with cleats tearing up soil, shoulder-pads crashing into each other, the surreal sing-song of "Hut, hut, hike!"
A skinny kid sauntered past me as I took photos. He was talking to himself. He declared, in heavily accented English, "Let's go, team!"
Exactamente, I thought.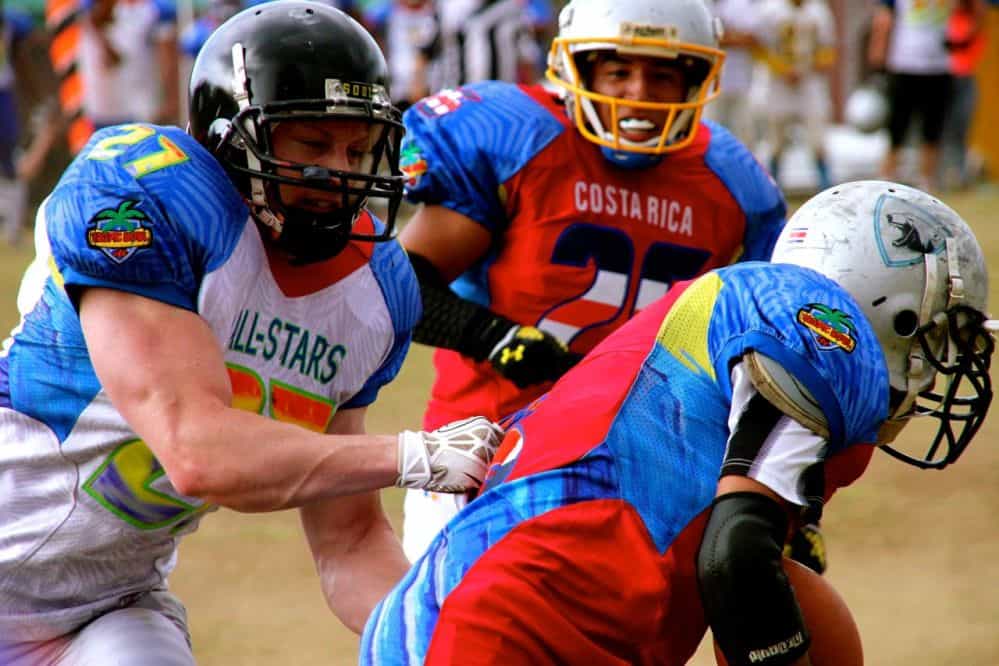 Robert Isenberg is a writer for The Tico Times and heads the travel column Pura Vía. Visit him at robertisenberg.net.