LONDON – The world's tallest and shortest men came face to shin on Thursday to celebrate the 10th annual Guinness World Records Day, as people across the globe set several new bonkers benchmarks.
Turkey's Sultan Kosen, who stands 2.51 meters (8-feet, 9-inches) tall, met with Chandra Bahadur Dangi from Nepal, who measures just 55 centimeters (21.5 inches).
Kosen, a 31-year-old farmer, stooped down to shake the world's biggest hands — 28.5 centimeters (11.22 inches) — with 74-year-old Dangi opposite the Houses of Parliament in London.
"I was very interested how tall he was going to be, about how far up my legs he would go, and of course once I saw him I realized how tiny he was," Kosen told AFP.
He said meeting Chandra was "amazing," although he admitted bending the long, long way down for photographs was difficult.
"I do have problems with my knees so if I stand too long I do get tired," he said.
Kosen added: "Even though he is short and I am tall, we have had similar struggles throughout our lives, and when I look into Chandra's eyes I can see he is a good man."
Meanwhile Dangi, a primordial dwarf who makes placemats, is the shortest adult ever certified by Guinness World Records.
"I was very pleased to see the tallest man in the world; I was curious to meet my extreme opposite," he told AFP.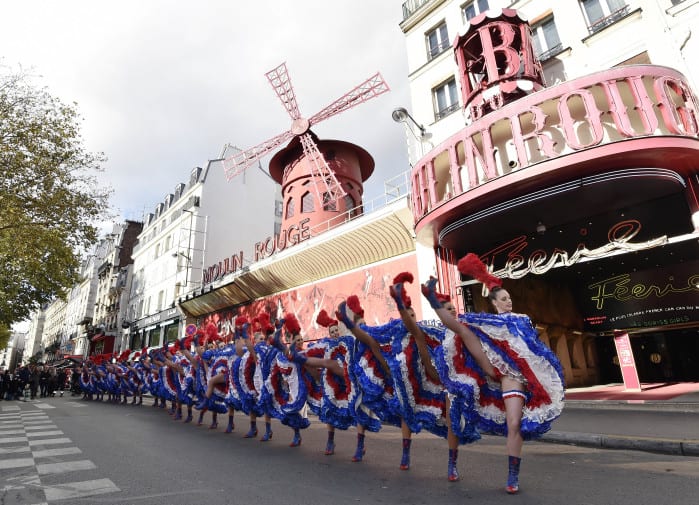 Records smashed at Moulin Rouge
Around the world, participants were having a go at setting all sorts of weird and wacky new world records.
NBC weatherman Al Roker was attempting the longest uninterrupted live weather report, with only a five-minute break per hour permitted. He was still going strong more than 14 hours in.
@alroker is working hard just under halfway into #rokerthon pic.twitter.com/T8KpxvtDHQ

— Jason Lederman (@Lederman) November 13, 2014
At the Moulin Rouge cabaret in Paris, dancers set a new benchmark for the "most simultaneous demi-grand rond de jambe cancan kicks by a single chorus line in 30 seconds," with a total of 29.
Frenchman Nicolas Pihiliangegedara also secured the record for most spinning splits in 30 seconds with 36, while Greece's Adonis Kosmadakis got his leg behind his head 30 times in 30 seconds.
In Phoenix, Arizona, Harlem Globetrotters star Thunder Law set a new record for the farthest basketball shot made backwards, netting from 25 meters (82 feet). It did not even touch the backboard.
"Everyone around he world is trying to break the records and it's an unbelievable experience," he said.
Watch Thunder Law break the record last year for the longest forward shot, at 33 meters (109 feet, 9 inches):
In Japan, 19-year-old Katsumi Tamakoshi set a new record for the fastest 100 meters on all fours, finishing in 15.86 seconds.
And more than 750 students in Ibaraki Prefecture set a new record for the most paper aircrafts made in five minutes — 4,880.
Headbangers and high heels
In Armidale, Australia, 320 pupils rocked their way into the record books for the most people headbanging simultaneously, thrashing out to AC/DC's track "It's A Long Way To The Top."
And Anthony Kelly added yet another world record to his list: most spears caught from a spear gun underwater, catching 10 in a minute.
Records tumbled in China, where 25,703 people took part in the largest line dance in Hangzhou.
Meanwhile the record for the most people eating breakfast in bed went to 388 people at Shanghai's Pudong Shangri-La hotel, spread across 202 beds in the hotel's Grand Ballroom.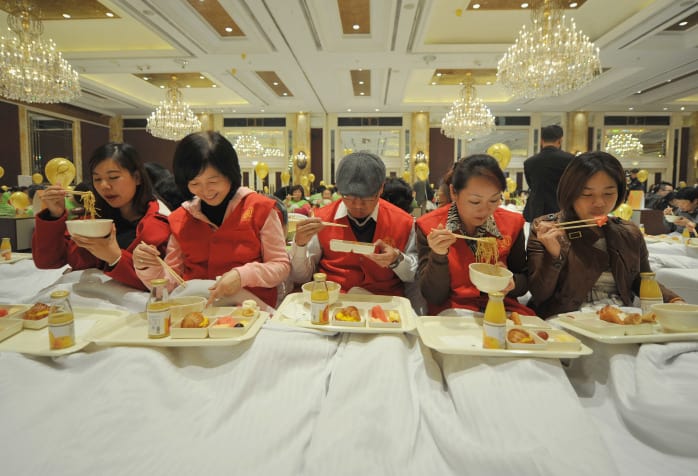 And in Changhua City, Taiwan, record-breakers cooked up the largest-ever rice mosaic, measuring 1,798 square meters.
In London, 373 people have waddled their way to a new record for the largest gathering of people dressed as penguins.
U.S. fashion house Kenneth Cole set a record for the world's largest high-heeled shoe, at 1.85 meters tall.
Brewing firm Guinness launched their famous records book in 1955 to settle disputes among drinkers. The books have sold more than 132 million copies in more than 100 countries. All the record attempts are assessed by adjudicators from the organization.
Recommended: Snake on a (Nicaraguan) bus