INDEPENDENCE, Ohio — Before he made a decision that would alter the NBA landscape for the second time in four years, canonize him in his home state and make Cleveland the center of the basketball universe, LeBron James first sought out the approval of his two sons, LeBron Jr. and Bryce Maximus.
"I asked them first. I didn't explain it to them; they explained it to me," James said Friday as he re-introduced himself to some familiar faces at Cavaliers media day. "I was like, 'What do you think about Daddy going back home to play?' They were, 'Home? You talking about Cleveland?' "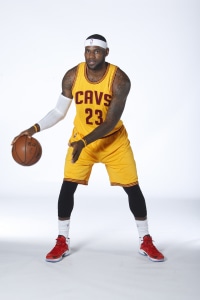 James nodded but never got the chance to tell his boys what it would mean to leave behind the tropical paradise where he captured two NBA championships with the Miami Heat. The reasons why he should take his talents back to Lake Erie were spelled out loud and clear. "It was like, 'OK, you could play with Kyrie Irving?' And I was like, 'Yeah.' And they were like, 'We get to go back home to our house and I get to go back to my old school friends?' And I was like 'Yeah.' Then, 'OK, you can do it.' And that's how it went."
The magnitude of that simple conversation was probably lost on LeBron Jr., 9, and Bryce, 7, but it was evident when James showed up in a bright yellow Cavaliers jersey and crisp white headband to speak to nearly 300 credentialed media members at the team's practice facility. The throng of reporters was so large that many had to park a half mile up the road and catch a shuttle bus in order to see the roll out of the league's latest super team featuring James and fellow all-stars Kevin Love and Irving. Cavaliers first-year coach David Blatt joked that it was the first time he struggled to find a place to park.
"I'm at the point now, let's get it on," said Blatt, the former Euroleague coach tasked with turning the talent-laden bunch into a championship contender. "I'm like Marvin Gaye up here. Let's get it started."
On his first official day back in uniform with the franchise he once rejected, James met the giddy surroundings with a subdued tone that mirrored the organization he just departed. James has learned from drawing unnecessary attention to something that already is a spectacle, his polarizing presence stirring emotions with nearly every utterance. So as he spoke about the next phase of his career, James repeatedly used the word, "patience," and avoided bold proclamations about the Cavaliers becoming a dynasty.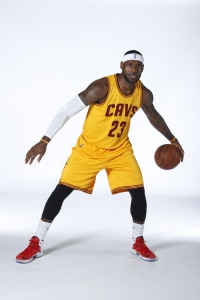 His partnership with the 22-year-old Irving and the 26-year-old Love seems like an unfair assemblage of talent, but Irving and Love have yet to play meaningful NBA games in late springtime, having failed to reach the playoffs in the duo's 10 combined seasons.
"Everyone always wants to see the end result and what's at the end of the tunnel and don't quite understand what goes on from the start to the finish and what's in between that. I understand that and I know that," James said. "Patience is the biggest thing I've learned."
James probably won't be granted the same leeway after leaving the four-time defending Eastern Conference champions to lead a team that, on paper, is built to win right now. The Cavaliers have some other intriguing young pieces in Dion Waiters and Tristan Thompson, a holdover in Anderson Varejao, and James successfully recruited former NBA champions Mike Miller, James Jones and Shawn Marion to pass along some knowledge.
"There are a lot of great names that have come into the organization, … but I know from my multiple years of experience in the business that names don't play, teams do, and teams do need some time to develop, to find their identity, to establish themselves, and to establish what they're made of," Blatt said. "Our goals are high. We're not shying away from that. Does that mean championship today? I don't know. I don't know if that's fair."
"Our goals are high," Blatt said. "We're not shying away from that. Does that mean championship today? I don't know. I don't know if that's fair."
And while James played with Love on Team USA in the 2012 Olympics and teamed with Irving on the Eastern Conference all-team the past two Februaries, he doesn't have the same relationship or history with either player that he has with Dwyane Wade, the close friend responsible for luring him to Miami.
James, however, does have one advantage with this all-star union because the leadership hierarchy doesn't need to be established in Cleveland. Love and Irving are respected talents but have never been considered rivals or peers. Everyone within the Cavaliers organization knows whom to follow to reach the expected goal.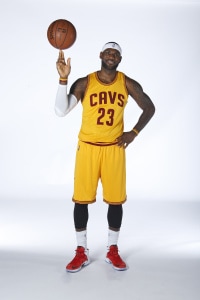 "I will be the leader of the team," James said. "I believe I bring leadership qualities that some of our guys either don't want or just don't know how to do it. I can. I can lead by example. I can lead by voice. I can lead by command I can lead by just my presence."
Cleveland hasn't had much on-court success but plenty of lottery luck — three No. 1 picks — since James skipped town for Miami since 2010. And bringing one title to a city that hasn't experienced championship glory since 1964 would do wonders to exalt James to a fan base in which most instantly forgave him after his first-person letter to Sports Illustrated was published.
Though he returns a conquering hero with two more most valuable player trophies raising his total to four, James didn't sign a two-year, $42 million contract for a fling with an old flame. There remains some unfinished business for the Akron native who led the Cavaliers to their only NBA Finals appearance in 2007 but suffered a humiliating sweep to San Antonio. A Finals loss to the Spurs has led James back to turn a homecoming that seemed difficult to imagine only a few months ago into a dream.
James hasn't allowed himself to get overly emotional after making a heartfelt and personal move. He has learned disappointment comes from putting fun ahead of the wins and guaranteeing the rewards before the work.
"I still have a lot to prove because of the expectations I put on myself. I ask more of myself than anybody could every ask me so my expectations are still high, but I understand, I'm more patient now than I was four year so. I understand what it takes to win a championship and I understand that it's the hardest thing you can ever do in your basketball career, to try and win a championship and I've been two up and two down in four years," James said. "So I went from crying tears of joy to tears of frustration, two up, two down, so I know. I know it all. I know what it takes. I'm a guy that my expectations are still high because I believe in this team and I believe in what we can ultimately get to, but I also understand that it won't be easy and we can't try to play November and get to May or get to June right now. We have to go November to December and the rest of the calendar year just to even have a chance."
http://www.youtube.com/watch?v=o0dQI4qRwWE
© 2014, The Washington Post