In 1989, naturalist John Denham purchased 800 hectares of land in the Tortuguero region in the hopes of protecting sea turtles. Until that time, it was common for poachers to harvest laid eggs and harpoon nesting turtles. Thanks to Denham's efforts, as well as the labor of countless volunteers, the Pacuare Nature Reserve has provided solace for turtles and other animals.
Because Denham is a native of the United Kingdom, the British Embassy celebrated the reserve's 25th anniversary on Thursday night at the ambassador's residence in Escazú. About 30 guests gathered in a common room to enjoy hors d'oeuvres and watch a pre-recorded video message from Denham, who was outside of the country.
"I'm very proud," said Sharon Campbell, the British Ambassador to Costa Rica, about her compatriot's efforts. "You can see that local communities have depended on poaching. It's about trying to help them understand that these beautiful animals are worth more alive. These communities are quite fragile and quite poor. You can't just say, 'It's a reserve,' and that's it. You've got to demonstrate how [the reserve] makes them economically stronger."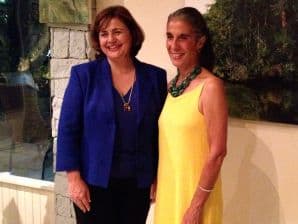 Organizers projected a second video that told the history of Tortuguero, and guests laughed at the mention of English pirates who attacked the region in the mid-18th century.
"There was that little reference to the British buccaneers," Campbell said afterward with a chortle. "We've got a bit of a history [in Costa Rica]. But nowadays it's a more positive history."
Indeed, the reserve has become a magnet for international students and volunteers, who learn about turtle migration and often participate in their protection during nesting seasons.
"The message is, 'We're here, we're doing this together, and we're here to help,'" said Hilda Denham, John Denham's wife and a project trustee. "If you love something, you're going to take care of it. If you have a dog, and you can't be bothered by it, the poor thing is going to die of hunger."
Hilda Denham initially became interested in environmental issues during the early 1980s, when organic farming started to become popular. Originally from Venezuela, Denham moved to England in order to study sustainable agricultural practices.
While the reserve is most famous as a turtle habitat, drawing hordes of tourists to the Tortuguero region every year, numerous other animals live there as well. At present, the reserve is home to approximately 30 types of mammals and 230 different bird species. It is the only known nesting site in Costa Rica for the endangered Agami heron. The green turtle comes to Tortuguero to nest from June to November.