RIO DE JANEIRO, Brazil – From afar, the Complexo do Alemão favela looks like Legos dropped from the sky, a mountain of small building blocks stacked one atop another in no discernible pattern. With an estimated population of at least 100,000 people, the favela is one of Rio's largest. Historically, it has also been one of its most dangerous.
The endless maze of small boxy homes and narrow pathways is located about 5 ½ miles from the famed Maracana stadium, site of the World Cup's title match Sunday. But soccer isn't that far away. In fact, it's never been closer.
A nonprofit co-founded by Washington, D.C. native Drew Chafetz is responsible for the favela's giant year-old soccer field with red fencing wrapping around the perimeter. At the same time Brazil's municipal governments and soccer officials scrambled to construct and refurbish a dozen World Cup stadiums, Chafetz and his modest outfit have been busy building their own fields around Brazil, working with considerably smaller budgets and with sights set on an impact that will continue to be felt long after this World Cup.
"You go to slums throughout the world, kids are surrounded by violence, drugs, gangs. They don't have parents or positive outlets," said Chafetz, 31. "Soccer is an outlet. It gives them hope. We want to make sure everyone has access to that hope."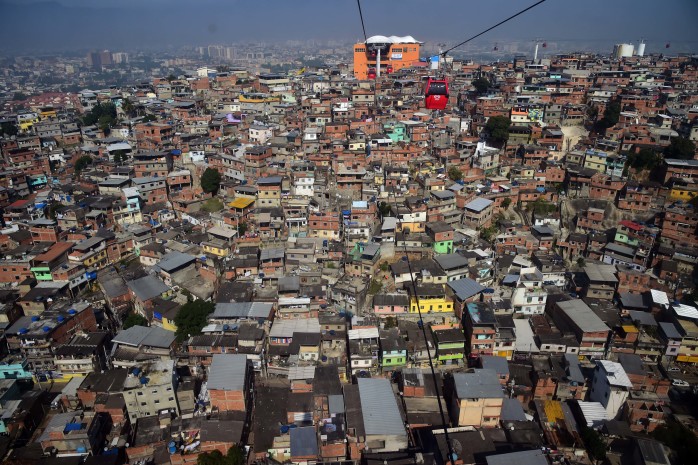 The World Cup operates on a four-year cycle. Players, coaches, teams come and go, and any semblance of permanency can seem like an illusion. What's left behind are the stadiums, reminders of games played and money spent.
The mammoth World Cup soccer stadiums carried a price tag of about $4 billion. For 64 matches. And then what? A few will house some of Brazil's top professional teams, but others will sit largely empty, expensive monuments — "white elephants," the locals call them — to a tournament that came and went. In Brasilia and Curitiba, in Manaus and Natal, the new stadiums have no permanent tenants lined up.
It's a phenomenon not unique to this tournament or even the World Cup. The Olympics often leave behind expensive roadside ornaments that get little use. The signature stadium of the 2010 World Cup, in Cape Town, South Africa, reportedly cost $600 million. Since FIFA rolled out of town four years ago, the facility has hosted more concerts than soccer matches, artists from Neil Diamond to Justin Bieber. But it mostly sits vacant, waiting for tenants who require 50,000-plus seats.
City officials throughout Brazil will work to keep the stadiums in use when the tournament ends. It's a problem Chafetz and his organization, love.fútbol, don't have with their fields. They're rarely empty. The nonprofit targets poor, soccer-loving communities where a field might have an impact that transcends sport.
The past couple of years in Brazil, the organization has been working diligently in the shadows of the World Cup. It opened a new field in São Paulo the day of the Cup's opening match. In February, it inaugurated a pitch in Recife just a short walk from the city's $280 million World Cup stadium. Kids have been playing on the field in the Rio favela since last April. And next month in Curitiba, love.fútbol will unveil its 16th field. It operates on a smaller scale, but there's a real-world permanence to the soccer fields, not to mention the impact they have on poverty-stricken communities.
"That space is going to remain there for decades," Mano Silva, the nonprofit's chief operating officer, said of the Rio pitch. "We're talking about generations. When adults are working on the field, they're saying, 'This is for my son,' or 'My grandson will someday play on this field.' "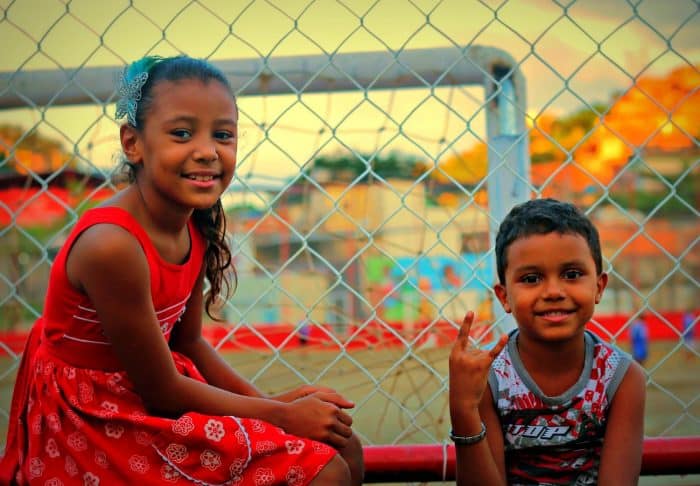 Growing up in Chevy Chase, Md., Chafetz and his family traveled extensively. Even as a young boy, he saw what soccer meant to children all over the world. He attended Maret School and then played soccer in college, first at Dickinson College and then the University of Colorado. He was 23 and studying abroad when he spotted some kids playing soccer in a dangerous alley in Morocco. That planted the seed for love.fútbol, which he co-founded in 2006.
Across the world, soccer isn't necessarily a difficult sport to play and doesn't require expensive sneakers, helmets or bats. A field can be any open space, boundaries can be etched in the dirt and soccer goals might be represented by a nearby tree or maybe a pair of shoes.
Chafetz held a fundraiser at Lucky Bar in Washington's Dupont Circle neighborhood, raised $700 and flew to Guatemala, where he saw a huge need for safer fields. Kids were playing barefoot in trash dumps; fields butted against open sewage ditches; pitches were cluttered with broken glass and shards of metal. To reach some fields, children had to walk miles or cross dangerous roads.
Relying on the support of corporate sponsors and community partners, the organization built nine fields in Guatemala. The fields are different dimensions. Some have grass, some are cement, some dirt. Costs range from $40,000 to $70,000, but the land is typically donated from the local municipality, the materials from sponsors and the labor from the community members themselves — a key component, Silva said.
"They come together, build it with their own hands and say, 'No one can take this away from us now,'" he said.
As love.fútbol prepared to expand into Brazil in 2011, it revisited the Guatemalan fields to measure impact. The group interviewed more than 180 community members, teachers and parents. Nearly all said that since the fields opened children were active, four in five reported improved academic performances and 70 percent said drug abuse and gang activity had declined.
Communities reported fields became a popular site for after-school activities, hosted festivals, dances, social and educational programs, and also sparked additional growth: new roads, community centers, outdoor exercise equipment, beautification projects, volleyball courts.
"It's really served as a first step," Silva said. "We start with the field, and the community realizes they can accomplish things. They can keep doing things after we finished the soccer field. That has happened in pretty much every project in Brazil."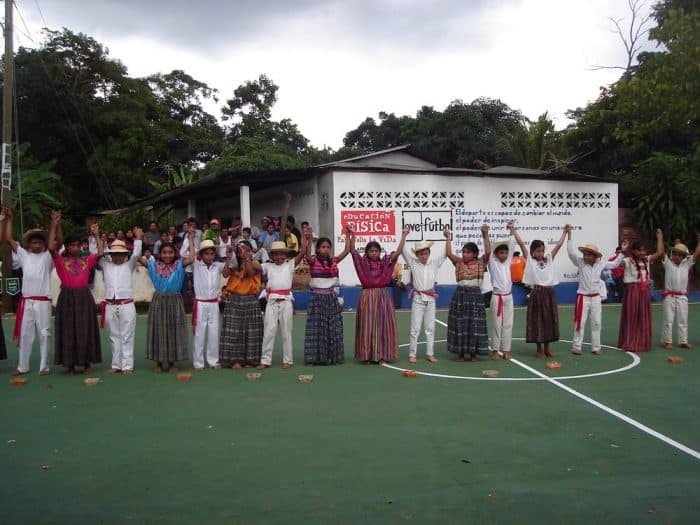 Like Guatemala, Brazil had palpable need. Soccer is ever present here, and most schools have no recreational space. Games take place at all hours on beaches, alleyways, under overpasses — anywhere there's space to kick a ball. Two recent members of Brazil's national team lost siblings when they were younger, in street games that resulted in car accidents.
"What we look for is soccer-passionate cultures that are experiencing profound poverty," Chafetz said. "One of the benefits of Brazil is that there's substantial economy as well, so that helps us find investment and the support to get things done."
The organization has worked with corporate partners like Coca-Cola, Under Armour and Brazilian companies of all sizes. They're exploring expanding to other countries, maybe Chile, Mexico or Panama, and even considering doing some work in the United States, particularly in inner city communities that have never had a neighborhood pitch.
"Our goal is not to do three projects a year. We'd like to do, like, a thousand all over the world," Silva said. "When I say that to my wife, she thinks I'm crazy. But I think it can happen."
And if it doesn't, they take comfort knowing that their modest fields, carved into Brazil's struggling communities, will be helping long after the World Cup leaves town.
Learn more about the organization at www.lovefutbol.org or follow them on Twitter and Instagram.

© 2014, The Washington Post