A hurricane wheeling up the Atlantic Ocean Thursday is wreaking havoc on Independence Day fun from the Mid-Atlantic to New England.
The annual Boston Pops Fourth of July concert was moved from Friday to Thursday. Surf City, N.C., scrapped its annual fireworks show. On the North Carolina shore, celebrations were pushed to Saturday, Sunday or Monday.
Arthur was designated as the first Atlantic hurricane of the season at 5 a.m. Thursday as it headed toward the Outer Banks of North Carolina, a strip of barrier islands that are popular vacation spots for Washingtonians. Currently a Category 1 hurricane, the weakest kind, the National Weather Service predicts Arthur will become a more damaging Category 2 storm by the time it hits the coast. After Friday morning, Arthur is forecast to continue up the coast toward New England.
Although they are clear of the hurricane's predicted path, Virginia Beach and Maryland's Eastern Shore are expecting wind and rain to put a damper on July 4 celebrations. Ocean City, Md., and Virginia Beach have both rescheduled their fireworks to Saturday night.
The National Park Service said it hopes to hold its fireworks show on the Mall in Washington as scheduled Friday night, but it is prepared to postpone the show if the weather interferes.
Carol Johnson, a Park Service spokeswoman, said the Park Service has already set up 6,000 fireworks near the Lincoln Memorial, along with a fence to protect the fireworks and medical tents. If any of that gets blown down by hurricane-related thunderstorms on Thursday night, the Parks Service will need to hastily set it up again Friday.
"We'd just come in and do what we have to do to get everything ready," she said, adding that Park Service staff are putting mesh around the fireworks to protect them from sidelong rain. "As long as anyone can remember, they've never been rescheduled. They've maybe been pushed back half an hour."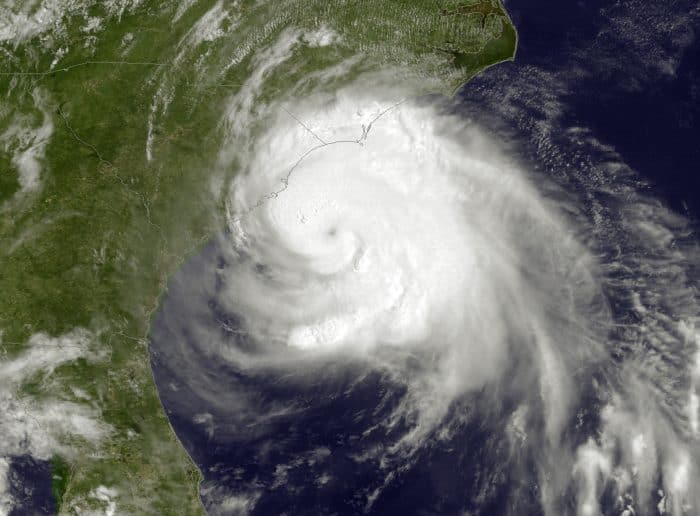 Washington Post meteorologist Jason Samenow said the storm could have winds as fast as 105 miles per hour when it hits land in North Carolina, making it powerful enough to damage roofs and tear down trees and power lines.
"This is looking like the most potent hurricane to make landfall in the United States in six years. We haven't had a Category 2 since 2008," Samenow said.
It could also be one of the earliest hurricanes to hit land in North Carolina history, Samenow said.
Washington and its suburbs will be only slightly affected, said Samenow, who recommended that vacationers spend the first part of their three-day weekend in town before hitting the beach on Saturday or Sunday.
"You want to go inland, basically. Get away from the coast on the Fourth of July," he said. "And then by the weekend, everything's pretty much dry — it's a fast mover."
On Saturday, the weather should be clear at the beaches in North Carolina, Virginia and Maryland, and beaches in New England will be clear by Saturday afternoon. But beachgoers should be cautious when they enter the water, Samenow said. Even though the skies will be sunny, the storm will leave behind high seas and rip currents that could make swimming risky until Sunday.
North Carolina Gov. Pat McCrory (R) declared a state of emergency for 25 coastal and adjoining counties on Wednesday evening. "Don't put your stupid hat on," he said at a news conference, urging those who chose to stay to avoid the water. On Thursday, he reassured residents and visitors that the state was prepared for the worst but was optimistic that the storm would not destroy the entire beach holiday.
"This holiday weekend is one of the biggest weekends for coastal tourism," he said, "and we expect a beautiful weekend after the hurricane."
Hurricanes are hardly a new experience for the Outer Banks, which was hit by Irene in 2011, Ophelia in 2005, Alex in 2004, Isabel in 2003 and Floyd in 1999. The thin, fragile islands are prone to flooding. Most houses are built on stilts for just that reason.
But some have little choice but to leave. Hatteras Island, a long stretch of sand that covers half the length of the Outer Banks, is under mandatory evacuation, officials said. There is concern that Highway 12, the only road off the island, will be covered in water when the storm hits. Even when it recedes, sand could make the road impassable. Ocracoke Island to the south is under voluntary evacuation.
"We're closing this evening and tomorrow, but we believe the storm will be past us and we'll be able to open for the night of the 4th," said Nathaniel Schramel, whose father owns the Flying Melon Cafe on Ocracoke. Despite the voluntary evacuation, he says the island is still busy with tourists and locals. Their main concern is making sure their red wine doesn't overheat.
In the wider land north of Hatteras, locals and seasoned visitors aren't worried.
"We'll drop the storm shutters and we'll round up anything that could be taken for a ride with the wind, but all the indications are it's going to be in and out quick," said Richard Hoffman, a math teacher in Kill Devil Hills. His daughter, son-in-law and grandchildren are down for the holiday. They will barbecue tomorrow regardless of weather, he said — they can put the grill under the house.
"We're going to have a regular Fourth of July," he said.
For others, however, the oncoming storm already has dampened the Fourth.
"We're going to get together at our house back in Silver Spring and simulate our time together with a barbecue," said Mary Jo Schumaker as she drove back to Maryland from Hatteras, where she and her family vacation with a group of friends every summer. They had to evacuate in August 2011 for Hurricane Irene, so they moved their annual trip to earlier in the summer to avoid future storms. And yet they were forced off the island again Thursday. "We're all very disappointed," she said. "But when you're dealing with nature, there's not much you can do."
© 2014, The Washington Post