Costa Rican police have been busy this week. Very busy.
Authorities raided nine properties across the Caribbean province of Limón Thursday morning, arresting one woman and two men for alleged drug trafficking, reported the daily La Nación.
Later Thursday afternoon, Judicial Investigation Police (OIJ) added that a Honduran suspect was also arrested in Los Cocos.
Authorities confiscated an AK-47 assault rifle and $14,000 plus another ₡1 million, roughly $2,000, in cash.
The newspaper reported that some 150 police officers participated in the raids, which took place in Moín, Los Lirios, Limón 2000, Los Cocos, and the disputed Isla Calero wetlands near Nicaragua, among others.
In Calero, OIJ captured Agustín Reyes Aragón, who allegedly headed a drug-running gang known as the "Tarzans" that operated in Nicaragua.
In 2013, OIJ carried out several raids against the same criminal organization. Authorities seized 675 kilograms of cocaine and arrested two Colombians, and confiscated another 1.13 metric tons of cocaine in Playa Negra in two separate operations last year.
Authorities seized 675 kilograms of cocaine from the same criminal organization in Tortuguero in 2013, arresting two Colombians.
OIJ Director Francisco Segura said the gang likely used the troubled Route 1856, also known as the "trocha fronteriza," to move drugs from Colombia into Nicaragua and eventually on to Mexico and Honduras, reported CRHoy.com.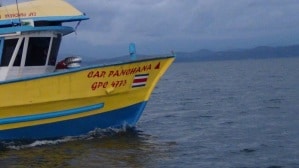 News of the raids came out shortly after the OIJ released a statement saying they seized another important quantity of narcotics on the other side of the country on Tuesday.
OIJ seized 1.9 metric tons of cocaine in the Pacific tourist beach of Playas del Coco in the northwestern province of Guanacaste. Police arrested three Costa Ricans and a Nicaraguan found on a boat carrying the narcotics.
The operation in Playas de Coco was carried out in coordination with the U.S. Drug Enforcement Agency.
On Wednesday, Public Security Minister Celso Gamboa said that Costa Rican and U.S. Coast Guard ships had intercepted three fishing boats in the country's southern Pacific region with a record 4.1 metric tons of cocaine, the largest ever seizure in Costa Rica history.
Costa Rican authorities have seized over 6 metric tons of cocaine so far this week alone.