SÃO PAULO, Brazil – Police in São Paulo fired tear gas Monday to disperse protesters supporting a subway strike that has unleashed transport chaos three days before the Brazilian mega-city hosts the World Cup kickoff.
A group of about 150 strikers and protesters set fire to piles of garbage to block a central avenue in the Brazilian business hub, prompting some two dozen riot police to fire stun grenades and then tear gas to disperse them.
But demonstrators regrouped with chants of, "There won't be a Cup, there will be a strike!"
The protest grew to about 1,000 people, who marched to the state transport secretariat waving red banners, banging drums and blowing whistles and vuvuzelas.
Protest leaders delivered speeches blasted from a sound truck outside the transport offices as 50 riot police with shields guarded the entrances.
The demonstrators are backing a five-day-old strike by subway workers, the latest in a wave of protests and strikes that has swept Brazil ahead of the World Cup and elections in October.
The walkout has posed a major headache for commuters in São Paulo, a sprawling city of 20 million people, and threatens to disrupt transportation plans for Thursday's opening match, when the world's eyes will be on Brazil.
Around a billion people worldwide are expected to watch the game on TV, and U.N. Secretary General Ban Ki-moon and 12 heads of state and government will be in the stadium to see Brazil play Croatia.
World Cup teams, meanwhile, continue arriving in Brazil, with reigning champions Spain touching down Sunday night.
France, Cameroon, Argentina, Uruguay, Ecuador, Costa Rica, Honduras and the United States are all arriving Monday — the latter three in São Paulo.
Union defiant
Police said they had detained 13 strikers for damaging a door and interfering with colleagues' work at a central subway station where officers used tear gas and truncheons to disperse picketers last Thursday.
The metropolitan transport authority said it had fired around 60 strikers for "just cause."
The reasons for the dismissals included vandalism, blocking commuters and inciting people to jump turnstiles, Transport Secretary Jurandir Fernandes told newspaper Jornal da Manhã.
Union president Altino Melo dos Prazeres condemned the sackings as "unacceptable."
The union has reduced an initial demand for a 16.5-percent wage hike to 12.2 percent, but the government is offering only 8.7 percent.
A labor court ruled Sunday that the strike was illegal and imposed a $222,000 fine for every day it continues, but the union voted to press on with the walkout.
Some 4.5 million people use the subway daily and it is the main transport link to Corinthians Arena, which will host the World Cup opening ceremony and match.
The subway has been partially operating, but trains were not arriving at the stadium.
Prazeres said he was confident the strikers had the upper hand.
"I don't believe the government wants to thwart this Cup," he told AFP.
Rising inflation and a sluggish economy have tarnished the World Cup glow in Brazil, fueling the anger of strikers and protesters who say the $11-billion budget would have been better spent on education, health and transport.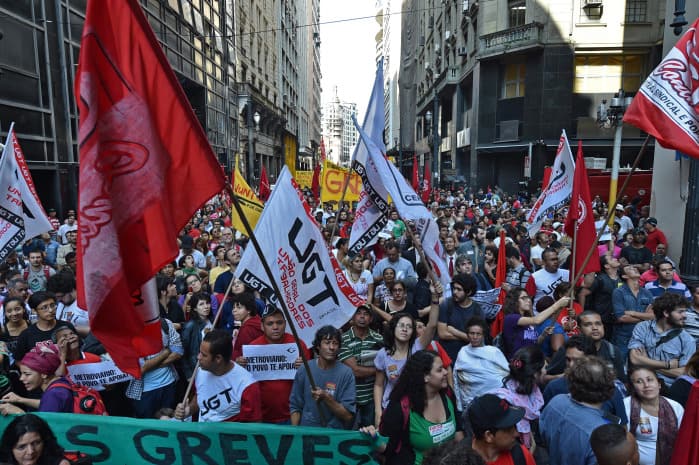 Unfinished stadium 
Authorities are keen to resolve the latest labor dispute and avoid further embarrassment in a World Cup hit by delays and cost overruns even before it has started.
Corinthians Arena has become a symbol of the problems besetting the tournament.
At the weekend, workers were still racing to finish the 61,600-capacity stadium, which has been chronically behind schedule and over-budget.
Work on the 12 host stadiums has also been overshadowed by accidents that have killed eight workers. Three of the deaths were at Corinthians.
President Dilma Rousseff, who is seeking re-election in October, insists the money spent on the tournament will leave a legacy of modernized airports and transport infrastructure that will benefit Brazil for years.
But many of the promised projects have been shelved, adding to protesters' anger.
A year ago during the Confederations Cup, a World Cup dress rehearsal, more than a million people flooded the streets, some trashing property and clashing with police.
Recent protests have been smaller, but activists are vowing to revive last year's "Tropical Spring" during the World Cup.
Find more World Cup coverage at our hashtag #Brazil 2014. 
Recommended: Most Brazilians don't want to host the World Cup