LAGOS, Nigeria – International efforts have widened to trace more than 200 schoolgirls abducted by Islamist militants in Nigeria, while France has called for African leaders to hold a summit focused on the issue.
Israel on Sunday joined the bid to find the 223 schoolgirls abducted by Boko Haram fighters in Nigeria's restive northeast four weeks ago, but Washington said U.S. troops would stay out of any rescue mission.
"There's no intention, at this point, to [put] American boots on the ground," U.S. Defense Secretary Chuck Hagel told ABC television, admitting that finding the girls would be no easy task.
Nigeria's President Goodluck Jonathan spoke to Israeli Prime Minister Benjamin Netanyahu by telephone and accepted an offer for assistance in finding the girls, who were kidnapped from their school dormitory in the town of Chibok, Borno state, on April 14.
Jonathan told Netanyahu that, "Nigeria would be pleased to have Israel's globally acknowledged anti-terrorism expertise deployed to support its ongoing operations," according to the president's spokesman Reuben Abati.
Britain, the United States and France have already sent specialist teams and equipment to help Nigeria's military in the search concentrated in the remote northeast, which has been hit by five years of deadly violence.
French President Francois Hollande said a summit on security in west Africa, focusing on Boko Haram, could be held as early as this Saturday "if the countries agree."
"I suggested, with Nigerian President Goodluck Jonathan, a meeting of Nigeria's neighboring countries," he said on Sunday during a visit to Azerbaijan's capital, Baku.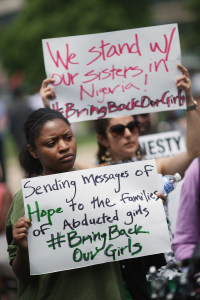 The leaders of at least five African countries — Nigeria, Chad, Cameroon, Niger and Benin — may take part, a source close to the president said.
Nigeria's government has been criticized as slow to respond to the crisis, and Amnesty International claimed on Friday that the military had prior warning of the impending abductions.
Abuja has since been forced into action after a groundswell of national and international outrage that has included protest marches across the world.
Jonathan has said he believes the girls are still in Nigeria. Searches were being conducted in the Sambisa forest area of Borno state, where the military has previously found Boko Haram camps and arms caches.
There are fears, however, that the girls may have been moved across the border into Chad and Cameroon.
'Utterly merciless'
Boko Haram, whose name translates loosely from the Hausa language spoken widely in northern Nigeria as "Western education is sin," has attacked schools, churches, government installations and, increasingly, civilians since 2009.
This year alone more than 1,500 people have been killed, despite a state of emergency imposed in three northeast states in May last year which was designed to put down the insurgency but has failed to stem the bloodshed.
The militants were blamed for another attack on Friday night that completely destroyed the village of Liman Kara in northeastern Adamawa state.
The kidnapping of young girls and women has been used as a previous tactic, but the scale of these abductions — and threats from Boko Haram leader Abubakar Shekau to sell the girls as slaves — has galvanized the international community into action.
U.S. First Lady Michelle Obama, in a recorded message on Saturday, described the kidnappings as "unconscionable," adding to condemnation from governments, religious leaders of all faiths, Hollywood celebrities, business figures and ordinary people around the world.
The leader of the world's Anglicans, Archbishop of Canterbury Justin Welby, warned that dealing with Boko Haram would be fraught with danger, as his opposite number in the Catholic Church, Pope Francis, pledged his support for the girls' return.
Welby, an oil executive before joining the Church, has experience negotiating with violent groups in the oil-producing Niger Delta region in southern Nigeria.
He told BBC radio in an interview that the girls faced a "colossal" risk.
"They're in the hands of a very disparate group which is extremely irrational and difficult to deal with, and utterly merciless in the example it's shown in the past," he said.
Negotiating would be "extremely complicated" because of Boko Haram's disparate structure, while poverty and mass unemployment in mainly Muslim north Nigeria — factors seen as fueling support for the group — have to be addressed, he added.