My family and I had been exploring the Pacific coast of Costa Rica for two sunny weeks before we finally made our way to the country's interior rain forest. It was supposed to be a six-hour drive from our last stop, the surf town of Santa Teresa, to our final destination, Tree Houses Hotel Costa Rica in Santa Clara.
But the trip was taking longer than we'd anticipated. It was still early in the rainy season, yet the winding two-lane highway on which we were traveling was already rough and rutted. The sun had set, heavy rain was falling, and I was getting anxious.
With no road signs to help us navigate our route, I inspected a map (an actual map, there was no cell service) and deduced that we were close to the town of La Fortuna. The Tree Houses Hotel was supposed to be only 25 minutes beyond it. The road was becoming more precarious with every passing minute, and the portable DVD player was toast.
"We're almost there! Just an hour left," I informed our two boys, Tanner, 6, and Brady, 3, hoping to squeak out a bit more of their waning patience.
The car suddenly slowed. "What is it?" I asked my husband, Brian. A handful of vehicles were lined up ahead of us, their red brake lights glowing. "Is there an accident?"
Then I saw it: a single orange construction sign, sitting in the middle of the road. Peligro, it read. Danger. Beyond it, the highway was completely covered in mud, and the bridge that would take us to La Fortuna awash in wet earthen debris.
We're from Colorado, in the United States, so a mudslide is not an unheard-of event, but a mudslide as a sudden endpoint, with no detour signs or public works official to offer advice on what to do next or where to go? The trip had suddenly gotten a lot more challenging.
The kids strained to see the slide from their car seats. The cars in front of us turned around and began heading back down the road we'd just spent hours ascending.
"What are we going to do, Mommy?" asked Tanner. I took a deep breath and squelched the full-blown tantrum bubbling within, reminding myself that this was a chance to make travel of all kinds – good and bad – a positive learning experience. I announced, "Well, it's all part of the adventure. Let's find a place to stay for the night!" We turned around, stopped at the first roadside hotel we could find and bedded down.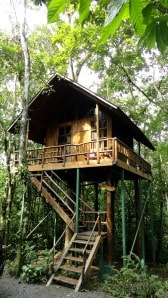 The next day, the rain had stopped, but the highway to La Fortuna remained closed. A local resident suggested a rocky backcountry route that we could follow to the Tree Houses Hotel – if we were up for a challenge and a few more hairpin turns.
We accepted the challenge willingly and drove our compact SUV into the mountains, past small farms and homes and through out-of-the way villages of central Costa Rica, the fertile, rolling green hills reminding me of Ireland. Children in pale blue-and-white uniforms played in tiny schoolyards, staring as our car drove past. Our kids waved, having forgotten all about the Disney movies on the recharged DVD player.
For three hours we drove. The world beyond our windows was the lush, unadulterated Costa Rica of my memories, when I'd first traveled the country more than a decade earlier.
Beyond the overdeveloped tourist trap that La Fortuna has become, we finally reached the Tree Houses Hotel Costa Rica, which is actually a bed-and-breakfast. We pulled up to the secured metal gate and rang the managers from the driveway. "Come on in!" Mark Eidson welcomed us. He and his wife, Lucy, are U.S. citizens who moved to Costa Rica in 2009 to manage the resort. The gate opened and we drove along concrete pavers into instant jungle.
"Hurry, come here and see the sloth!" Lucy coaxed us out of our car before we'd even registered. Tanner sprinted up the hill behind her. His goal throughout the trip had been to see a three-toed sloth, and with only two days remaining in the country, he was finally going to get his wish.
"There she is," Lucy said, pointing high into the trees. It took us a moment to find and focus on the gray figure. Then the animal moved to scratch its belly, revealing another surprise. "She has her baby with her!" Lucy whispered. Clinging to its mother was a baby sloth. The sight was mystical, peaceful, primeval. And that was just the first five minutes of our time at Tree Houses Hotel.
***
We'd reserved our tree house weeks before on the Internet. Because we're a family of just four, we chose Frog, the smallest and most affordable of the six tree houses on the property.
The laurel wood structure rose 30 feet in the air. We took the 20 steps up to the full wrap-around porch, which gave us a perfect view of the birds flying high in the canopy. Inside, the space was clean and cozy. On the main floor was a queen bed and a bathroom, and in the upstairs loft, accessed via ladder, were two single beds for the children.
After a short time exploring the room, we changed into hiking gear and made our way to Arenal Volcano National Park – a must for any first-time visitor to Costa Rica. On the way we stopped at a roadside shop named Leo's for pipas frías, fresh coconut water sipped straight from the fruit. Leo, as is typical in this country filled with friendly locals, came out to greet us and invited the kids to hold the green parakeets and parrots that live on the property.
It's easy to understand why Arenal is such a draw for visitors. It's an active volcano whose pristine, cone-shaped form belies its violent inner battle, sometimes oozing lava without warning. More often, Arenal is hidden in clouds. We were happy to see most of the volcano as we hiked with the kids through forests and lava fields, animals in the distance accompanying us with their sharp calls. For several hours we hiked to the farthest point possible, before rockfall danger became too significant for us to continue.
Afterward, we stopped to unwind at the EcoTermales Hot Springs. Owned by the Hidalgo family, this is a much smaller and more pleasurable hot springs experience than the larger, crowded Tabacón Hot Springs. We soaked in four pools well into the night before enjoying a traditional dinner of chicken, fried tilapia, rice, beans, salad with hearts of palm, homemade tortillas and rice pudding – all served family style. The kids drank their combined body weight in fresh passion fruit and pineapple juice.
It was late evening by the time we returned to the Tree Houses Hotel, this time greeted by night watchman Rolando. He invited our family to join him for a hike so that he could show us some of the more elusive nocturnal creatures of Costa Rica.
Armed with flashlights and headlamps, our small group set out into the jungle. A Tico, or native Costa Rican, Rolando knows this area the way a child knows its own backyard. He was thrilled to tell us tales of animals he encounters at night while overseeing the property.
To Tanner's amazement and delight, Rolando took out a foot-long machete and hacked into a tree. With his light on the trunk, we watched as a small amount of a white, watery substance trickled out. "Rubber tree," Rolando said, "Not too much today. When it's a full moon, it oozes." He motioned for Tanner to feel a spot he had cut the night before, where the latex had hardened. Tanner peeled it off and put it in his pocket.
Throughout the evening, Rolando revealed a trove of animals and insects to us: red-eyed tree frogs, hourglass tree frogs, ground toads, a sleeping woodpecker burrowed into a tree, massive moths, lizards and even a frog that jumped straight onto Tanner's shirt. The hour-long excursion was the highlight of the entire trip for our son.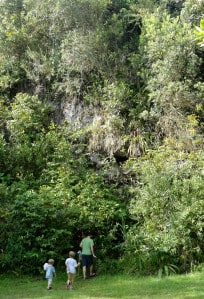 At 6:30 the next morning, we opened the door of our tree house to find hot Costa Rican coffee waiting for us on the porch. The kids ran out into the warm air in only their pajama bottoms to inspect the surrounding rain forest. They immediately opened their wildlife books, eager to make new observations. Birds of all hues darted past, as the omnipresent spider and howler monkeys screamed in the distance. "It sounds like a lion roaring!" Brady said with a smile.
As we bounded down the stairs of the tree house on our way to breakfast, I heard a distinct chirping in the nearby shrubs. The boys and I leaned down closer to the sound, and there alone beneath a leaf sat a blue jeans poison dart tree frog. About one inch long, his body red but his legs blue, the tiny creature sat and sang to us before escaping back into the dense woods.
At an outdoor dining room, we were served a beautiful Costa Rican breakfast of fresh juice, fruit, huevos rancheros, fried yucca and more strong local coffee. Then we set out for a morning hike along a private grass-covered trail through 70 acres of a surrounding nature preserve, past orange, mango, lychee and breadfruit trees. Our sightings of gargantuan spiders, Blue Morpho butterflies and even a toucan were matched only by the exotic flora, including the pine cone lily, "lobster claws" heliconia and the natural waterfall that we arrived at a half-hour later.
There, the boys threw off their clothes and got even closer to nature as the water ran down the rocks, and the monkeys, which had tracked us from the beginning of our hike and clearly did not approve of skinny dipping, shouted noisily overhead.
Beazley is a food and travel journalist based in Aspen, Colo., and the author of the children's book "Snowmastodon! Snow Day Adventure." Follow her on Twitter at @awbeazley1.
© 2014, The Washington Post