It is The Tico Times policy to conduct reviews anonymously. If we have reviewed your establishment and you disagree with our assessment, you are welcome to comment on the article, and if you wish, request a follow-up review.

*
The newly erected El Mangroove, an Enjoy Group hotel, recently began offering  a "soft opening" deal: $192 for the night, plus a $50 resort credit. So although the gym, spa and some units are still under construction, we packed our sun hats and headed for Guanacaste.
A stay at El Mangroove costs less than a third of one at Andaz Papagayo (also new to Guanacaste) or the Four Seasons, so we were prepared for a corresponding level of luxury. What we didn't expect was that the hotel's food and cocktails would set a new standard for the region.
Although El Mangroove's marketing materials explain that it is located on Papagayo Bay, it's not. Papagayo is not a bay but a peninsula, and Mangroove isn't on that peninsula. It's understandable that a hotel would want to be associated with the country's most glamorous finger of land, but there are also advantages to its actual location, Playa Panama.
What you do
Just a few kilometers south of the Papagayo Peninsula, the resort is only 20 minutes driving distance from Liberia's Daniel Oduber International Airport. Also, that dark sandy beach, which some might call chocolate, is soft and tranquil, which makes for excellent swimming and stand-up paddle boarding. The beach's rental shop even offers a light-up paddle boarding night tour, but it doesn't come cheap at $90 a person.
Other, less costly activities include cruising the small beach town on the free bikes and lounging at the incredibly long, cabana-flanked swimming pool. Guests can also watch exotic birds flit through the massive brazilwood trees and nearby mangrove community, for which the hotel is named. Well, sort of.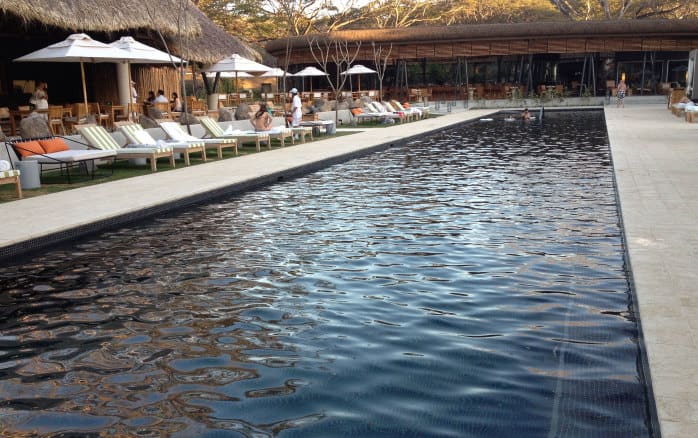 Where you sleep
The curious moniker is explained by an even more curious poem framed on the bathroom walls, which ends with this sentence: "I and the mangrove become El Mangroove."
The concept for El Mangroove is something you might call ironic-chic, with an emphasis not on romance, but sex. Suites contain small bedrooms dominated by king beds, and open-air patios feature tongue-in-cheek elements. Ours displayed fake plastic shark teeth mounted on a board. Our mini bar was stocked with a popular Costa Rican craft beer Tumba Calzones, which means panty remover. In our nightstand, complimentary condoms were packaged in clamshell cases that read, "help: I'm horny."
That said, all the modern amenities were present and accounted for: the iPod docking station, the hairdryer, the 42-inch flat-screen TV. The beds were white and fluffy and the bathing chamber had a towering rainfall shower head and a strip of translucent glass at eye level, which offered a view of the bedroom and patio (but might be awkward for non-couples).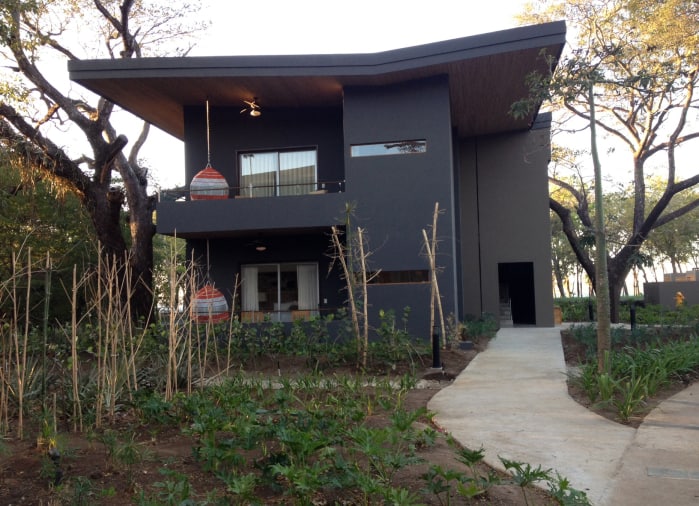 What you eat
The 85 units, distributed in a collection of two-story slate gray buildings, are comfortable but not quite the point. Sex is important, and Valentine's Day lovers will land well at Mangroove. But really, gastronomy also reigns.
The culinary director Sebastián La Rocca was previously the executive head chef at Jamie's Oliver's Michelin-rated Barbecoa restaurant in London, a fact that is strangely absent from marketing materials. The Argentine native learned to cook at the world-renowned Culinary Institute of America, and his dishes are as innovative as they are toothsome.
Mangroove houses two restaurants: Matiss – a casual, beachfront lunch spot set beneath palapas and over a giant sandbox, and Makoko – a fine indoor-outdoor dining establishment that defies classification.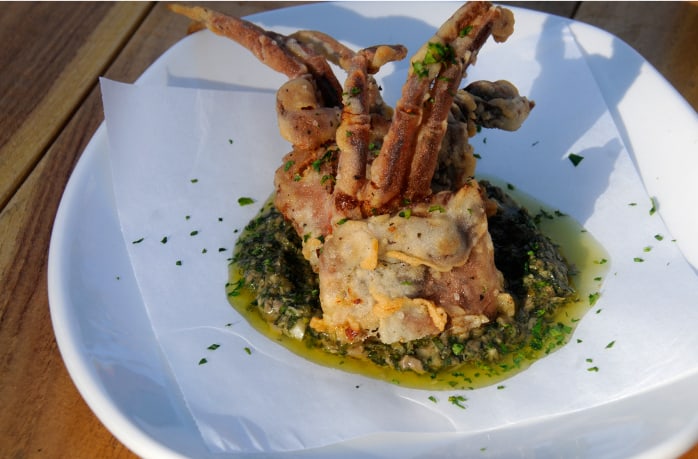 The menu at Matiss offers small plates of surf and turf, along with fresh salads and playful side dishes. The fried pickles with ranch dressing ($4) were a corn-breaded dream, and salt & pepper soft shell crab ($14) came crispy on the outside, tender on the inside, in a mouthwatering salsa verde of pesto with briny capers. The sea bass tiradito ($10) was delicate and well-paired with fresh jalapeño slices.
Nearly all of the menu items at both Matiss and Makoko, including the cocktails, featured an expertly engineered kick, which is all too rare in Costa Rica. For the spicy drinks it helps to have a mixologist on hand, and Mangroove brought in a Canadian professional. Although we didn't catch her last name, Elizabeth stirred up some fierce concoctions, including the porn star ($10), a bubbly martini with vanilla vodka and passion fruit. She also prepared an infamous chili guaro shot, which usually includes lime juice, hot sauce and cacique. She added a distinctive medley of sweet and bitter spices, pickle juice and a sweet gherkin. Like most of the common spaces at Mangroove, the bar was pulsating with electro house music.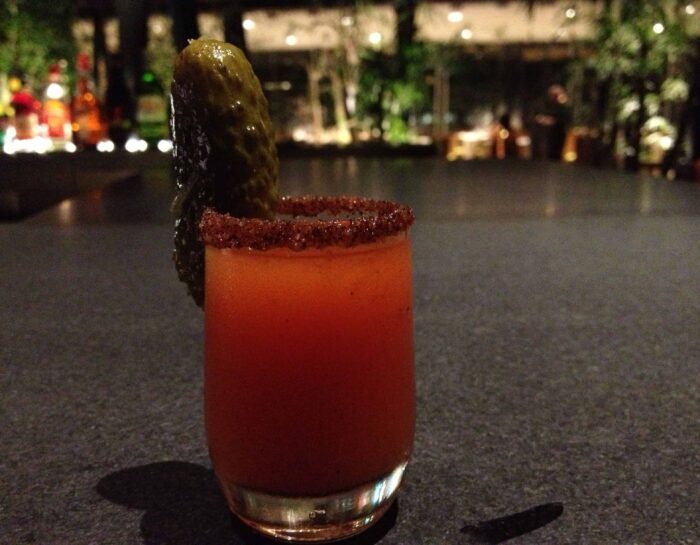 At dinner in the glass-encased Makoko restaurant, designed (along with the rest of the property) by renowned architect Ronald Zürcher, we ordered the chilled lettuce soup & cucumber tartar appetizer ($6). It sounded bland but proved to be a lip-smackingly tart, minty twist on gazpacho. Our other appetizer of raw sea bass & foie gras mousse ($19) sounded interesting but lacked flair.
For the main course, we ordered Worcester glazed short rib with an apple-jalapeño puree and rosemary breadcrumbs ($15). The heavy portion of slow-cooked meat was deeply satisfying, and a nice counterpoint to our other main dish, a soy-marinated, tangerine-glazed sea bass with meaty, roasted shiitake mushrooms ($18). The dessert, a chocolate cheesecake ($8), had been dipped candy bar-style, and was served with dollops of marshmallow and a sea-salt caramel shard. Really fun.
Makoko has largely flown under the radar, but rumor has it that the big wigs from across the bay have been running reconnaissance missions. Whether the Four Seasons will up its game has yet to be seen, but already Andaz has recognized the importance of a mixologist. We took  a jaunt up to Papagayo and visited Andaz, and the cocktails we sampled there were competitive with Mangroove. (Ever had a rosemary-smoked glass? Yeah, we hadn't either, and it made our gin and tonic taste like a stiff Christmas tree.)
After a long lull in development and innovation in the Pagapagyo area, it's nice to see some fresh facades and new flavors. Whether there will be guests to fill the sumptuous seats is another matter. But in raising Guanacaste's dining bar, the seductive and whimsical Mangroove has perhaps hit the sweet spot.
Going there:
From San José, take the InterAmerican highway and when you hit Liberia, turn left on Route 21. Make a right onto the 253, then a left onto the 254, and follow the meandering road until you hit Playa Panama (take a left). El Mangroove's gatehouse comes up quickly on the right. During the soft opening, a standard suite costs $192 and comes with a $50 resort credit. For more information, visit http://www.elmangroove.net.