Family-Run Hotel Offers Great Food
WALKING through the front gate ofTotem Hotel and Restaurant, across theroad from Playa Cocles, just south ofPuerto Viejo de Talamanca on the southernCaribbean coast, one feels almost immediatelyat ease. Two tall coconut palms towerover a lush front garden, ushering thealready-relaxing traveler down a stone pathtoward the front desk. There, the guest willbe attended to by a smiling member of thefamily that owns and operates the hotel, afamily that exudes the vibe of people whogenuinely enjoy their work.Immediately surrounding the frontdesk is the open-air restaurant, outfitted inbamboo and local wood, with tile stairsascending to an even larger terrace withmore bamboo seating overlooking theCaribbean ocean, just across the street.Adjacent is the hotel, built only a year anda half ago, again with balconies facing theocean. Whether you are sitting down for ameal or relaxing in your room, the sound ofthe waves is always there, lulling yourmind further into relaxation."When people come to the ocean,"owner Marcos Ferrara said, "they unload.They completely unload."FERRARA, who also owns a windsurfingschool on the Adriatic coast in hishome country of Italy, is younger than youmight expect – or at least he comes off thatway. He and his wife Sandra, both sportingtattoos of Native American imagery, areoften around the front of the hotel, chattingwith friends or guests, or with their threeeldest children, who seem to keep the businessunder control. Nicoló, 21, runs thekitchen, while his charming sisters Emilia,16, and Irene, 23, attend to the front deskand restaurant guests.Totem Hotel and Restaurant has a laidbackatmosphere, but with an elegant presentation.Painted and decorated in brightcolors, the bread and butter of the decor isan impeccable wood motif. Everywhere isbamboo, from the chairs and tables in therestaurant to the beds, desks, coffee tablesand mirrors in the rooms. Brightly polishedtrunks from local trees support theterrace, as well as the glossy wooden stairsand handrail leading to the second story ofthe hotel.With only six rooms, it's clear eachreceived the utmost attention. The upstairsrooms are preferred, with their balconiesand tall, vaulted ceilings. But all rooms arebeautiful and spacious, and include a separateliving room with bamboo chairs,loveseat and a glass coffee table.The bedrooms are luxuriously largeand shaded by tinted windows, which faceeast and capture the morning light whenthe curtains are left open. The comfortabledouble bed sits under a colorfully designedsarong, pulled taut on the wall by a bambooframe. A bamboo bunk bed, desk withvanity mirror and shelves complete thebedroom furnishings.The bathroom is tiled, as is the shower,which has hot water and good water pressure.The balcony on the second floor overlooksa recently installed, large swimmingpool fed by a small waterfall at one end.THE hotel and pool are split from therestaurant and front desk by a stone paththat leads from the front entrance, past theoutdoor shower in the garden, to the surfshop in the back, where surfboards aresold, rented and fixed. Boogie boards andkite boards are also available, along withclothing and other surf supplies. It was, infact, surfing that first brought Ferrara toCosta Rica six years ago."I love to surf, and to give surfingclasses," he said. "I love to work withtourists and pass along this sport."It is convenient, then, that PlayaCocles, across the road, offers good waves,and, for the experienced surfer, the world-classSalsa Brava reef break is just offshorefrom Puerto Viejo, a kilometer and a halfnorth of Playa Cocles.JUST as attractive as the hotel, the restaurantis reason enough to visit Totem. Withthe downstairs view of the garden and the upstairs view of the ocean, the vista fromthe tables is almost as pleasant as the food.Almost, because, simply put, the foodis incredible. The chef is Nicoló, who, atthe age of 14, entered a four-year chefschool in Italy and finished with a yearlongspecialization in European cuisine.Nicoló spends most of the day in thekitchen, as everything on the menu, fromthe bread to the pasta to the ice cream, ishomemade. Breakfasts – included in a stayat the hotel – are simple and excellent,whether it's American eggs and bacon orCaribbean eggs and gallo pinto.Lunch and dinner selections include avariety of Italian appetizers, pastas anddelicacies, as well as decadent desserts.Nicoló, who in the evenings works diligentlyin his spotless chef's jacket, boardshorts and sandals, says that about 80% ofthe menu is classic Italian cuisine, and therest is creative, drawing from local tastesand his own imagination.THE Tico Times recommends tryingthe bruschetta, an appetizer of homemadetoasted bread with a variety of toppings,such as fresh tomato slices, fine cheeses,meats and basil. Good for either an appetizeror lunch is the piadini, a sandwichmade with special piadini flatbread and traditionalItalian ingredients, including aseasoned, raw pork.For dinner, the pasta dishes are excellent,with rich, exemplary flavors thatstand on the strength of a variety of homemadepastas.Especially good was the carpaccio depescado, an Italian raw-fish delicacy similarto ceviche, yet with a finer taste thatbrings out more of the flavor of the fish.For dessert, any chocolate lover must haveNicoló's invention, helado chocolatenegro, which he concocted by altering achocolate cake recipe to make ice cream.The dishes are more than reasonablypriced, from just a few bucks for a simpleappetizer to $5-7 for most of the exquisitedinner dishes, which, besides being delicious,are beautifully presented.Whether staying just for dinner or forthe night, Totem Hotel and Restaurantoffers an elegant yet relaxed ambiance,brought to you by a group of people wholove where they are and what they're doing.Single rooms are $30 in low season and $40in high season; doubles are $70 in low season,$80 in high. Room rates include breakfast.For reservations or more information,call 750-0758 or visit www.totemsite.com.
You may be interested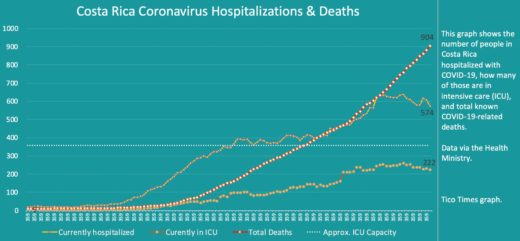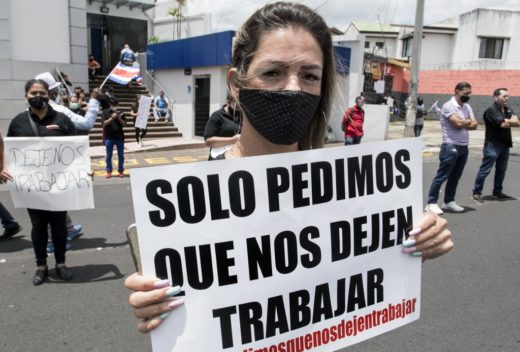 Business
3342 views
Some 34 million jobs lost in Latin America due to pandemic
Carlos MANDUJANO / AFP
-
September 30, 2020
The two aspirers for the presidency of Costa Rica, the evangelical preacher Fabricio Alvarado and the former minister Carlos Alvarado, reach the closing of the electoral campaign for April 1st with a technical draw, according to a poll disclosed this Friday.