Diego Torian visited Costa Rica again recently to film another episode of his popular fishing show Pescando en Los Cayos, a TV fishing show broadcast in Spanish in the United States. It had been before Covid since the last time Torian was able to visit so he was quite excited to be back.
His guest was local entrepreneur Marijke Van Laarhoven Vega, better known simply as Mara. Mara has accumulated quite a resume since graduating from the University Latina with a Masters in Publicity specializing in Creativity and Production. She went to work for Channel 6 and for a half dozen years producing one of their more popular reality shows, "Combate," She also produced video for many of the Monte de Toros, or bull riding events around the country which draws thousands of fans especially around the holidays as well as annual Festival of Lights Christmas parade.
Today she is one of the most popular Costa Rican Fitness models with around 150,000 follows on social media. She discovered sport fishing around 4 ago years and like everything she does, she approaches it full throttle. She already has some great accomplishments in the sport fishing world. She holds the record for the most marlin caught in a 3-day period, 62. Not a misprint, an amazing feat of 62 marlin in 3-days.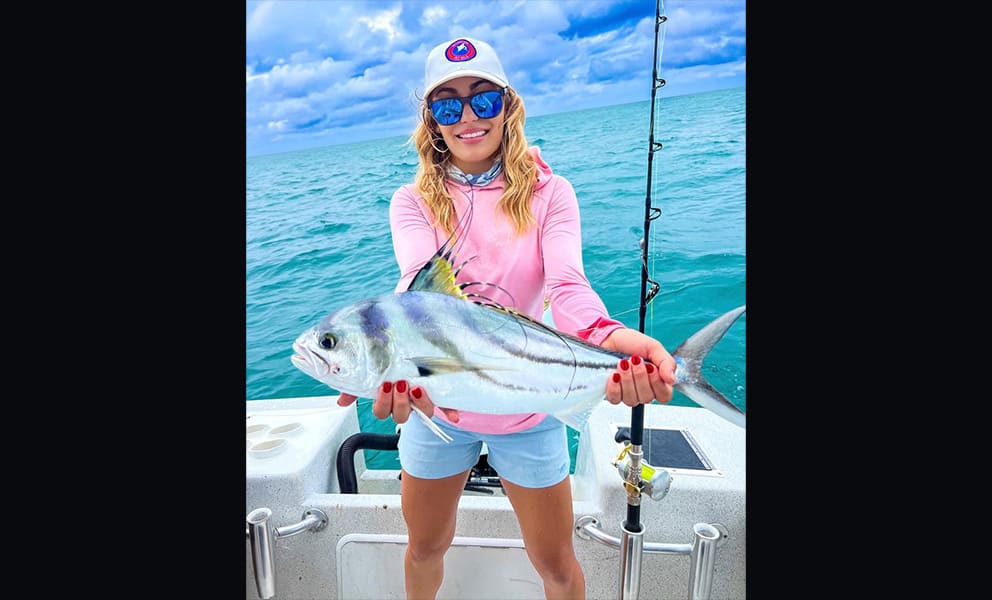 She has also taken 1st place in the dorado division in the Rock Star tournament in Marina Pez Vela, winning her $40,000. For icing on the cake she joined the Aftco pro staff team and has opened a sport fishing travel company, Blue Water Fishing Costa Rica. Mara has also recently started production and filming of a You Tube channel fishing show called Blue Water Fishing Costa Rica with Mara.
I was invited to join them on the water. Crocodile Bay Captain Sharlye Oporta did an orientation at the dock explaining fishing here, safety gear on boat, and asked what species they would like to target. Diego had yellowfin tuna on his mind while Mara who cut her fishing teeth on marlin said, "I like the big ones." So off we went.
As we rounded the corner at Matapalo in a light drizzle, we saw a disappointing sight. We had yellowfin tuna on our minds but looking out to the open ocean, it was socked in. Visibility was barely 100 yards. Not exactly ideal for spotting birds, frenzied fish or pods of hundreds of spinner dolphins that work together with tuna hunting baitfish. The weather forecast called for 99% chance of rain all day. Tomorrow the forecast only called for a 60% chance of rain.
Captain Sharlye came down from the helm with his cell phone in his hand. He had it open to PezCA.org a free fishing App for Costa Rica and Central America that has all the fishing and satellite information needed to aid a fisherman. He saw we had a rising moon, and a slow moving falling tide. Ideal conditions for inshore fishing. The decision was made that if the weather gave us lemons, it was appropriate to make lemonade. We will take our chances on the weather tomorrow to look for tuna and fish inshore today.
In Costa Rica we have a lime call "Limon Mandarino," that when sliced open looks more like an orange than a lime. Many are surprised by the tartness of the fruit when trying them for the first time. They make for a tangy lemonade, enhance the taste of a whole fried snapper, put sharp taste in a cold beer, or make for some of the best ceviche you have ever had in your life.
I was actually happy to be forced inshore. Offshore I would be an observer but for the inshore I had been given the green light by doctors to fish. It had been nearly two years and multiple operations since I wet a line and I knew I wasn´t physically ready to play tug-o-war with even a mid-size tuna. A cubera or decent size roosterfish if big enough to slap you around but not like a tuna. Save those for the youngsters and healthy old guys.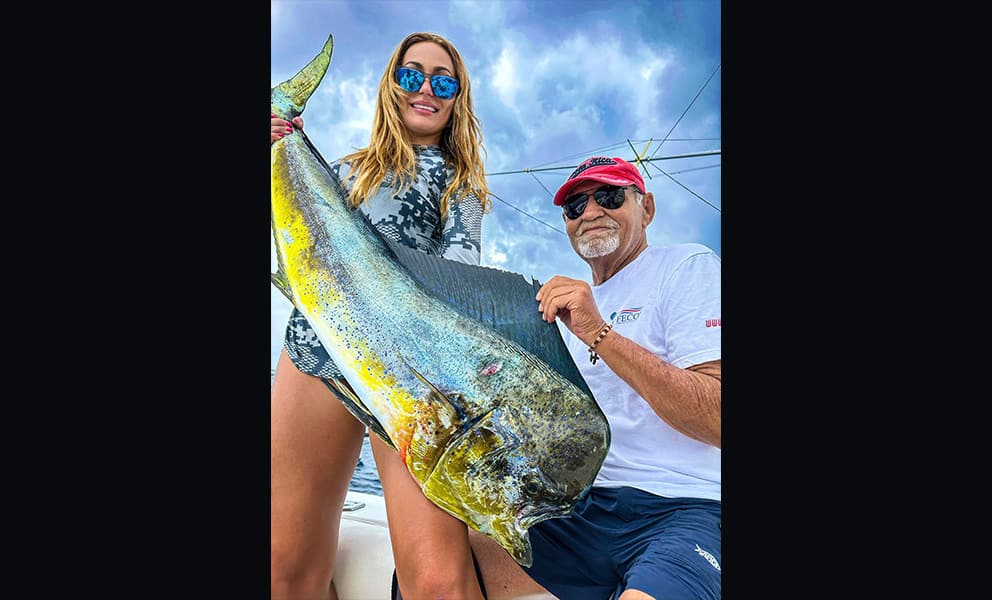 After nearly half a century of taking people fishing, I have decided I like fishing with women much more than men. Every fishing location is different. Might be the same fish but the environment is different and successful techniques might be different also. I have found women to be more methodical anglers, better at listening and following instructuctions. Often when I fished couples the woman would often out fish her significant other.
We picked a spot about a mile off the beach in 120-foot of water with 10- or 12-foot break of volcanic rock that was stacked with baitfish. Almost all the fishing on this type of structure is done by motor fishing because that type of bottom has stolen many anchors from people learning to fish volcanic structure.
We could not have made a better choice. It is rare when you can go to a spot in the morning to make the first drop and be in the same spot when the captain says bring up in, it's time to go home.
It was as if each species had a feeding schedule and when one species slowed down a different one got more active. It started with Pacific yellow tail snapper, quite different from the Atlantic version that shares the same name. They are not one of the larger snappers but certainly one of the best tasting, so we kept a couple for dinner. Then came the almaco jack which we caught to 35 or 40 lbs. Cubera snapper followed. It didn't matter if we dropped live bait, dead bait, or worked a jig, it wasn't going to spend much time near the bottom without getting nailed. The cuberas averaged 15 or 20 lbs and were all released.
It is not often the fish God's bless us with a day that is etched in our mind for years as we daydream about fishing. Especially while filming but we turned a smorgasbord of fish into TV stars. Four types of snappers, almaco jack, jack crevalle, roosterfish, Sierra mackerel, African Pompano, and bluefin trevally. And multiples of each species.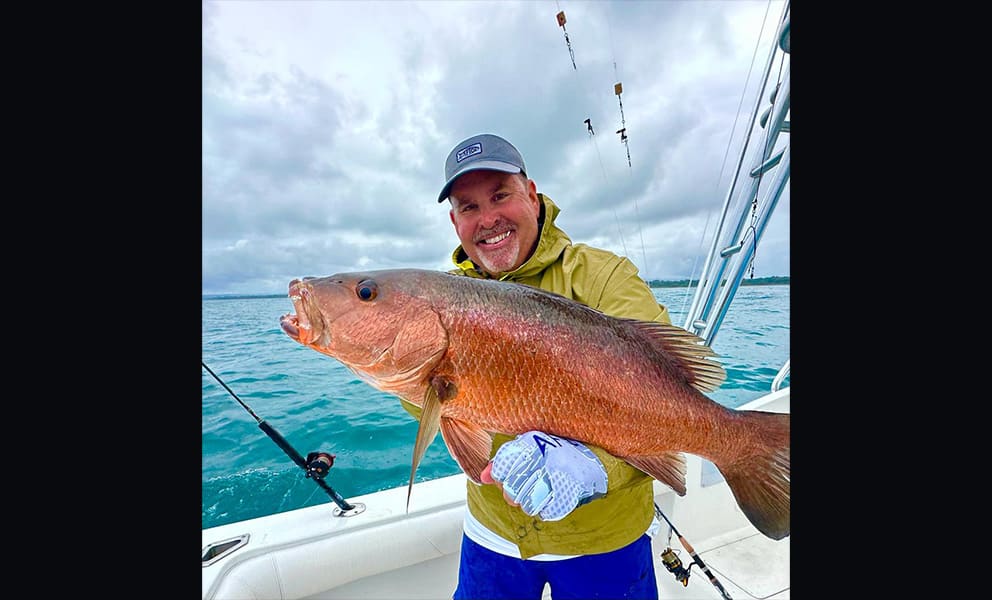 We were so fortunate to change our plan and fish inshore. Anyone fishing Costa Rica multiple days should spend at least one day inshore. The roosterfish is a powerful exotic looking fish and cubera snapper and many species that takes miles of travel offshore in other places are available right off the beach.
On day two we were met with a flat ocean and the sun peeking through a semi-overcast day .Not much going on the first couple of hours. Then Captain Sharlye noticed some frigate birds dive bombing off in the distance and turned the boat that direction. Soon we could see why. A decent size log was floating and covered with bait. Two rods doubled over and Mara jumped off the gunnel, grabbed the first rod and a rainbow of colors explodes from the ocean as a big dorado took to the air. In a short time the ice was broken and we had dinner in the box.
On the second pass another hit the bait. Mara bolted for the rod and as she picked it up the dorado dropped the bail. She immediately put the reel in free-spool and the dorado came back and hit again, She feed line for a few seconds, put the reel in gear and was hooked up again. I thought, Wow! This girl knows how to fish. We could have caught dorado all day off that log, but we moved on looking for a marlin. I didn´t happen.
A week later she was in the Zona Sur again to film the first episode of her show. The fish Gods shined again and when fishing on the Showtime she landed a Super Grand Slam, which included a black marlin, a blue marlin, a striped marlin and a sailfish all in the same day. I thought the fish Gods shined when we fished. Apparently it was for her. I was just lucky enough to be along for the ride.
You can find Mara on social media at, Bluewaterfishingcr, and Marafitnesscr. The PezCa App is available free at PezCa.org or Apple Store and Google Play