Costa Rica is an unbeatable destination for a holiday that features pristine outdoors, thrilling adventures, and relaxation in paradise. The best part? You can experience much of what this amazing country has to offer with only a two-week tour. Gorgeous beaches, lush rainforests, active volcanos, and traditional villages are just some of the highlights of this itinerary.
Starting in San José, this ultimate 2-week itithings to donerary includes top destinations and activities through the central highlands, the Caribbean coast, and the Pacific coast of Costa Rica.
Day 1: Arrive in San José
Plan to arrive around midday or earlier at Juan Santamaría International Airport (SJO) airport in Alajuela, just outside of San José. From the airport, taxis and local buses run to the city center.
Spend the afternoon enjoying a stroll through two of the city's charming historic neighborhoods: visit the National Theater, wander through lovely plazas and appreciate the Victorian and Art Deco architecture of San Jose's artistic hub, Barrio Amón, before finishing the evening with dinner at one of the eateries on Paseo Gastronómico La Luz (Calle 33) in Barrio Escalante.
Day 2: Río Pacuare
Wake early and prepare for an unforgettable white-water adventure down the Pacuare River. Tours depart daily from San José, with pick-up from your hotel, and start with a breathtaking bus journey through cloud forest to reach the put-in spot.
Then, a four- to five-hour journey downstream will take you through class II, III, and IV rapids, passing by waterfalls and through canyons along the way. Enjoy an optional swim in the impressive canyons towards the end of the journey.
Tours typically stop and provide lunch halfway down the river. Pack dry clothes for changing into at the final stop before heading back to San José just in time for dinner.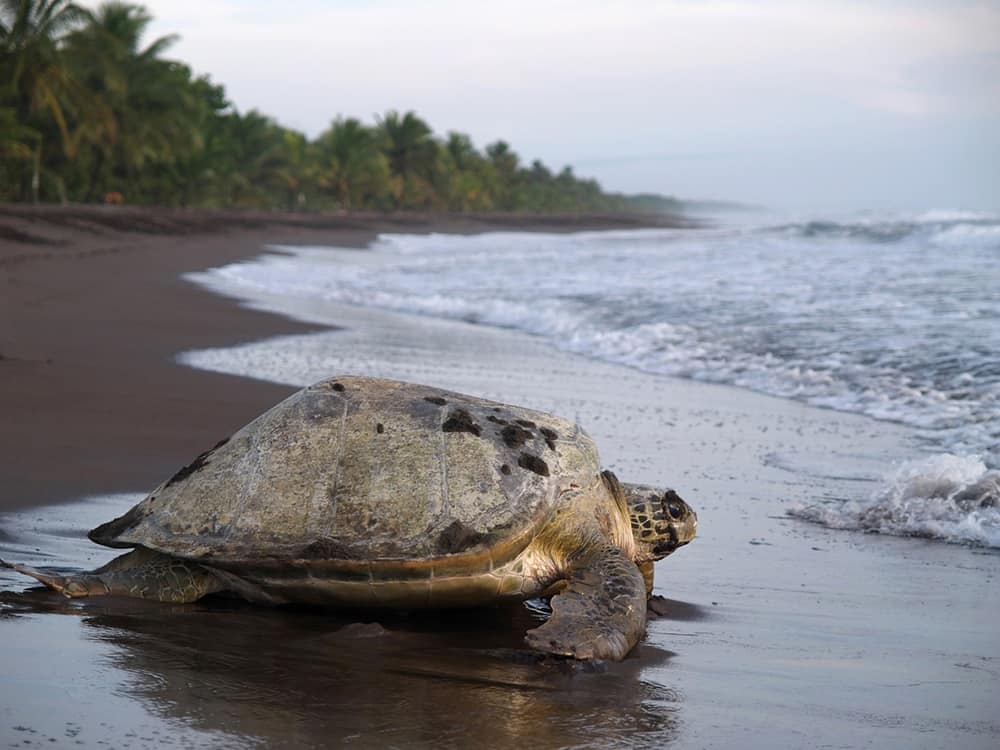 Days 3–4: Tortuguero
These next couple of days lead you to the traditional Costa Rica village of Tortuguero on the Caribbean coast for unique ecotourism opportunities. Your expedition there can be as adventurous or as relaxed as you prefer.
For the explorer, opt for a public bus to Pavones where you'll hop aboard a boat for an incredible journey through jungle canals. Impressive birds, monkeys, and crocodiles can usually be spotted fairly easily. Alternatively, short flights run from San José to Tortuguero daily.
During your time in Tortuguero, plan to take a night tour to witness the magic of giant sea turtles nesting on Playa Tortuguero (February to October). Tour fees directly support the conservation of these endangered animals.
Spend the afternoons walking the beach, browsing the local craft stores, or canoeing the canals. For more fun, head to Tortuguero National Park where you can walk the flat, easy trails through dense jungle and along deserted beaches. You'll likely run into other critters here, such as armadillos and sloths.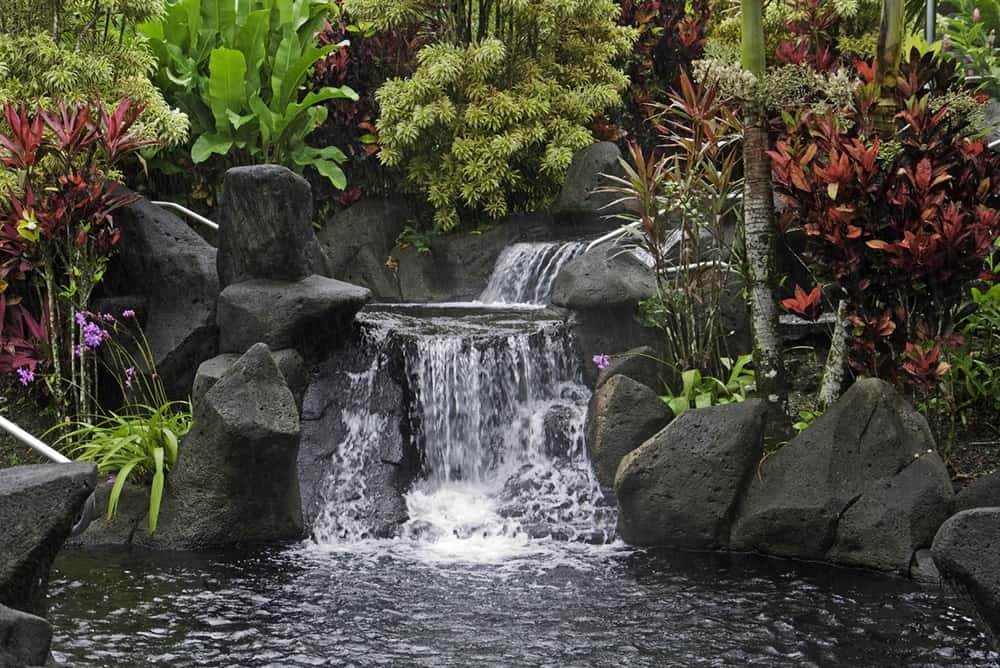 Day 5–7: La Fortuna
Your days in La Fortuna will be full of adventure. A shuttle transfer is an efficient way to travel from Tortuguero. Once there, rejuvenate and relax in the healing waters of the local hot springs.
Several luxury hot spring and spa resorts offer day passes, which often include access to the springs, food, and perhaps even waterslides. Tabacón, Eco Termales, and Baldi are popular resort options, while a taxi to Rio Chollin provides an opportunity to soak in the naturally heated river.
Dedicate one full day to trekking the trails in Arenal Volcano National Park. Here you can observe Costa Rica's most iconic volcano, walk along old lava fields, and encounter the interesting ecosystems of the geothermal area.
Your final day in La Fortuna can include a morning hike to La Fortuna Waterfall for a spectacular jungle swim in the turquoise natural pool next to the towering cascade. Later, give a proper farewell to this enchanting town with a scenic sunset cruise on Lake Arenal.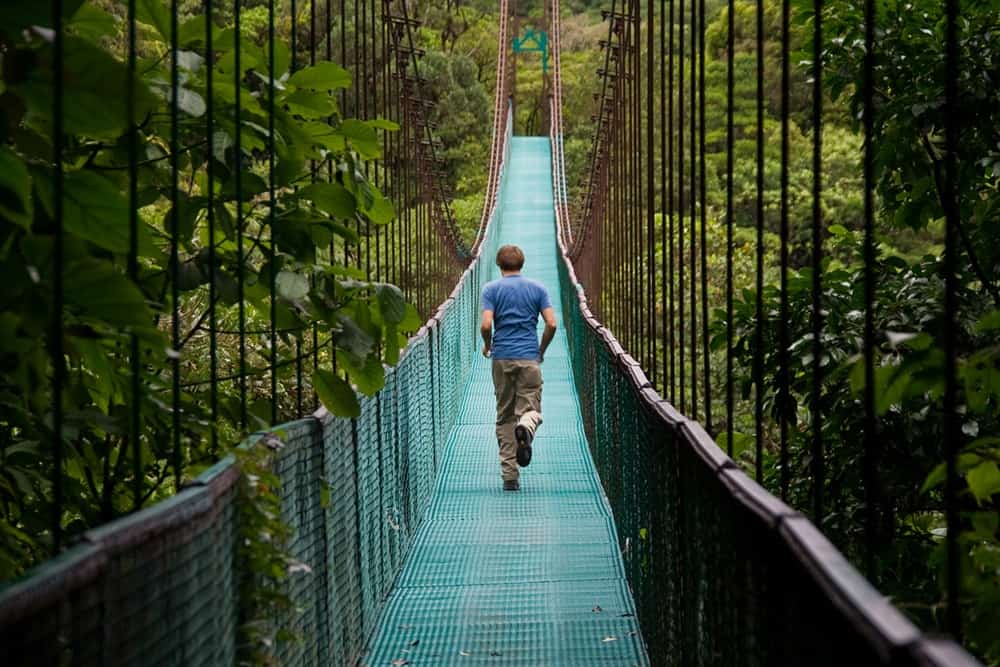 Days 8–9: Monteverde
Now that you've been introduced to the jungles of Costa Rica, Monteverde will take you deeper into the majestic cloud forest. Departing La Fortuna, a Jeep-boat-Jeep shuttle service is the fastest and most scenic option for transportation.
During the journey, you'll cross Lake Arenal and ride through lush countryside to Santa Elena, a popular town and our recommendation for lodging near Monteverde Cloud Forest Reserve. You'll find many appealing craft stores, a local creamery, and botanical gardens to enjoy.
You will need the next full day to explore Monteverde Cloud Forest Reserve. This reserve has an extensive network of hiking trails including one that leads to epic views of the continental divide.
Pace your hikes to enjoy the lush scenery and spot rare wildlife such as quetzals, monkeys, and sloths. Next, head to Sky Walk, Costa Rica's first hanging bridge leading through the forest treetops. Finish the day with a thrilling zipline tour through the rainforest canopy.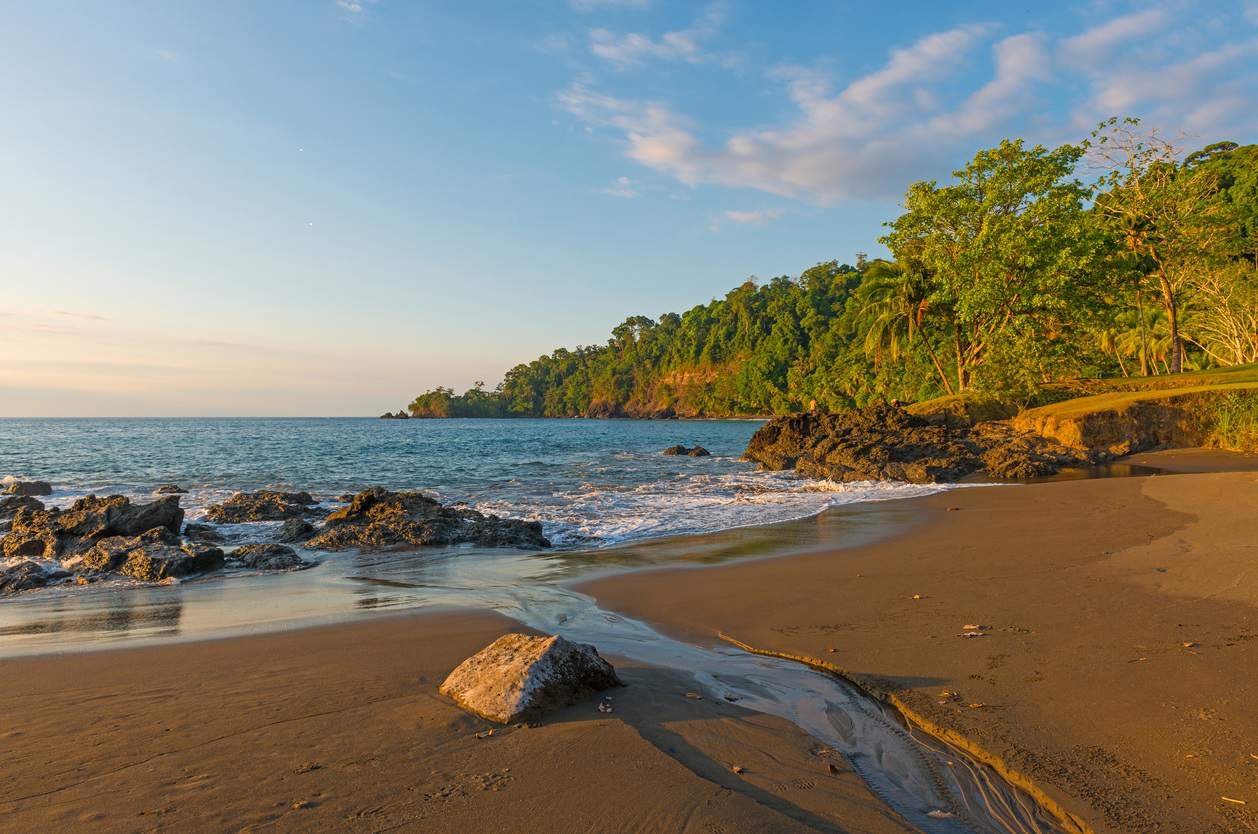 Days 10–13: Drake Bay
Let time slow down and enjoy nature's best scenery and wildlife in Drake Bay in the Osa Peninsula, a six-hour drive from Monteverde. Alternatively, if you opt for a flight, head to San José and take a flight to Puerto Jiménez.
You may wish to finish your trip by kicking back in a hammock overlooking the bay, frequented by dolphins and whales. For more action, take a day or multi-day trek in nearby Corcovado National Park, one of the world's most biodiverse places. Definitely reserve a tour to Caño Island for some of the best snorkeling and diving in Costa Rica. Deep-sea fishing, kayaking, ATV rides, and horseback rides are other excellent activities in Drake Bay to complete your Costa Rica trip.
Day 14: Depart through San José
A short local flight this morning from Puerto Jiménez will connect you to Juan Santamaría International Airport for departure. Be sure to book an afternoon flight out of San José to ensure sufficient time for connection.
Travel tips
This tour crosses the entirety of Costa Rica, requiring travel time that some people may find tiring. For a slower pace or shorter itinerary, choose only 4–5 stops.
For an extended trip, consider adding a multi-day rafting tour down Río Pacuare, which includes overnight lodging in the jungle and additional rafting fun.
A raincoat, sunscreen, and hiking shoes are packing essentials for this tour as climate changes throughout the landscape and rains result in muddy terrain. Binoculars are suggested for optimal wildlife viewing.
The best months to travel are from December to April for drier weather, optimal for outdoor activities.
With this two-week itinerary, you are sure to discover Costa Rica's greatest gems and enjoy a variety of activities for an energizing, yet rejuvenating vacation. Pura vida!
This article is presented by Bookmundi. Bookmundi is a Denmark-based but global travel booking portal offering day tours, fixed group departures, and holiday packages in +120 countries around the world, including Costa Rica.