As of Monday, February 8, Costa Rica has eliminated its national weekday vehicular restrictions. The weekend restriction and San José-area rules still apply.
For at least the rest of February, Costa Rica's driving restrictions are as follows:
On Saturdays (5 a.m. to 10 p.m.): Vehicles with license plates ending in ODD numbers cannot drive nationwide.
On Sundays: Vehicles with license plates ending in EVEN numbers (including zero) cannot drive nationwide.
At nighttime (10 p.m. to 5 a.m.): A nationwide nighttime restriction continues to be enforced.
On weekdays (5 a.m. to 10 p.m.), Costa Rica will enforce driving restrictions only in San José, as shown in the map below. This "Restricted Zone" and the corresponding rules have existed for years as a method of reducing traffic in the congested city center: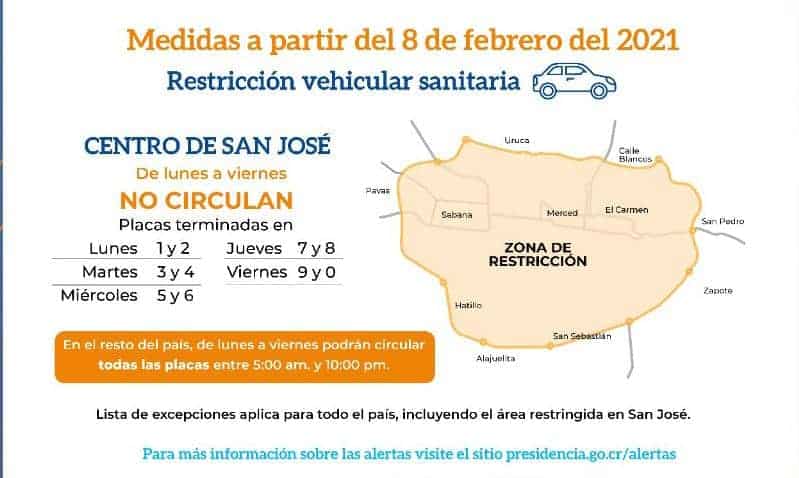 In the "Restricted Area":
Mondays: Vehicles with license plates ending in 1 or 2 cannot drive.
Tuesdays: Vehicles with license plates ending in 3 or 4 cannot drive.
Wednesdays: Vehicles with license plates ending in 5 or 6 cannot drive.
Thursdays: Vehicles with license plates ending in 7 or 8 cannot drive.
Fridays: Vehicles with license plates ending in 9 or 0 cannot drive.
Weekends: The national restrictions apply, as indicated above.
The typical list of exceptions — which includes rental vehicles, people driving to/from a hotel reservation, and people driving to/from the airport — will continue to apply to the San José area and elsewhere. The official list of exceptions can be found here.
To check what days your vehicle can drive, enter the last digit of your plate on this official government website.
The Public Works and Transport Ministry (MOPT) provided the following information about the new restrictions:
The daytime vehicle restriction is eliminated throughout the country, except in the central area of ​​San José. That means that, regardless of the license plate number, starting on Monday you can circulate five days a week, between 5 am and 10 pm, except in the center of the capital.
The daytime restriction, during the week, is maintained only for the center of San José, delimited by the Circunvalación route, inclusive, towards the center of the capital; that is to say, all the streets located in that area are restricted, according to the license plate, from Monday to Friday.
On weekends, the circulation rules remain the same as January. That is, the odd plates do not circulate on Saturday and the even plates do not circulate on Sundays. So it will be throughout February.
The same exceptions to these rules are maintained: job letter, medical appointments, accommodation reservation, going to the airport, etc. No more exceptions were added, nor were any existing ones removed.
The restriction applies the same as always, for all automobiles, including motorcycles, hybrid or electric vehicles, among others. Bicycles and motorized bikes are never restricted.
You cannot change the restricted day of a motor vehicle, even when you have two vehicles with restriction on the same day.