My name is Duncan Coleman, and I am the surrogate father of an orphaned tamandua anteater.
I grew up in Wimberley, Texas, but now I live in Palo Alto, where I attend Stanford University. I am in my senior year of undergrad majoring in Earth Systems. I work as an independent researcher at the Toucan Rescue Ranch Release Site.
As the surrogate father of an anteater, I am its teacher, protector, and provider all in one. Unlike many parents, I don't give my child comfort or affection – I give "tough love," the kind of love a wild animal needs so it stays wild and doesn't become attached to people; it's the kind of love she needs to be free.
For the last month, I've had the great privilege of working at the Toucan Rescue Ranch (TRR) Release Site in Sarapiquí, Costa Rica, to re-wild an orphaned female juvenile Tamandua mexicana. Her name is Pebbles.
In March, at just one month of age, Pebbles's mother was severely wounded by a passing automobile. Tragically, Pebbles and her mother are not the only victims: Roads are one of the biggest threats to tamanduas, according to the International Union for Conservation of Nature (IUCN). Luckily, Pebbles was rescued and raised by the kind, hardworking staff, and interns of TRR. Then, on October 27, Pebbles arrived at the TRR Release Site for the final stage of her journey back to the rainforest.
This is where I come in. My job is to help Pebbles learn the behaviors she needs to become independent – to ensure she knows the ecological skills she will need to survive. Every day, I take her in a kennel to the nearby forest to practice climbing trees and foraging for ants and termites, their primary food sources.
Although I give Pebbles "tough love," my heart is on an emotional rollercoaster ride during these forest training sessions, plunging suddenly into panicked worry if I lose sight of her in the dense forest canopy, then soaring high with pride and awe as I watch her wreak devastation on a city of termites like a furry, long-nosed Godzilla.
Pebbles will be the fourth tamandua I've helped reintroduce into the wild. However, she is the first tamandua I will have the privilege of tracking and observing once released — something I've dreamed of doing for years — with the aid of a VHF radio harness custom built by Telonics Inc. This would have never been possible without the support of my university.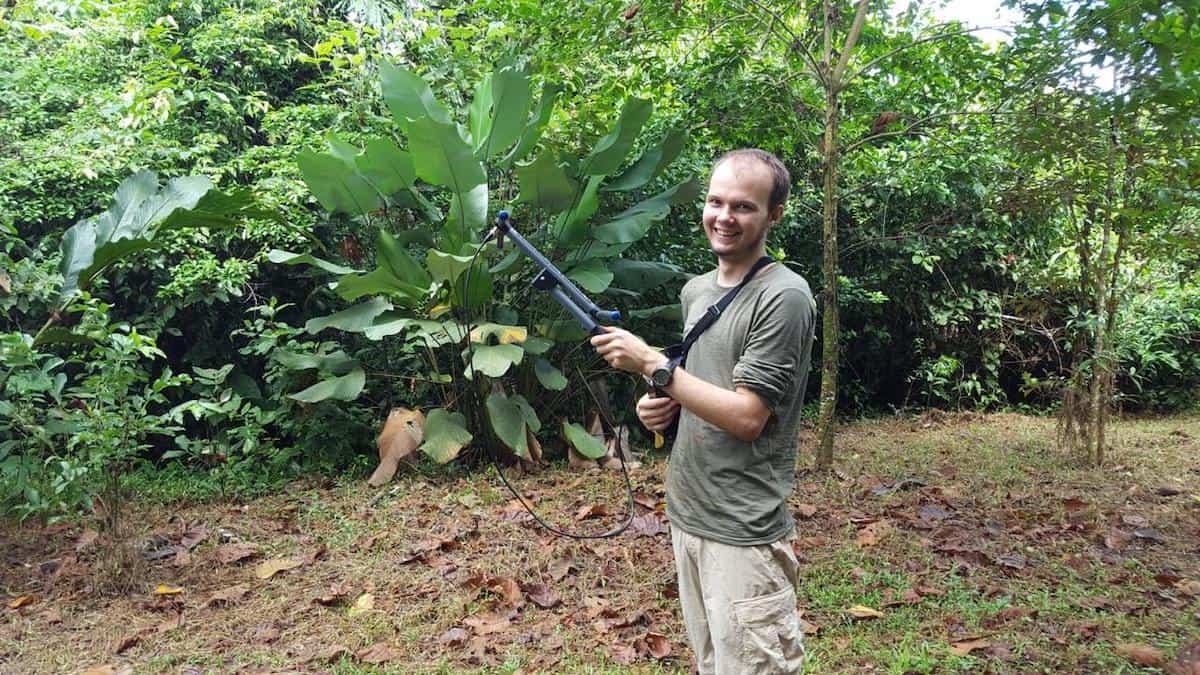 Stanford awarded me a Major Grant to re-wild and study the activity patterns and space use of Pebbles as part of my research for my honors thesis in the Earth Systems Program. To my knowledge, this will be the first radio-tracking reintroduction study of a hand-raised orphaned Tamandua mexicana.
In the past month already, I've recorded Pebbles consuming bromeliad seeds several times –  a feeding behavior which, to my knowledge, is new to science. A week ago, Pebbles surprised us all when she had her first period, reaching sexual maturity three months earlier than expected. I know that many new exciting discoveries and experiences await Pebbles and me on our journey together. Wish me luck as I continue to prepare her for independent life in the wild!
— Duncan Coleman is a Release Site Researcher at Toucan Rescue Ranch. 

This article was produced by The Toucan Rescue Ranch. The Toucan Rescue Ranch specializes in helping wild animals recover so that they can be reintroduced into the wild. For more information or to donate, visit the Toucan Rescue Ranch website.