Every other Wednesday, we feature a short story courtesy of Sibu Wildlife Sanctuary.
I arrived at Sibu at the end of May 2019. I am 1.5 years old. I came from Tamarindo, where a human had kept me as a pet, and now I am having trouble readjusting to the wild. I'm not sure why people think it's okay to take animals like me out of our homes in the jungle. Maybe their intentions are good, but it's just not right.

The nice people at Sibu Wildlife Sanctuary are trying to integrate me into an existing troop, but I need more time to get used to things. I will stay at Sibu and receive the care and resocialization that I need and will be released when I'm ready. Until then, I get to eat fruit and leaves (my favorite) and hang out with my best buddy Ome.
Location: Sibu Wildlife Sanctuary is located in Santa Marta, a few kilometers Northwest of Nosara.
Visit www.sibusanctuary.org to see how you can help Kintu and his friends!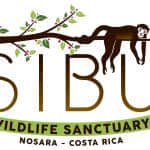 SIBU's mission is to rescue injured, orphaned, and displaced wild animals and provide them immediate medical care, rehabilitation, and eventual release into the wild. When the animals are determined to be strong, healthy and old enough to be re-integrated into the jungle they begin a step-down release program. Animals unlikely to survive in the wild receive a permanent enriching habitat for their life-term care.
Become a monthly donor here.