In late January, Cine Magaly in Barrio Escalante, San José, held a special screening of the 2018 hit film, "Somos Campeones" ("We Are Champions"), in an effort to promote social inclusion for people with disabilities. The event was organized by Plura (a social enterprise) and Fundameco (an NGO) in partnership and received a significant turnout from the disabled community.
Maricela Retana, one of the organizers, briefly touched upon her motivation for the screening, explaining that "there are so few opportunities for fun for people with Down syndrome. It seemed like a really good idea to enjoy this film with its incredible message about inclusion."
In an attempt to promote accessibility, there was even a signer at the front, allowing deaf viewers to equally enjoy the story. This allowed fuller immersion, as deaf signers often communicate sound effects, something which subtitles cannot always convey. It's also easier for deaf people or those hard of hearing to grasp who is speaking at a particular time, as signers often take on the mannerisms of the characters.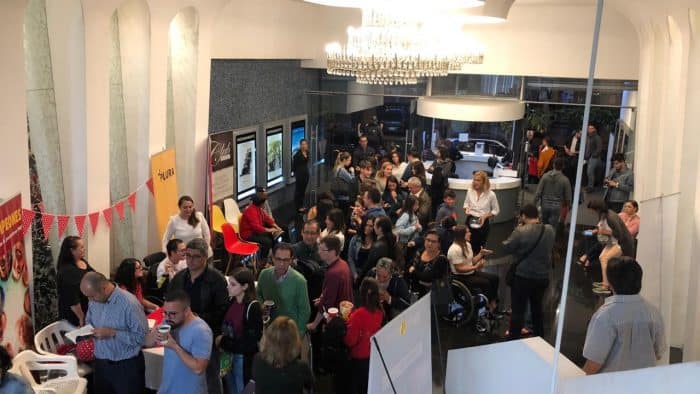 "Somos Campeones" was inspired by the story of Aderes de Burjassot, a basketball club based in Valencia, made up of members with mental handicaps, which won 12 championships between the years of 1999 and 2014. The film centers on Javier Gutiérrez's Marco Montes as he is forced to carry out three months of community service following a drunk-driving accident. His task? To train Los Amigos, a basketball team featuring people with a variety of disabilities, all the while balancing his personal issues with girlfriend Sonia. What follows is a touching comedy-drama about acceptance and teamwork.
This said, I was surprised by the number of jokes that appeared to be at the expense of the disabled. One particularly uncomfortable scene in which José de Luna's character is made the butt of the joke due to issues with body odor springs to mind. But the laughter that erupted from the audience, which mainly consisted of people with disabilities and their families, seemed to suggest that this was deemed tongue-in-cheek rather than offensive.
A description of the film's ending follows, so a spoiler warning is in effect!
The film's ending features an appropriately uplifting message, which strays from the unrealistic and, frankly overdone – a victory for Los Amigos. Instead, the team drew with their rivals. At the end of the match, Marco is devastated, but Los Amigos erupt into huge celebration with the other team, thereby adding a new layer to the title of the film — the emphasis on somos (we are). In other words, a victory for the community, rather than one team. It's a touching ending, which reinforces the message of the film and the title.
A notable aspect of the film was Marco's redemption. While he begins the film as self-centered and patronizing, he later becomes a father figure to his team of "champions." The change he undergoes is expressed through his interaction with Jesús Vidal's character, a ticket officer with a mental handicap. At first, Marco, like the rest of society, mocks him, but, the power dynamic is later reversed. It is a moving moment which invoked rounds of applause and laughter from the audience.
The film manages to portray characters with disabilities in a realistic way, something which Héctor Arce, a Costa Rican award-winning cyclist and guest of honor at the screening, agreed with. There's a tendency for the stories we tell concerning disabilities to be patronizing and, often, bleak. "Campeones" proves the opposite. It does not aim to elicit pity, but rather celebrate ability.
Reflecting on his own success, winning gold at the World Championships for Athletes with Down Syndrome, and what we, as a society, can learn from athletes with mental handicaps, Arce said, "we are all equal."
---
This story was made possible thanks to The Tico Times 5 % Club. If only 5 percent our readers donated at least $2 a month, we'd have our operating costs covered and could focus on bringing you more original reporting from around Costa Rica. We work hard to keep our reporting independent and groundbreaking, but we can only do it with your help. Join The Tico Times 5% Club and help make stories like this one possible.
Support the Tico Times