"I didn't come out of any closet; I came out of my mother's uterus!"
Frida Cartas is the LGBTQ community's best-kept secret. Writer, trans activist, essayist, columnist — the list goes on. She recently found herself in San José, promoting her new book, "Cómo ser trans y morir asesinada en el intento" ("How to be trans and be murdered while trying"), in which she talks about her own experiences as a transgender woman. She has also been published in Argentina, Chile and Mexico, her home country, where she recently spoke at the Committee of Human Rights.
Cartas is the perfect contradiction. She describes herself as introverted; she dislikes going to bars and has never participated in an LGBTQ pride parade. According to her website, she "doesn't like people and prefers to socialize with cats." And yet she is so outspoken, possessing an unapologetic and defiant attitude in the face of prejudice — as referenced by her humorous take on "coming out of the closet." She rarely, if ever, tries to hide her identity as a trans woman and, when asked, is more than happy to tell people.
She readily provides answers to all my questions, navigating the topic of sexuality and self-hood with total ease.
What sets Cartas apart is the personal tone in which she writes. Her book is "at times intimate, at times euphoric, at times furious, at times sad," she says.
While books on queer and feminist theory can sometimes seem inaccessible, often using complex language, Cartas writes in a noticeably conversational style.
"It's not written as a thesis, or as a work of literature. I try to use more commonplace language. I wanted to write for all types of people, with material that elicits human empathy from people," she said.
Her writing consists of experiences and stories, not theories.
"There are many women in history that participated in the feminist movement without reading books," she said, citing the example of "women who refused to be intimidated by their violent husbands." Her feminism, it would appear, is one of practice.
She is also a great supporter of intersectional feminism.
"I consider myself a defender of human rights, and human rights do not only relate to sexual orientation. I am also interested in defending people in relation to their level of poverty or the color of their skin," she said.
Life as a transgender woman in Mexico has been far from easy for Cartas, who says that she continues to encounter prejudice and oppression from a cisgender-normative government. That said, she recognizes the advantage of living in Mexico City, where she possesses the right to ask for ID with her chosen name, as opposed to the North or South where conservative groups dominate.
However, she says she would not describe this as privilege. She may not be shouted at when she leaves the house, but she says insidious, subtle abuse remains. For example, she is regularly dead-named (called by the name that corresponds to the gender she was assigned at birth), most recently by her university. What's worse is her inability to find a job due to the differences between her ID, which shows her name as Frida, and her degree.
"No trans woman is privileged. We all suffer abuse in different ways. No one's suffering is more or less valid than another's," she said.
Cartas' journey to publication was certainly tumultuous. She says the majority of publishers failed to reply to her and those who did, although they praised her work, still turned her down. One editor wanted to use a prologue written by a gay man in an attempt to increase sales, despite the fact that Cartas already had a prologue written by another trans woman. She puts this down to misogyny, affecting all women — trans or not. With the support of HIVOS, a social justice charity, her novel was finally published.
While "Cómo ser trans y morir asesinada en el intento" explores trans issues, Cartas insists it is accessible for anyone, regardless of gender or sexual orientation.
"It's a book that explores sexual autonomy, something everyone can relate to," she said. "The book is a tool to interest everyone in themes of sexuality."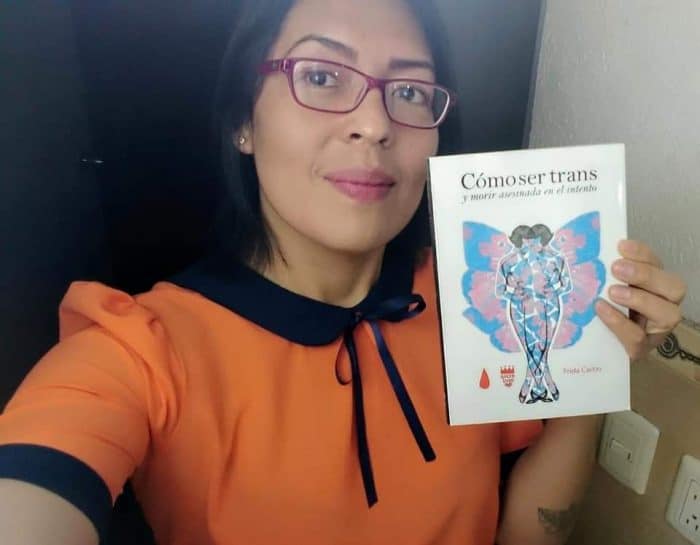 The title of the book refers not only to the physical danger that trans people face, but also to the more insidious death that Cartas terms "symbolic death."
"They don't just kill people with bullets, but also they kill them in a social way, when they call them by the wrong name, when they judge them with a discriminating glance, when they minimalize them or ridicule them," she said.
For Cartas, success is more subjective than the number of books sold. Reflecting on the meaning of success, Cartas said: "For me, a triumph would be if the book reached 100 people who felt empathy."
You can buy Cartas' book on Amazon by clicking here.  
---
This story was made possible thanks to The Tico Times 5 % Club. If only 5 percent our readers donated at least $2 a month, we'd have our operating costs covered and could focus on bringing you more original reporting from around Costa Rica. We work hard to keep our reporting independent and groundbreaking, but we can only do it with your help. Join The Tico Times 5% Club and help make stories like this one possible.
Support the Tico Times