Apart from its name and a mural inside featuring the namesake city in Brazil, Rio de Janeiro is a very much a Costa Rican establishment. It's a traditional style cantina leftover from an older, simpler time. It's the kind of place I love to tuck into for some bocas and beers.
The menu at Rio de Janeiro is simple too, just a one-page document. Both sides have food offerings like soups, ceviches, rices and sample platters or shared plates. The reason I always go, and the reason most people go, is for their chifrijo, which they cleverly refer to as Chi-Rio. It comes in small, large or jumbo.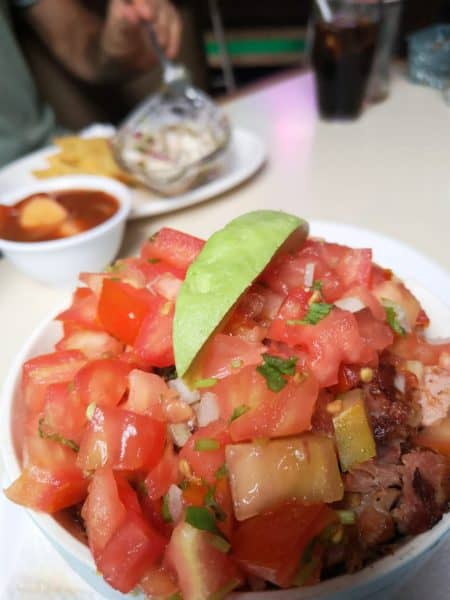 Unlike most chifrijo, this version does not feature fried pork but rather, braised pork. It's a welcome change from the norm and makes it healthy.
Right?
It's topped with fresh pico de gallo and a generous slice of avocado. The only thing that makes it better is their house-made hot sauce, which may or may not be fermenting in a plastic jar on your table.
If it is absent, ask your waiter to bring one, trust me. It takes the Chi-Rio to another level. Actually, they have two of them. One is mild and one is spicy. Even for me, who has a high tolerance for heat, their spicy one blows my face off. Stick with the mild but use a lot of it; don't be shy.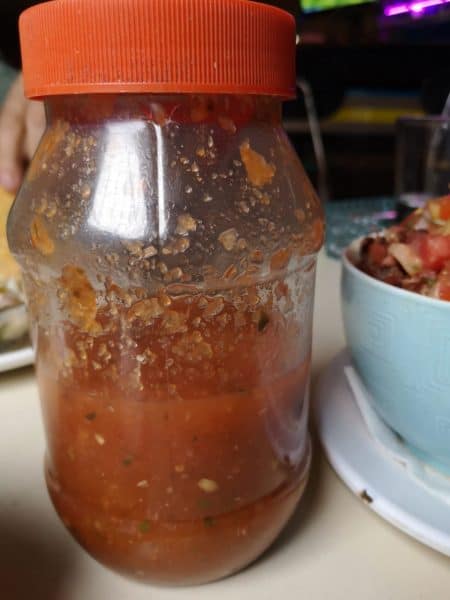 Another thing that sets this one apart is all of the sauce that ends up in the bowl. This would be the broth that the pork was cooked in, as well as from the beans, combined with the lime-juice from the pico de gallo. All of these flavors mix together in an amazingly tasty liquid that coats the rice that is hidden below the mountain of tender pork.
Actually, the chifrijo at Rio de Janiero is widely agreed, amongst fanatics like myself,  to be one of the best, if not the best, in the country. It's the most famous dish they serve, so don't be surprised to see everyone around you eating the same thing.
Personally, it definitely ranks in my top three.
Additionally, on my last visit, I also tried their mixed ceviche, which was fresh with a great balance of acidity, and of course, came served with a side of tortilla chips. It was fine, but again, it's not the star of the show here.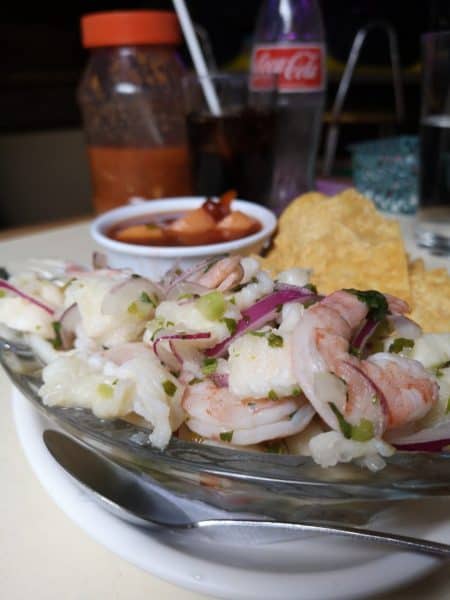 Something I really like about this establishment is that the kitchen is located up on the second floor. Rather than having their wait staff running up and down stairs with food, they have built a small, electric elevator that serves exclusively for transporting plates to and from the kitchen.
It's fun to watch your food come down and out of it, as it isn't something you see in most places. They have flat screen TVs around too, so it's a great option for watching an important local soccer match, or any other major sporting events.
I'll keep my eyes on the food elevator though.
Prices at Rio de Janeiro are very affordable, with the average boca costing around 3,000 colones (about $5), not including 13% sales tax. Meanwhile, the jumbo serving of chifrijo is only 4,100 colones (about $7).  Beers are cheap here too, as is the full bar selection, and most people drink it literally by the bucket load, which brings six beers and costs 6,780 colones ($11.50).
Let's face it, this is the kind of place where people go to get drunk without breaking the bank while enjoying some homemade food.  
Pro tip: try their chiliguaro shot, it is also one of my favorites, and is usually available on promo, three for 2,000 colones ($3).
Considering that this is a bar, I get a kick out of the fact that they have a kids' menu with things like chicken nuggets and a hamburger. I guess everyone is welcome here. If you are coming as a family though, I would suggest lunch rather than a nighttime visit, as the crowd and vibe changes.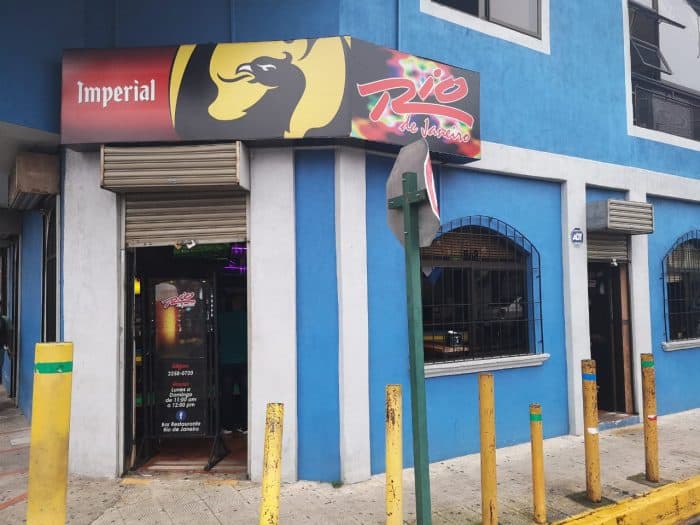 The immediate area around Rio de Janeiro isn't dangerous, but it's certainly close enough to some sketchier areas. So, as always, just use caution, be smart, and don't create unwanted attention. Enjoy your food and your drink like anyone else, maybe leave a small tip, and keep it moving.
They expanded to Escazu about six months ago, where they opened their second location. Don't get me wrong, it's not bad – they serve the same food and drink menu – but it's just not the same experience.
There's something about the old time charm of the original location, the ambiance, the décor, and the music. It all makes everything at their Barrio Mexico location taste a little bit better.
My recommendation is to visit their original location, especially if it's your first time. Even though I live in Escazu myself, I can always justify making the trip to Barrio Mexico when I am craving some local bar foods: a cuisine that I am a self-proclaimed expert in eating.
Bar y Restaurante Rio de Janeiro is a totally casual establishment, with a friendly and efficient service. It's located on the corner of Avenida 13 and Calle 22, in the Barrio Mexico district of San Jose. Look for the blue building with the Imperial sign above the door.
Portions are boca size, which is acceptable for the price. They are open seven days a week, from 11 a.m. – midnight. Major credit cards are accepted and street parking is available. Search "Rio de Janiero" in Waze or Uber to arrive conveniently. Just make sure you are going to the one located in Barrio Mexico.
---
William Ayre is a Canadian born chef and restaurateur who has spent the last half of his life doing business in Costa Rica, where he now considers to be home. Inspired by Anthony Bourdain, Ayre's passion of experiencing different cultures through food has taken him to 35 different countries over five continents. Whether it's a 20-course meal at a fine dining restaurant in Toronto, or cantina hopping in search for the best chifrijo here in San José, he fits in just fine.