Buchón was the first place I tasted the Aperol Spritz, months before it became fashionable around San José.
In fact, I tried it before they even officially opened their doors in May 2017. Their first guests were friends, and friends of friends, like me. The memory of that first Aperol Spritz is so vivid that I can still taste the cocktail's bubbly tanginess.
The Spritz is fizzy because of prosecco — Italian white wine that's usually sparkling — and you can keep it casual and mix it with some other Italian aperitivos like the Aperol, Campari or a digestive like the Lazzaroni… or you could misbehave with some classic recipe and add it to an American Negroni.
"A Spritz is a cocktail with low-alcohol. You could use any amaro, or almost any liquor. There's not a fixed formula, you can bend the rules," said owner and chef, Luis Protti. "A little prosecco can water down the drink, and make it refreshing and bubbly."
Those bubbly memories also include the bocas I ordered: a cheese and meat platter, toast and pâté and some olives.
It's easy to write about drinking without having to write about the food at most bars, but I can't explain the Buchón experience without mentioning the food. I eat a lot in there — and I mean it in actual quantity, not frequency.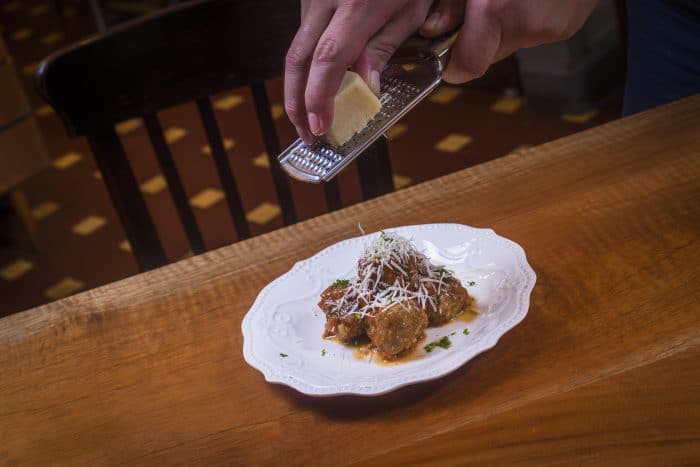 "We still don't know if we cook food to drink or we mix drinks as an excuse to eat," Protti said
So, last time I went over for a drink I asked for the steak and fries — they recommend you add a fried egg over most of their hot dishes and I usually like to follow sound advice. But I didn't order alone: I invited two friends who had never visited Buchón.
One of them ordered their special meatballs in tomato sauce over fries, wisely accompanied by the fried egg topping. The other friend asked for chorizo and toast with Brie cheese and homemade red onion jam. We shared the whole feast, which later included an order of fries and fresh burrata with bread.
Then came the cocktails: the now famous Aperol Spritz, a gin and tonic, and, for me, a Lazzaroni Spritz. The latter is a not-yet-on-the-menu cocktail that uses prosecco and soda just like the Aperol Spritz, but the Aperol is replaced with Lazzaroni amaretto and tangerine juice.
All three are delicious to savor while dining.
Right after we finished eating, we continued drinking some of their most popular cocktails. The waiter, Javier, brought an Americano, an old-fashioned and a Negroni, all of them prepared with Protti's three-ingredient rule — classic cocktails don't need anything more than the best few ingredients, he insists.
I seldom complain out loud that I don't like that much the Negroni but this time I said it: it's too sweet and too bitter. I was hoping for the waiter to frown, but all he did was bring prosecco to mix it with.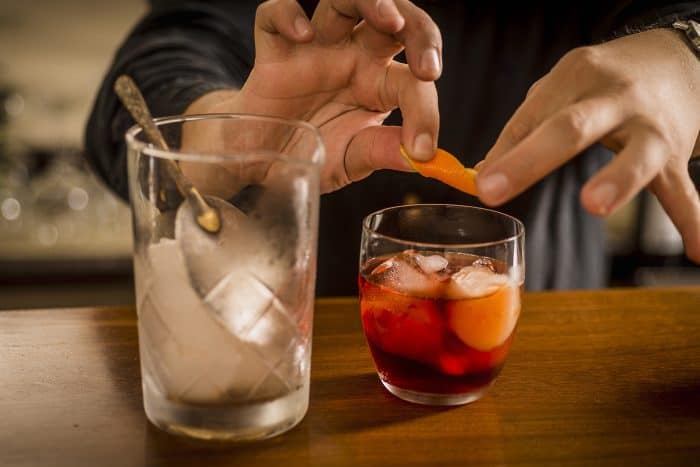 "It's called Negroni sbagliato," Protti later said, adding that it translates as "imperfect" or "incorrect" Negroni.
Protti hopes they will have five new cocktails over the next few weeks. Even though not all of them will have bubbles, they were all designed to be the perfect companion to a hearty meal with a fried egg on top.
"We want more bubbles," Protti said about Buchón's mission.
"Maybe, for generations, we have kept them for special occasions. Now we realize there is a whole range of bubbles we can't drink whenever we want to."
I'm not speaking for every palate, but for me and my friends, bubbles were all we needed to have a lovely dinner with plenty of Buchón's greatest dishes.
My take on fizzy cocktails is that they are great for dining, that's about it.
---
Natalia Diaz is a freelance journalist. She likes her reading the same way she likes her music: with a side of gin tonic. Natalia just started this new liquid diet and she's writing all about it. You can follow her on Twitter @natdiaze.