Top-tier professional surfing returns to Costa Rica this week when the World Surfing League (WSL)'s latest Qualifying Series contest takes place in Jacó.
The Essential Costa Rica Surf Pro, scheduled for Oct. 4-7, is the latest men and women's Qualifying Series (QS) offering a big opportunity for national surfers to vie for ranking points they might not otherwise have access to due to the high cost of international travel. Winners in Jacó will split 1,500 points. In addition, there is a prize pool of $40,000.
Jacó is the 11th stop on this year's men's QS and number six on the women's tour. The ultimate goal of all competitors is to qualify for the WSL World Championship Tour. Men in the top 10 make the cut, as do the top six women. There is also another prestigious goal — that of becoming the QS North American Champion.
While well-known Ticos such as siblings Noe Mar and Leilani McGonagle, Carlos Muñoz, Tomas King and Malakai Martinez are competing outside the country, some of them will be in Jacó this week along with other water athletes who will have the chance to establish themselves among QS circuit regulars.
"Costa Rica is a global surf destination with incredible beaches and world-class surfing talent," said Brian Robbins, WSL North American Tour manager. "Those are great reasons to return to Costa Rica. WSL North America was approached by RPMTV, a Costa Rica-based event production company, about the possibility of hosting a WSL Men's and Women's QS event in 2018. They had the financial support locally and really showed us they had the ability to produce a well-run event."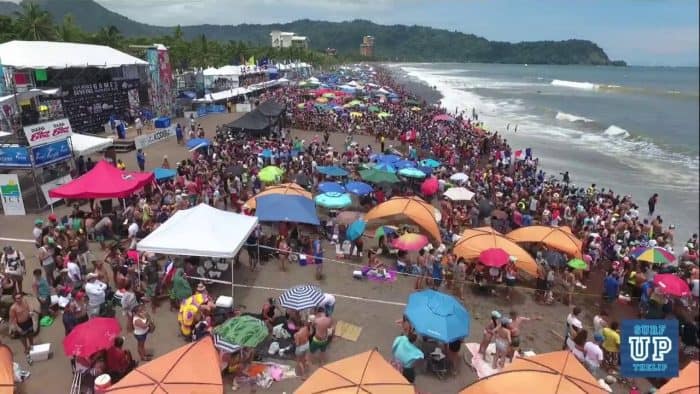 The last QS to take place in Costa Rica was at Esterillos Este in 2016. After the primary licensee of that event ceased to exist, RPMTV's Manrique Mata joined forces with the Costa Rican Tourism Institute (ICT), to present their plans for another event, and in doing so were able to make Essential Costa Rica Surf Pro a reality. The organizers also tweaked the event in order to open it up to a wider selection of national athletes. The 2016 tournament was a QS 3,000, which offered more points but had higher inscription fees; ultimately, the spots were taken up by full-time QS series competitors, leaving minimal opportunity for locals. Robbins said this week's QS 1,500 will still draw international competitors, but it opens at a cost that more locals can afford.
In 2016, approximately 70,000 spectators visited Esterillos Este to watch the talent. Organizers hope to match that attendance at this year's Essential Costa Rica Surf Pro, which is free to the public.
"We hope to provide a sporting spectacle of international caliber, where the discipline of surfing is the central focus and manages to capture all the eyes of the country," Mata said. "Since this is a totally free event for the general public, one of the objectives as well is to bring tourism to the area during all of
that weekend. The WSL stop in Costa Rica will bring together some of the best surfing professionals in the world, so we invite all of the public to enjoy this international event, where you can not only see the great sports competition, but also the attraction of Jacó Beach, which is one of the closest beaches to the capital. Getting there you travel on a road that's in perfect condition, and the economic facilities offered by the area are beneficial to the entire public."
https://ticotimes.net/2018/09/20/surfing-in-costa-rica-secrets-from-a-local-surfer
One of the biggest draws is the participation of Noe Mar McGonagle, who is ranked 65th out of 1,232 competitors on the QS. Two years ago, he reached the Essential Costa Rica Surf Pro QS 3,000 semifinals, and he hopes to make an even better showing this week.
"I'm really excited to have another big event in Costa Rica, and I think it's good that RPM moved it to Jacó," McGonagle said. "It gets good there on the right tide, and October is typically a great month for waves. Hopefully, we get a big crowd like we did for the ISA (International Surfing Association World Sufing Games) in Jacó; that atmosphere was insane. It's nice to have a 1,500 so a lot more guys can get in. We have a few surfers pretty high up the rankings, but there's so many guys looking to get funds for more events, and this is a great stepping stone for them. We've had a lack of events in Central America the last few years, so it's nice to see a couple back, and hopefully we can continue to help build even more."
Noe Mar's younger sister, Leilani — ranked 18th in part from winning her first major QS earlier this year at the Barbados Surf Pro QS 3,000 — said the event is another step in the growth of women's surfing.
"It's incredible to see an event back in our country and give some of the girls a chance at points without having to stress about travel," she said. "Women's surfing is growing every year, and the level of competition is as well, so it's great to see Costa Rica back on the schedule at this time. We as a country love surfing. You see so many kids getting into the sport, and without these opportunities to help them progress, I think it'd hinder a lot of their dreams, so this is amazing to see."
Anthony Fillingim crowned 2018 Costa Rican surf champion, Rubiana Brownell scores historic triple win
While the McGonagle siblings are expected to make a good showing in Jacó, Carlos Brenes of the Costa Rica Federation of Surf said not to rule out a Cinderella story from a Tico or Tica of lesser international renown. He suggested that spectators keep an eye out for previous national champions and members of the national surf teams such as Jair Perez, Anthony Fillingim, Rubiana Brownell and Coral Wiggins.
"They will prove themselves because they had a great, great season this year in the country," Brenes said. "But you never know — Costa Rica has a lot of talent, so we could have some sur-prises as well."
So what else can spectators expect to see at the Essential Costa Rica Surf Pro?
"At this level of the QS, the fan base expect to see the future of the sport," Robbins said. "The top seeds are ranked within the top 100 on the QS and working their way toward the Championship Tour. They typically set the tone for the level of performance, and then the younger surfers do all they can to keep pace and surpass. Surfing competition is often compared to chess, as the competitors have back and forth exchanges, trying to one-up their competition. We're always at the mercy of the ocean, but with any luck, we'll have great conditions for the event.
"Jacó will be a new competition venue for many in the field, which always brings new energy and excitement to the events, as the competitors develop their heat strategy and confidence in the water."