Costa Rica retrieved almost 200 pre-Columbian stone and ceramic pieces that had been confiscated from a Venezuelan collector – the biggest retrieval of archaeological pieces in Costa Rican history.
Workers from the National Museum are in charge of organizing the collection of 196 pieces, which include two stone spheres, stone metates, barrels, warrior figures and mud vessels, from different regions of Costa Rica.
"Today, Costa Rica is more complete. Today, the country… fulfills a part of itself that was not with us," said President Luis Guillermo Solís in a press conference to announce the retrieval of the pieces.
The items were confiscated in Venezuela between 2009 and 2014 from the Estonian collector Harry Mannil, whose house in Caracas served as a small museum.
"It's the first big lot of pieces that we retrieved with illicitly trafficked products," Marlin Calvo, head of the National Museum's Protection and Cultural Department, said at the conference.
He said that through the battle fought with Mannil to retrieve the pieces, "we've learned the lesson of what to do… what evidence to present to another country."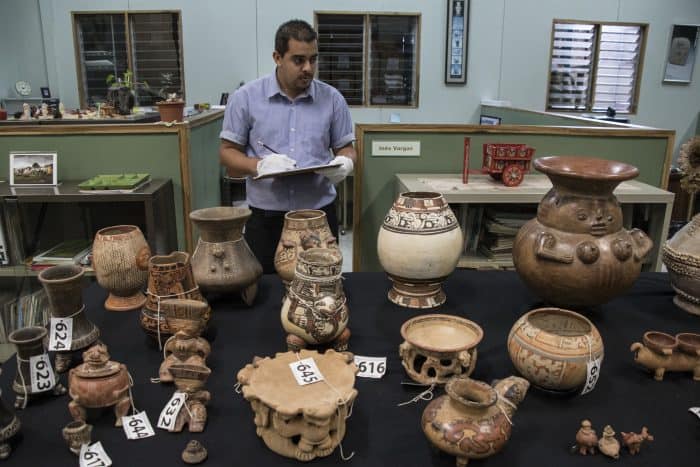 He said the lot includes new animal figures from the southern region of Diquis; before the retrieval, the National Museum had only two figures from that region.
The first 57 pieces of the collection were confiscated in 2009 at Venezuelan customs when Mannil tried to take the figures to the United States. The rest of them were confiscated at his family's house in 2014. Mannil, a businessman, died in Costa Rica in 2010.
"We've retrieved expressions of scientific talent, ideology, worldviews of our pre-Columbian people, all gathered in this collection that during so many years were outside of our borders and suffered so many humiliations in the hands of those who illegally appropriated this important part of our history," said President Solís.
He recommended that the National Museum exhibit the pieces in a special section.
The pieces left Venezuela on Dec. 24 by boat and arrived in Costa Rica on Jan. 2 at the Caribbean port of Moin. Their journey finally ended Wednesday when they were received at the National Museum.
Culture Minister Silvie Durán explained that the pieces were retrieved thanks to the collaboration between Latin American countries.