Recommended: 5 questions for a Costa Rican cartoonist
Political cartoonist Hugo Díaz died in 2001, but he left a legacy of 7,000 drawings to help keep his memory alive, now in a collection at the University of Costa Rica. Díaz's work is known for his details, crowd scenes and his sharp wit.  He touched on themes of inequality, corruption, political life and tiquicia in general – and he was very funny.
Born in 1930, he began drawing cartoons at the age of 14 for his high school paper at the Liceo de Costa Rica in San José. His actual press career began a few years later at a time when political cartoons were once again becoming popular; his appeared in La República, Semanario Universidad, El Pueblo and others. He also illustrated books, the best known being the children's classic Cocorí.
Don Hugo's style and humor attracted attention, and he became increasingly well known. His easily recognized drawings were seen on pamphlets, public notices, and theater programs. He had standard characters including Ms. Costa Rica, the campesino in his canvas hat, and a striped cat that talked.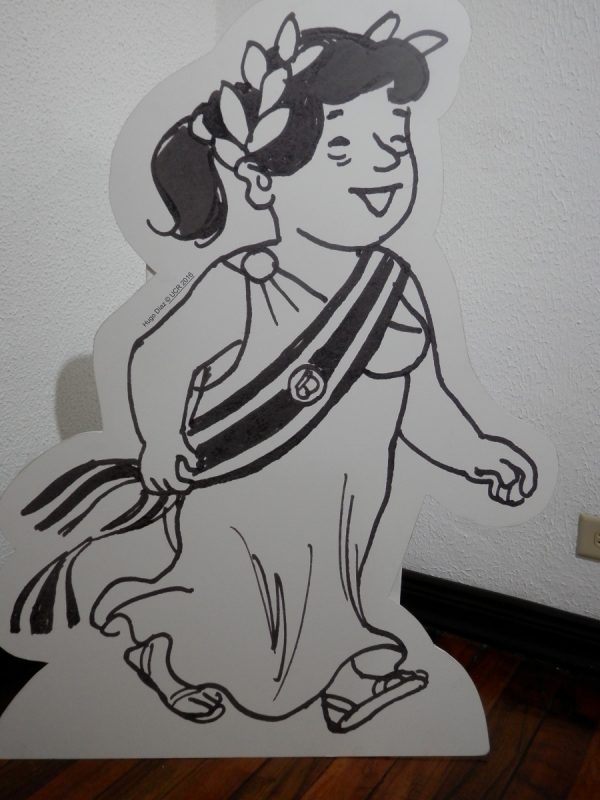 Don Hugo's work is a chronology of customs, political and social modes and changes over the years. Many of the cartoons are as relevant today and they were in years past; others remind us how times have changed. In don Hugo's own words, "much of the world has changed.  The campesino in the canvas hat no longer exists, but his problems are the same." Ditto for many social problems.
Toward the end of his life, don Hugo's eyesight began to fade, and his heavy rimmed glasses became a part of his image as well as his full head of wavy gray hair and his round figure. But he continued drawing. And his drawings continued to enlighten, to sting and to point out, up until his death on June 17, 2001.
An exhibit of some of his work fills three rooms at the Juan Santamaría Museum and Cultural Center in Alajuela; it will be on display through Jan. 23, 2018. The museum is in the old fort across from the central park in the heart of Alajuela, is open from 10 a.m. to 5:30p.m. Tuesday to Sunday (closed Mondays) and is free.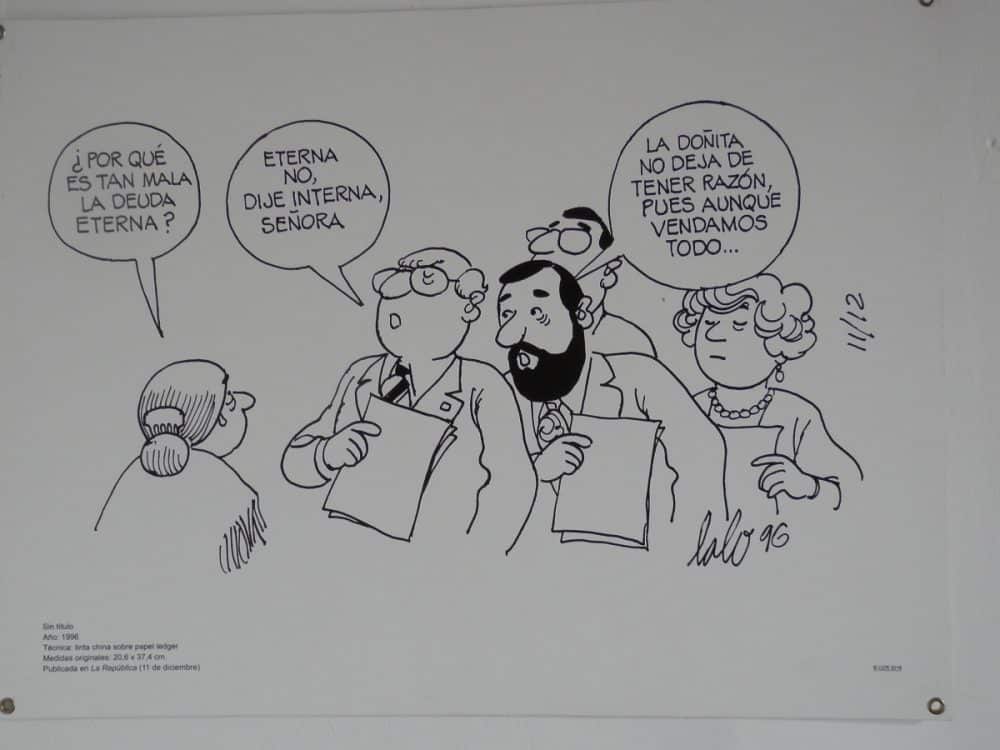 Older woman:  I don't understand about this eternal debt.
Politician:  Not eternal debt. Internal debt.
Man with beard:  The lady is right, because even if we sell everything….