Recommended: Costa Rica is for lovers – the affectionate language of daily life
Considering how much I love the idea of trains in general, and San José's Tren Urbano specifically, it's embarrassing how long it took me to hop aboard for a ride to and from Cartago. I'd ridden the train eastward from games at the National Stadium – by far the best way to get away from the jam-packed streets surrounding Sabana Park after any major event – but never from my home, just east of San José, to the former capital.
I finally remedied this on a recent Saturday, along with my husband and daughter. As we waited for the train at the station in Cipreses de Curridabat, it was inevitable, given my obsession with Costa Rican slang, that I would wonder aloud whether there are any choice costarriqueñismos related to trains.
My husband considered this. "Not that I can think of right now," he said.
"¿Que no le deje el tren?" I suggested.
"Sure," he said. "That's in general, for not being left behind in some way; or, in the past, it was often used to describe women who hadn't yet been married. 'La dejó el tren' meant that she'd never gotten hitched."
As I pondered the lovely linguistic gifts bestowed upon unmarried women in many languages, our particular train trundled up to our stop. We were off: up the hill to Cartago, off the train for a short visit to the Mercado Municipal and the Ruins, and then back.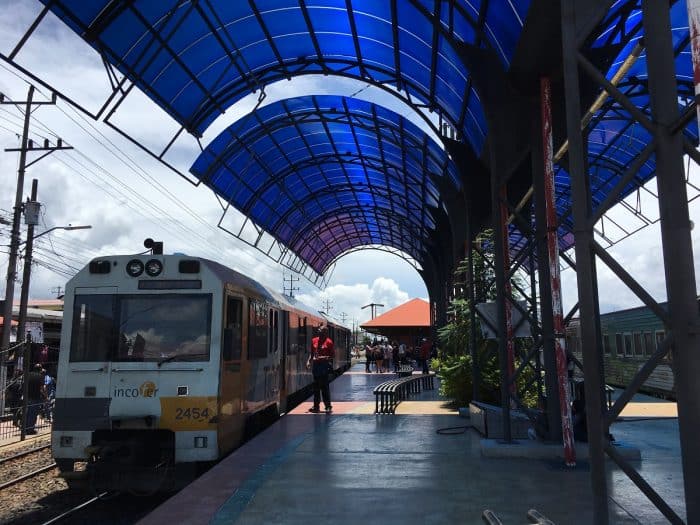 The journey was a bit of a revelation – or, rather, a heightened view of everything I consider the essence of Costa Rica. Everything I love, and love to hate, and thoroughly dislike about my adopted country flashed by outside the open windows (why is it that when it comes to Costa Rica, I can only seem to use the word "hate" in the phrase "love to hate"?). I was transfixed by what was outside those windows. I'd returned to the source.
Most any journey by car or bus in greater San José is, well, less than life-affirming. You'll see traffic, fast-food chains, pedestrians risking their lives as they sprint across streets, big-box stores holding court in increasing numbers. And thanks to the tendency to live "del portón pa'dentro," as one person once described it to me – hidden behind a big front gate or wall, and probably a series of locks – there are precious few of the glimpses of family life that can enliven travel through the streets of some other cities I've known.
The train, however, cuts through these barriers. You chug through graffiti-heavy underpasses and peer into lush backyards. You gaze into someone's kitchen window right next to the tracks and wonder how on earth the woman pouring coffee into her mug, so close you can see the steam, has gotten used to the sound and vibrations.
We saw a man and his son buying chips at the pulpería; a semicircle of bare butt-cracks where a group of workers were squatted around the back of a pickup for an impromptu lunch in a vacant lot; breathtaking views of ravines and cafetales; the backsides of some very ugly new buildings; mounds of trash here and there; people waving to us as we passed by; a child whirling, for some reason, in a cimarrona costume in his family's back patio.
At many points along the route, we saw glimpses of Costa Rican life that haven't changed much since my husband, now 39, was a little boy.
We also got a unique view of the drastic inequality that was not the same back then, when he played among these coffee plants. Not to the same degree we see today.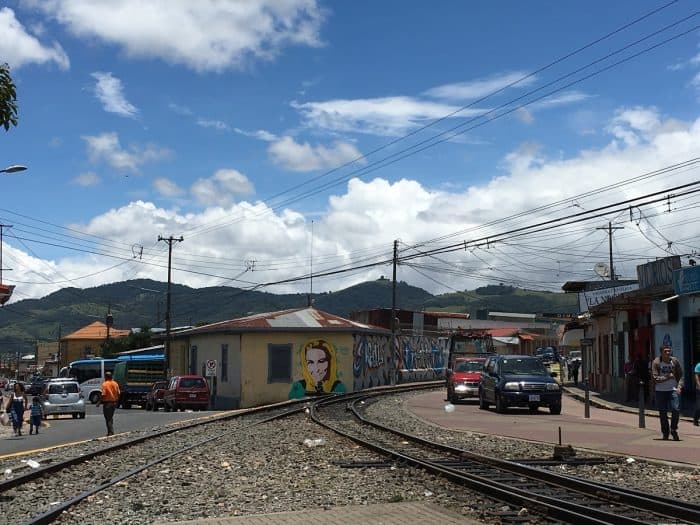 Just minutes after leaving Cartago on the last train of the day, headed back to San José, all the riders in our car were startled by an object that seemed to drop from the ceiling at top speed. We looked at each other in momentary confusion. After a second or two, we realized that it had been thrown in through one of the open windows.
"This is a slum," one well-groomed señora explained to the rest of us, gesturing at the neighborhood passing by outside our windows: garbage, kids on bikes, rusty roofs and slanty tin walls. "Es un precario."
I pictured a skinny boy jumping up and down on a dusty slope, realizing that he had hit the target. Even though we were rumbling along fairly slowly, it would be deeply satisfying to aim just right and get something through that little window.
"It's one thing to be poor. It's another to be a good-for-nothing," said a man across the aisle.
"Es que esta es la chusma," said the lady. This is the riffraff. She rose to close the window next to the four-top she shared with what appeared to be her husband and granddaughter. The man across the aisle did the same.
The object rolled to a stop at my feet. It was a small, tan, plastic container of West Country deodorant.
Our fellow passengers opened the windows about ten minutes later as the train pulled into the extraordinary decadence of the suburbs past the town of Tres Ríos. There, as Tres Ríos turns into Curridabat, train riders get inside glimpses of houses that are more like castles, homes whose luxuries are normally hidden behind massive gates and armed guards. There are crystalline pools ringed by world-class landscaping; broad, inviting tennis courts; rolling lawns.
I watched all of this and thought: Costa Rica, que no nos deje el tren.
I didn't mean some shiny bullet train on the fast track to the developed world – not that that's necessarily on the horizon. I meant this very train, clunky and slow, with its faded seats and scratched windows.
May we not be left behind by this train and all it sees during its brief voyages through the Central Valley. May we not miss the opportunity it represents.
The opportunity of this car, where people of many walks of life – not all, but many – filed into the same seats and experienced the same things, with all the annoyances and friction and humor and real, human interactions that come when we emerge from our social circles, from our little boxes made of ticky-tacky.
The opportunity to ride shoulder-to-shoulder on public transportation, instead of in the plush isolation of the cars that are choking this city.
A reminder, however fleeting, that this country's extremes of wealth and poverty are actually close neighbors, whether or not we care to see this. A tiny open window between these realities many people work very hard to isolate – even if, on this trip, all that came through was a deodorant container.
A reminder that exuberant green and exuberant, sometimes foolhardy development are also close neighbors. Balance, somehow, must be achieved.
These are massive challenges, all of them: giving San José room to breathe, alleviating its transportation nightmares, integrating development with the environment, finding economic and social solutions that can somehow slow and reverse the accelerating concentration of wealth in a country that long boasted of its strong middle class.
It's an uphill climb, but as I alighted from the train with a tired four-year-old Tica hanging from my arms, I realized one thing gives me hope. It's the fact that so many of the smartest, most creative and most passionate people I know, often driven by a natural sense of solidarity, all with an underlying, even if unspoken, commitment to peace – so many of them, so many, are Costa Rican. And I'll hitch my car to theirs anytime.
To consult the Tren Urbano schedule, visit the Incofer website.
Read previous Maeology columns here.
Katherine Stanley Obando is the editor of The Tico Times and the author of "Love in Translation: Letters to My Costa Rican Daughter," a book of essays about motherhood, Costa Rica's unique street slang, bicultural parenting, and the ups and downs of living abroad. She lives in San José. For more from Katherine about Costa Rican life and culture, follow her on Facebook or Twitter, or subscribe to the Love in Translation blog.