LA FORTUNA, Alajuela — We ate at more eateries here than we could name, and we almost always found some little detail we didn't like. Still, at times we enjoyed our dinner immensely and left licking our fingers.
Our range of experience was wide, but we agreed that most places offered the same type of food.
"Todo es lo mismo," Guiselle said: Everything is the same. Everyone serves beef, pork, chicken and seafood, everyone has casados, everyone has arroz con pollo. So what stands out in this town?

Guiselle and I ate out every day for over a month, and then we were joined by my colleague Michael Krumholtz, who can eat more than both of us combined.
Many great restaurants are located in great hotels, which are reviewed separately and are not included in this list. We wouldn't call these "the best" restaurants in Arenal, because we didn't eat at all of them, but here are five we really liked, in alphabetical order.
________________
Costa Rica's Greatest Places
In this series, Tico Times Travel takes an in-depth look at some of Costa Rica's greatest destinations, with multiple articles exploring their appeal. In April, we'll be looking at all the attractions of Arenal — adventure tourism, hotels, restaurants, real estate and of course that volcano and all those hot springs.
PART I: Valle del Sol
PART II: Quepos/Manuel Antonio
PART III: The Flamingo Coast
PART IV: Nosara
PART V: Arenal
________________
1. Café Mediterraneo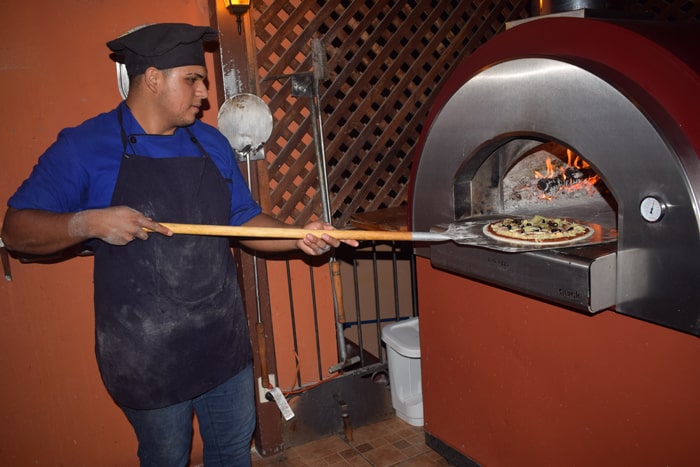 This was our favorite restaurant in La Fortuna — an elegant Italian place with stylish ambience, excellent service and, best of all, outstanding food.
Proprietor Geovanny Lobo, 37, said his is the only place in town that makes its own pasta — spaghetti, fettucini and ravioli, everything except the penne, which requires a special machine. He recommended the green fettucini, made with avocado and tomato.
So I ordered the Spaghetti Matricciana with tomato sauce and smoked bacon, asking for the green fettucini instead of the spaghetti. It was possibly the best pasta dish I ever had.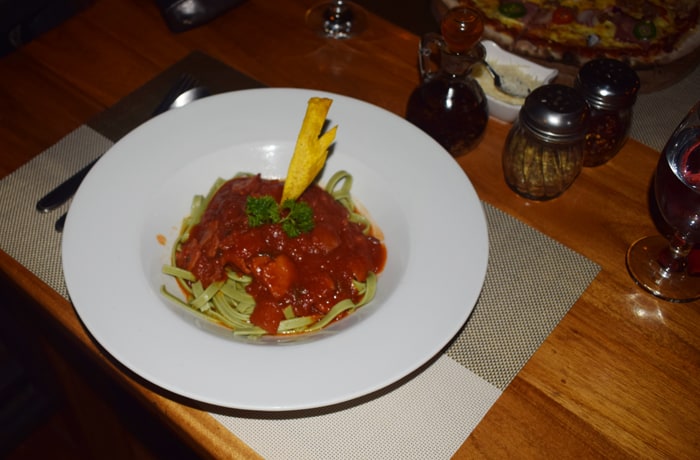 Guiselle ordered the Pizza Tejana, which had tomato sauce, mozzarella, cheddar, bacon, jalapeño, purple onion and ground beef. She raved as she devoured it — the peppers burned, but they burned so good.
Guiselle asked Geovanny, who is from Heredia and is Italian in name only, why he chose to open an Italian restaurant.
"Because if I was going to open a restaurant, I wanted to open a restaurant where I could eat every day," he said. "I eat pizza every day."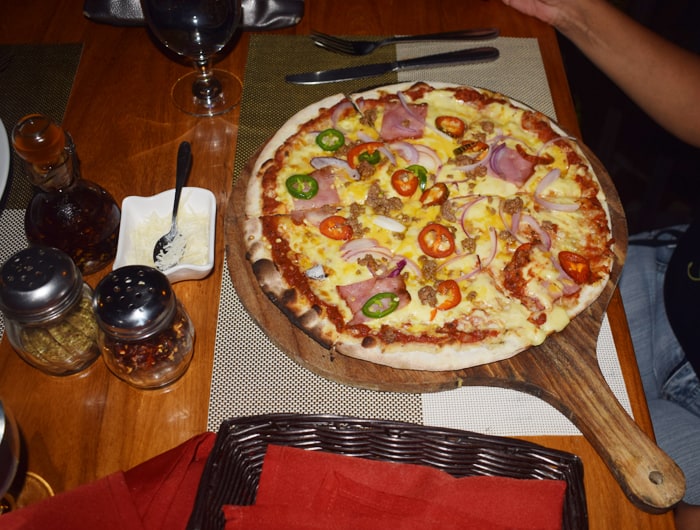 We also asked about the fresh grated cheese on the table, which was excellent. "It's called Grana Padana; it's similar to Parmesan. It comes in a big wheel and spends 24 months maturing," Geovanny said.
A couple of good red wines, a cabernet from Argentina and a merlot from Chile, capped this dinner off perfectly.
We were almost embarrassed to ask if they had "servicio express," takeout service, for those lazy nights when we wanted to feast at home. But the happy answer was yes!
— Karl Kahler
2. Don Rufino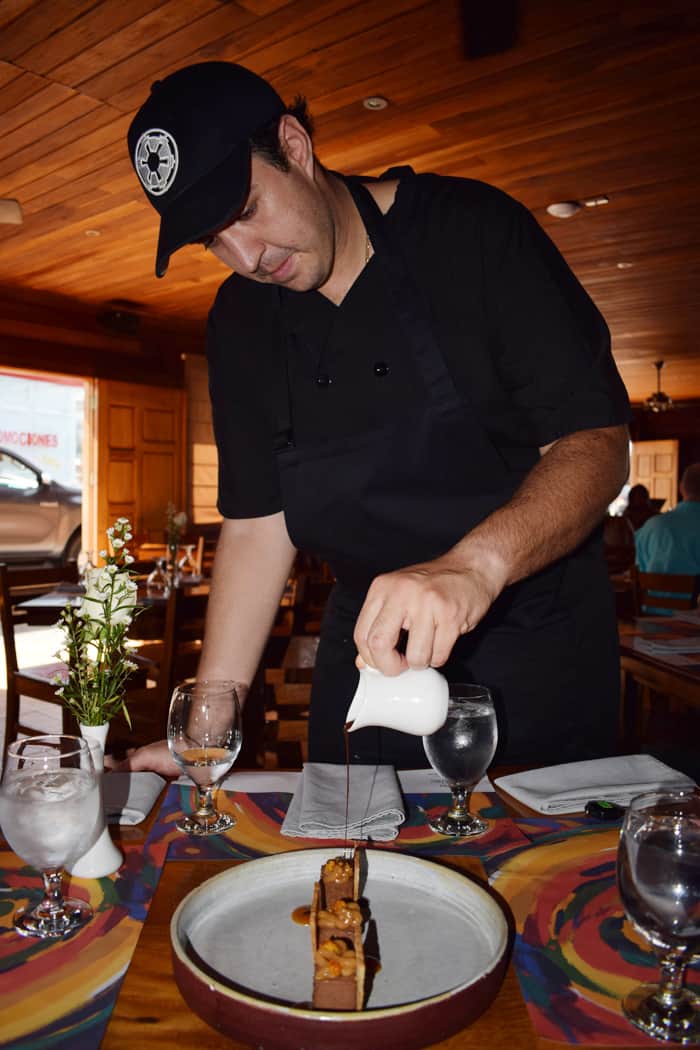 I would call Don Rufino the finest restaurant in La Fortuna, offering gourmet dining and excellent wines in a beautiful setting. It's also probably the most expensive restaurant in town, but one of its smartest features is a bar that opens onto the street, so anyone wandering by can belly up and order a drink without facing the sticker shock of the dinner menu.
We enjoyed a four-course meal of ceviche, risotto, ribeye and chocolate mousse, with a flight of white and red wines. The ceviche was white marlin in an avocado cream with ginger, tomato dressing, red onion and coriander, served with yucca crisps.
The squash risotto came with chicken, shrimp, cherry tomatoes and parmesan, and the char-grilled ribeye was served with cauliflower puree, concannon potatoes, cabbage and bacon. It was all excellent, and the chocolate mousse melted in the mouth.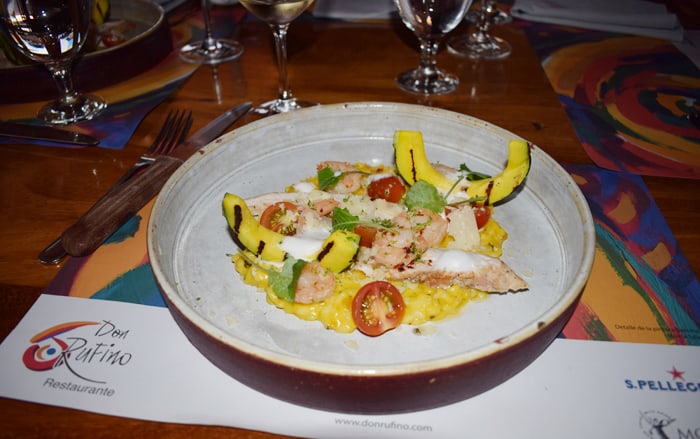 Head chef Santiago Fernández, 30, has been a cook for half his life, since an apprenticeship at Le Chandelier in San José at age 15.
"My focus is on creating recipes that you might call típicas, but turning them into something that you never would have expected," he said.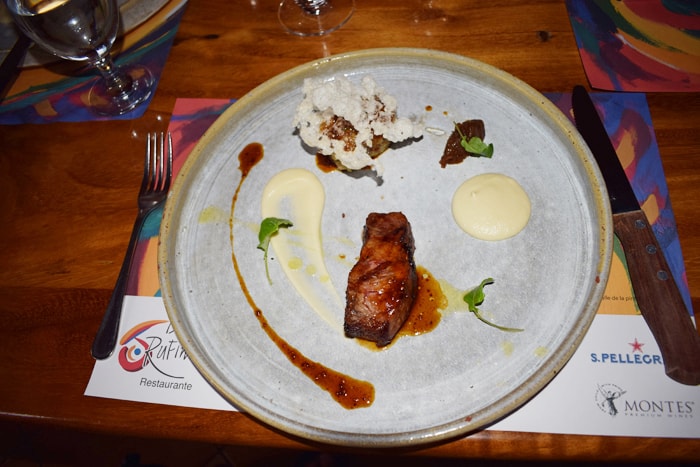 "In general, we don't complicate the food much. We like it to be simple but rico. You'll find nice presentations, but our focus isn't on showing off an extravagant chef. The food is good, and as a plus, you have good service, good presentation, so that's the focus of this place."
Carlos Quesada, one of the four brothers and sisters who own the place, said it's named after their grandfather, Don Rufino, one of the first settlers in the area.
— Karl Kahler
3. La Forchetta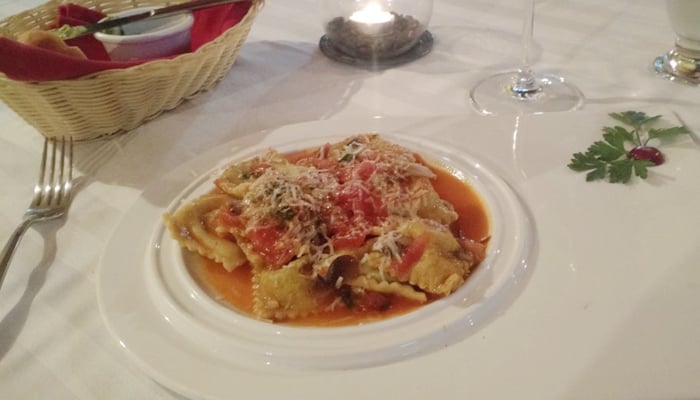 Chef Alessandro Baldini came to Costa Rica from northern Italy decades ago and brought his homemade Italian recipes with him. After running a restaurant in San Pedro near the capital, Baldini opened La Forchetta seven months ago.
"I can't live in San José anymore," he said. "You can't drive a block there without it taking 30 minutes. Here I can walk everywhere and look up at the volcano every day. It's much more tranquil."
At the homey La Forchetta, located just two blocks south of La Fortuna's Central Park, Baldini's cooking provides the definition of comfort food. During my meal here I began with a good glass of Spanish Tempranillo suggested by my extremely attentive waiter. Though I was looking for a good starter, there was really no option besides caprese, which was my only complaint at this restaurant.
Instead, the waiter brought out complimentary bread with an awesome pesto sauce that was a fine consolation. For an entree, I ordered the ravioli stuffed with spinach and ricotta cheese. The ravioli was doused with an excellent red sauce that had thick slices of tomato and a shredded white cheese.
This, to me, is as comfortable as comfort food gets. With the food, the environment, and the hospitality of Chef Alessandro, it's like being transported to the foothills of the Italian Alps.
— Michael Krumholtz
4. La Parrilla de María Bonita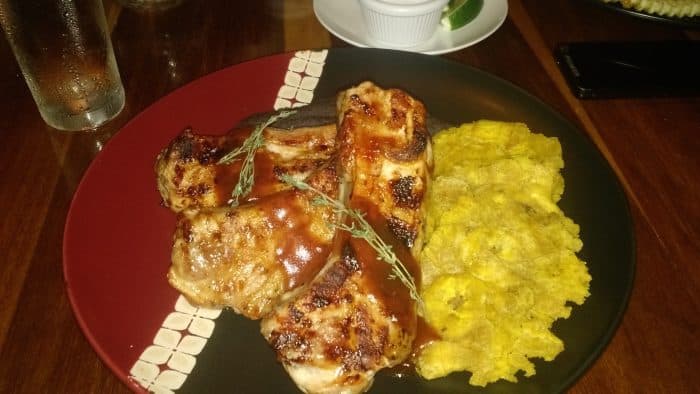 At La Parrilla de María Bonita, the consummate meat lover has a place to celebrate. Yes, the restaurant also specializes in veggie Mediterranean options like falafel, tabbouleh and fattoush salad. But it's the meat that shines bright at this little dining spot tucked a few blocks away from the center of La Fortuna.
The restaurant, which held the top ranking on Trip Advisor for the area as this was written, offers a variety of grilled meats. My girlfriend ordered the sausage platter that came with three varieties of stuffed pork. I went with the St. Louis-style ribs, a risky proposition given our distance from the Gateway Arch.
It may not have been midwestern barbecue, but they were some of the best ribs I've had in Costa Rica. And although I would have preferred more traditional barbecue sides of red beans and cole slaw, the refried black beans and plantains were fine.
My only qualm was a pre-dinner palate cleanser of mango sorbet. To be frank, I just didn't get it. It's a bit unnecessary and doesn't make sense in a place that's serving curly fries as a side.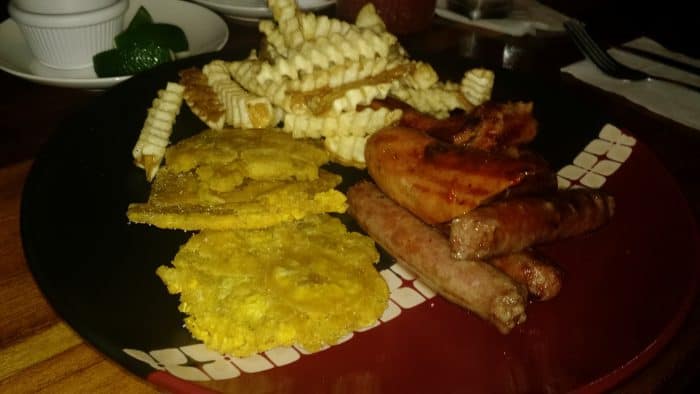 That singular miss was made up for, however, with really good service from the friendly waitstaff. Admittedly, my bar is set pretty low for service in a country where it often seems like you're an uninvited guest in someone's home when you eat out at restaurants.
In María Bonita's romantic atmosphere, our waitress was observant but not overbearing. With an already great assortment of food, it's that kind of service that makes the meal.
— Michael Krumholtz
5. Rancho Perla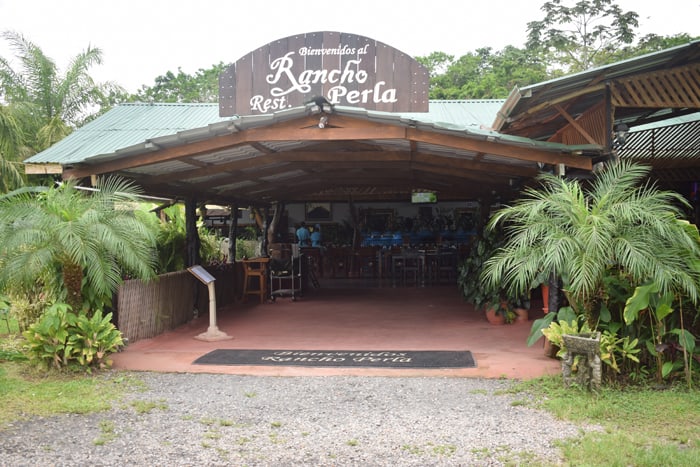 When we first pulled up to this restaurant, a half-dozen tour buses had beaten us here, and Japanese tourists were snapping photos of a low-hanging sloth. Not a bad sign on either count, I thought — all these tour operators wouldn't be bringing their clients to a place with bad food, would they, and how cool is it to eat your lunch within view of a sloth?
Located 100 meters behind Arenal Backpackers Resort, Perla offers an excellent sampling of Costa Rican cuisine — seafood, beef, pork, chicken, salads and more, all of it artfully presented and thoughtfully served.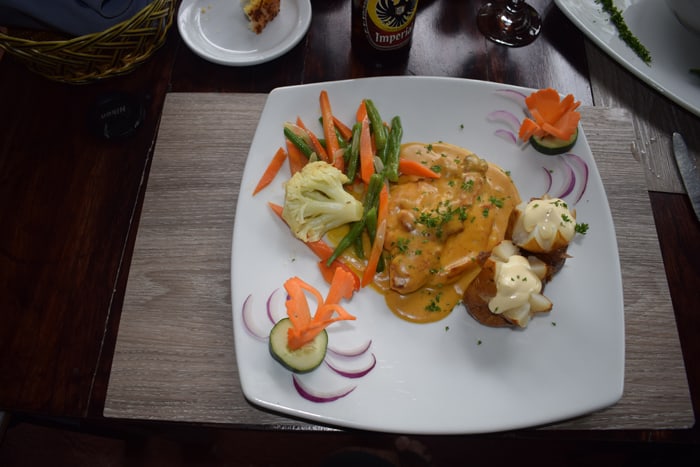 "We offer white meat, red meat, exotic meat, seafood, fish, different preparations," said owner Hugo Salas Chaves. "Many times we leave it to the preference of the customer, what he wants, because you know that the way people eat, not everybody wants what's on the menu."
Hugo is nicknamed Perla, the Spanish name of a black girl with wild hair from the old "Our Gang" TV show.
"I didn't comb my hair in school, and my hair is kinky, so they called me Perlita from 'Our Gang,'" he said. "People sometimes call asking for la señora Perla, and I tell them there's no Señora Perla here."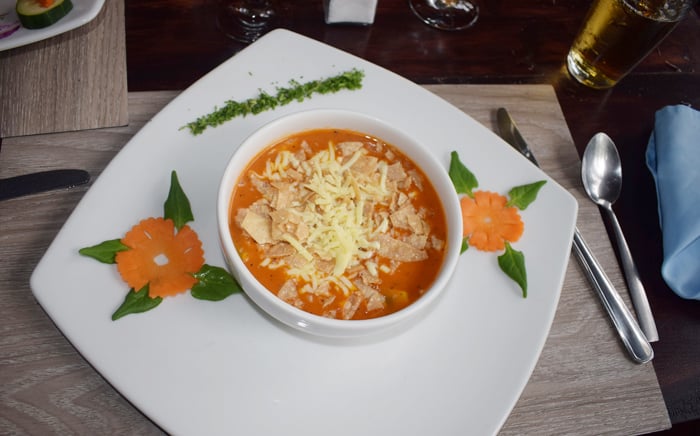 I had a delicious chicken in peanut sauce here, and Guiselle raved over the cream of tomato soup, which she special-ordered to include tortillas and cheese, turning it into Azteca soup.
Perla said seafood remains his popular menu item. "People are inclined nowadays more than anything toward fish. We serve a lot of salmon, tuna, dorado, seabass, tilapia, and many times, in season, wahoo. Fishermen really like that. It's a fish that's not so easy to catch."
— Karl Kahler
Contact Karl Kahler at kkahler@ticotimes.net and Michael Krumholtz at mkrumholtz@ticotimes.net