An annual Guanacaste tradition went sour this weekend when a crocodile that locals had wrestled out of the water was found dead shortly thereafter.
Local reports confirmed by a press release from the Environment Ministry (MINAE) say the ddad crocodile was discovered early Saturday morning in the town of Ortega del Bolsón following the traditional Good Friday event called "La Largateada."
The annual gathering involves dozens of participants jumping into a crocodile-infested river near the town and attracting a crocodile's attention by swatting large sticks on the surface of the water. When a croc swims up, they then use a net to corral it out of the water, tie it up, and parade it around town before putting it in a large cage. The animal is freed from its cage the next day and put back in the river.
However, at around 6 a.m. on Saturday, local residents called MINAE offices to report they had found the crocodile dead in its cell. According to a Ministry report, officials did a routine check on the crocodile Friday night while it was in captivity and found nothing wrong with it.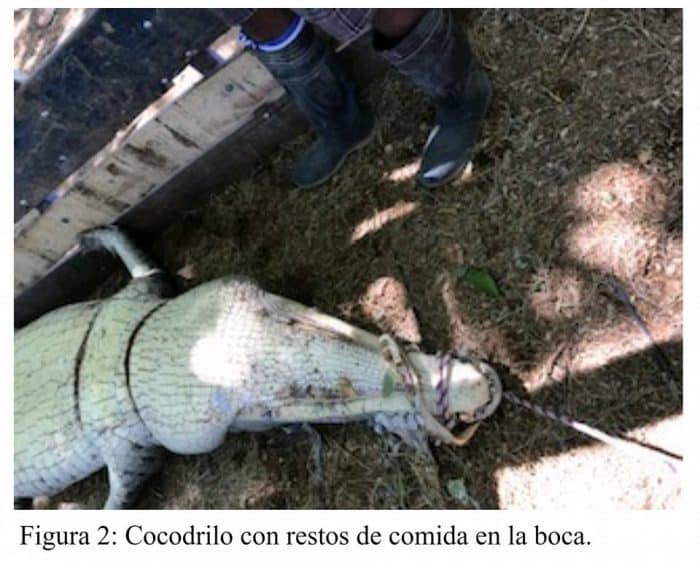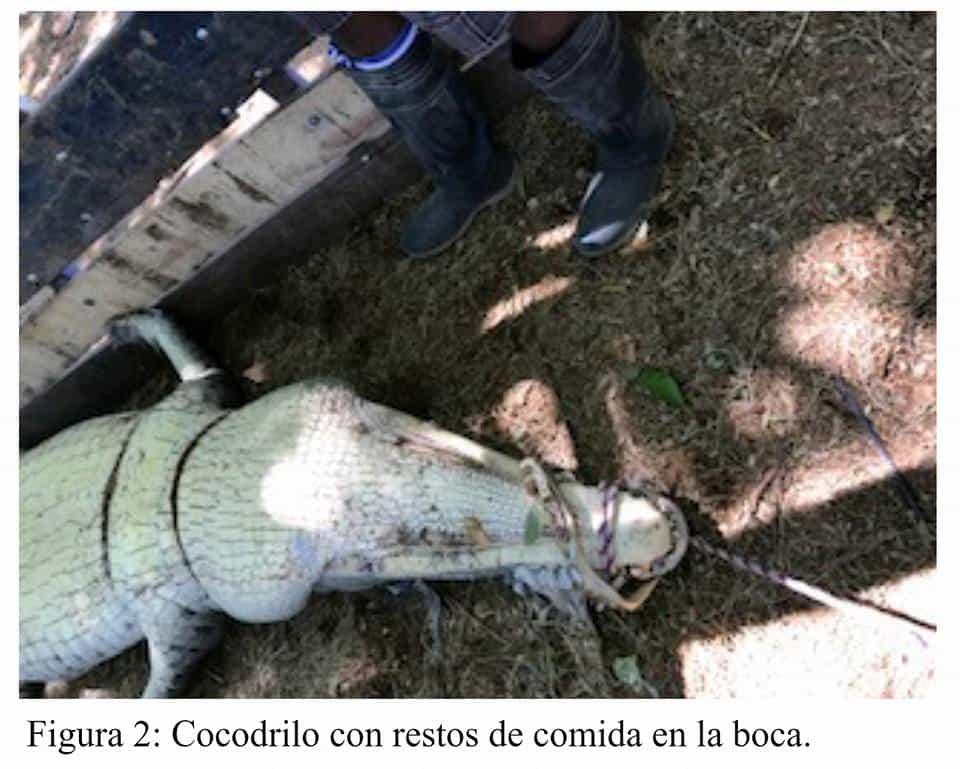 MINAE officials have historically accepted the event as a cultural tradition and monitor it alongside other agencies every year. Ministry representatives said there will be an "analysis" to investigate how the crocodile died, although preliminary indications show that it may have suffocated on its own vomit while it had its jaws tied together sometime during the night.
"Due to an advanced state of decomposition in the animal's tissue in the first four hours after death, an autopsy was not conducted to reveal the exact cause of death," said a MINAE news release on Sunday. "However, with evidence we have that the animal was fed in the early morning (judging by the food remnants left in its mouth), it may be that it vomited from the stress of the capture and then suffocated from being immobile and having its mouth tied shut."
A local man was bitten on the leg by the crocodile earlier in the course of the Friday celebration and recovered at a local hospital.
The large crocodile was posthumously measured at 3.74 meters (or 12 feet, 4 inches) from head to tail.
In 2009, Costa Rica's Constitutional Chamber of the Supreme Court, or Sala IV, ruled that "La Largateada" should be allowed to continue because it has "cultural value." The tradition is believed to stem from a practice by the Chorotega indigenous tribe that saw the crocodile as sacred.
A 2014 video report below from local news channel Repretel shows the process of villagers hauling in the crocodile and carrying it around while it remains tied with rope.