At this point it seems like it's almost a requirement to do something completely embarrassing if you work at the Costa Rican Football Federation.
Cristian Williams, the federation's press director, is the latest official from La Sele to cause a cringeworthy international incident after he apparently tried to boycott the Mexican press ahead of Costa Rica's Friday World Cup Qualifier at Mexico's Azteca Stadium.
According to a leaked WhatsApp message shown below in Spanish, Williams privately told members of the Costa Rican press to go to the Hotel Radisson instead of Azteca Stadium to conduct interviews with Costa Rica football players. After previously having scheduled for a walkthrough session at the stadium followed by interviews, Williams apparently rescheduled the event without telling Mexican and international media.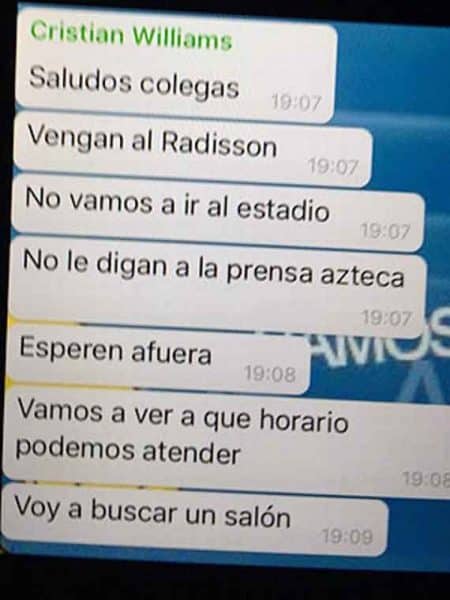 The boycott seemed to be as explicit as it gets, as one of the messages under Williams' name reads: "Don't tell the Azteca press."
Mexican outlets have expressed understood indignation after they were left waiting Thursday night at the stadium for a team that was never going to show up. Multiple international channels and publications like ESPN and Fox News were also in attendance.
Well-known Spanish football magazine MARCA said in a Friday headline: "The director of Costa Rican football press wanted to boycott the Mexican press!"
Mexican sports magazine El Récord's headline read: "Tico press head discriminates against Mexican media."
Williams clearly has some beef with local press in Mexico, as he got upset during a separate press conference with Tico midfielder Celso Borges when a reporter awkwardly crawled in front of the podium to leave his record by the microphones. "If that happens again, I'm suspending the press conference," Williams said.
https://twitter.com/ALVAROCRUZ29/status/845116923276767233?ref_src=twsrc%5Etfw&ref_url=http%3A%2F%2Fwww.record.com.mx%2Ffutbol-noticias-del-tri%2Fjefe-de-prensa-tico-discrimina-medios-mexicanos
Williams did not respond to a request for comment sent via email by The Tico Times before publication of this article.
Costa Rican football is going to be able to put out a greatest hits of embarrassing scandals at this rate. This is the same federation that has seen former president Eduardo Li charged in the United States for his apparent involvement in FIFA's corruption case. In the meantime, the person whose job it was to look over the finances at a time when Costa Rica was receiving suspiciously beneficial deals was promoted to Li's spot.
Costa Rica and Mexico will kick off their qualifier at 7:50 p.m. Costa Rican time in Azteca Stadium, and one of the interesting side pieces of entertainment will be to now see if Williams is even allowed in.