Is it possible for a single organization to transform one of Costa Rica's toughest neighborhoods? La Carpio, the shantytown located in La Uruca, San José, is synonymous in the minds of many Costa Ricans with poverty and violent crime. In 2011, however, Alicia Avilés and Maris Stella Fernández launched a quest to change this when they founded the Integrated System of Art Education for Social Inclusion (SIFAIS), an NGO seeking to promote cultural growth in the neighborhood. In this four-part series, The Tico Times sets out to show how this non-traditional cultural education model is trying to beat the odds and help this vulnerable community strive for a better future.
It all began when Alicia Avilés acted on impulse.
In 2011, the Nicaraguan resident of La Carpio, Costa Rica's most infamous shantytown, was working as a maid, but also as a leader in the troubled community. The mother of five had come to Costa Rica more than 15 years earlier searching for a better life, and had found it, but was also plunged in the challenges facing her neighborhood: drug use, violence and poverty.
She was working on a number of community initiatives, including a third-division soccer team for local kids. She met a woman named Maris Stella Fernández of the company Eureka Comunicación through mutual religious activities, and Fernández had helped Avilés by coordinating a donation of uniforms for the team.
However, when a few of the children mentioned to Avilés that they didn't like sports but would love to participate in an activity of their own, Avilés started nursing a bigger dream for her community: a symphony orchestra for the children of La Carpio. And one fine day, she got up the courage to talk to Fernández, a communications specialist, about this idea.
The conversation between Avilés, 51, and Fernández, 52, sparked a series of events that led to the creation of an organization that is now renowned nationwide: the Integrated System of Art Education for Social Inclusion (SIFAIS), a non-governmental organization that unites La Carpio with volunteers who lead programs in the arts, athletics and education. The program's non-traditional cultural education model aims to rebuild the community and change some of the stereotypes and stigmas that surround it.
Not long after their initial conversation about the idea, Avilés and Fernández gathered in La Carpio with 50 children who happily waited to create music with 20 plastic flutes and 20 drumsticks. It was the beginning of an era: Avilés became the community director and the inspiration behind SIFAIS – one of her official titles on the organization's website is "inspirer" – and Fernández the president.
Fernández, who lives in Piedades de Santa Ana, organized an initial group of three volunteers to create music with the children. She immediately noticed the volunteers' impact on the community.
"Everyone within the community notices that the visitor is someone who can provide something to a population in need," she told The Tico Times during an interview at the Eureka offices in the western San José neighborhood of Rohrmoser. "There's a great satisfaction in that, because what makes people happy is not having material things, beauty or power: it's being able to serve others. When you see so many people in need, you're not uncomfortable with providing others with [what they need]."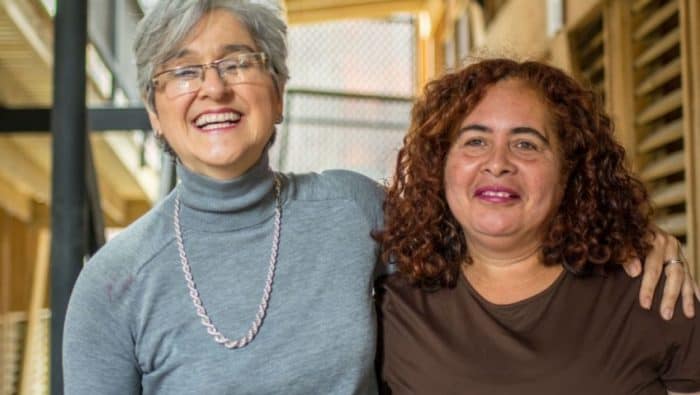 Slowly, more volunteers began to join the movement with the same goal in mind: helping La Carpio move forward. According to Fernández, Avilés' initial willingness to trust Fernández, an outsider, with her big idea, then led to the trust among the volunteers and the people from the community.
"The fact that she trusted me made me wonder if I could do something I never thought I would do," Fernández remembers. "If it hadn't been for that, I wouldn't have taken that initial step. Besides that, I trusted her that she'd protect me.
"There's also the trust given from the volunteers to their students. [The students] feel great because they're being trusted as a person and not stigmatized as delinquents just because they're from La Carpio. It creates a more integrated social tissue," Fernández said, adding that the perseverance and consistency that the project requires reinforces this confidence.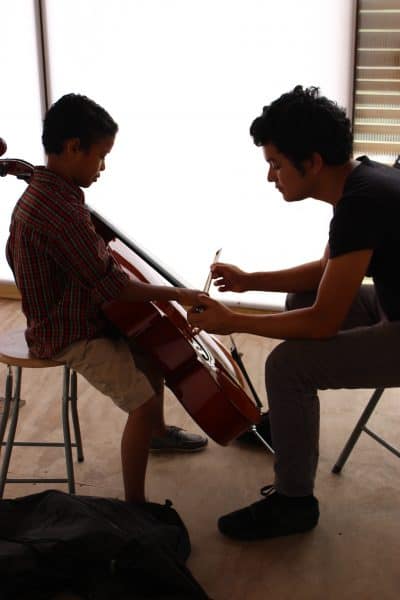 The women describe core values that have shaped the organization. In addition to trust and constancy, one of those values is what they call the "positive madness" that has driven them to break barriers. A symphony orchestra was created in a place often dominated by fear, violence and drugs, establishing an unimaginable tenderness between the volunteers and the people from La Carpio.
"The tenderness a teacher acquires when he or she notices that a child, adult or senior citizen is learning to play the violin helps the teacher build a stronger trust in order to persevere and set new, crazier goals," Fernández said.
As Fernández and Avilés moved forward with their improbable dream, funded through donations and sponsorships from a variety of sources, they set their sights on the construction of a building where volunteers could carry out their cultural workshops and classes.
Making this a reality required contacting the architects Michael Smith and Alejandro Vallejo from the firm Entre Nos Atelier. However, throughout the process, SIFAIS faced several challenges.
"At the beginning the architects created a design to remodel the building where we were working," Fernández explained. "It was a very nice process because we were working on a terrain that was lent to us by an evangelical church. When we didn't fit in the building anymore, we asked [the architects] if they could design a second floor without knowing that the people from La Carpio would get really upset. When someone remodels some part of the slum, the people of the community think that their property is being taken away."
Once more, SIFAIS made its goal more ambitious: the organization asked its architects to design two four-story, interconnected buildings. The budget? $500,000.
Because SIFAIS did not own the land on which this structure was to be built, potential donors were skittish, Fernández recalled.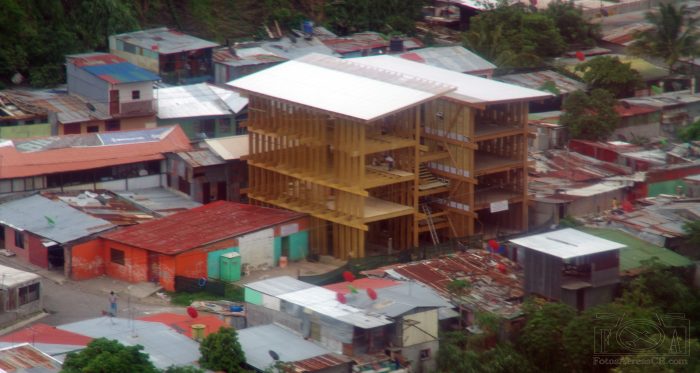 "We had to go the Mixed Institute for Social Aid (IMAS) to tell them about what we were doing and planning on building in La Carpio. For the first time in the history of a slum in Costa Rica, the IMAS decided to grant us a loan, which is an arrangement in which we were conceded the use of the terrain for 15 years," Fernández said.
After further communication with the Municipality of San José and Ministry of Public Works and Transportation, SIFAIS continued with its fundraising efforts.
"We contacted Rodrigo Uribe, who had already gotten to know La Carpio. He's the owner of [the business] Cuestamoras. He trusted us, donated the first $150,000 and provoked a reactive chain of trust amongst other entrepreneurs. In a year we were able to recollect the $500,000," Fernández, who said she is still amazed by the unbelievable gesture, told The Tico Times.
Construction began on June 26, 2014, and the building was inaugurated on August 2, 2015. The building, known as the Cueva de Luz (Cave of Light), has a total of 137 volunteers and 350 collaborators working with about 950 people from La Carpio enrolled in the classes and workshops provided by SIFAIS. Both the Public Education Ministry and Justice Ministry now work alongside SIFAIS as well.
Just think: it all began with the merging of trust, constancy, madness and tenderness to create a better community through the participation of volunteers, along with the constant hard work of a motivated and inspired administrative team.
In the next story in our series, we sit down with Alicia Avilés to hear her extraordinary story.