ASERRI, San José — During our trek into the mountains south of San José, as we made the continuous climb on treacherous and narrow roads, my girlfriend said to me, "Vamos a alcanzar al cielo." This could have meant we were going to reach the sky, or could have meant we might end up in heaven. The double meaning was not lost on me as I answered: "I'm pretty sure we'll get there one way or the other."
Moving past the center of Aserrí, where old women pushed grocery carts and signs for a local restaurant specializing in chicharrón obstructed the mountain view, our car approached one last climb. Though the Waze app said we were almost at the water park we had decided to go to on a whim, a comically steep hill in front of us was the last thing standing in our way.
I pushed my GeoTracker into drive and tried to get as much momentum as possible as we inched our way up the sheer road. A man coming down with a wagon full of vegetables whistled at me as if he'd never seen someone drive up this way before. Maybe this was a mistake, I thought, as it seemed my car would backflip at any second and tumble down the broken road.
"Reaching el cielo one way or the other," I said again to my now wide-eyed girlfriend.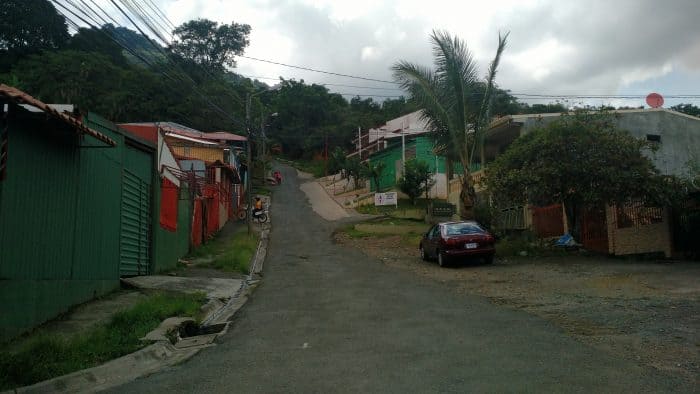 When we finally reached flat road at the top, we shared a collective sigh and proceeded to what we thought would be a somewhat large water park with slides and pools and, heck, maybe even one of those lazy rivers that goes around the whole place. We ended up finding nothing of the sort.
(Full disclosure: We were actually going to go to Parque Acuático Villa Fantasía, a water park in Orotina. But when we were leaving our apartment in San José, my Waze map told me this water park in Aserrí would be 30 minutes closer. Sometimes, life continues to teach you, it's better to stick with the long way.)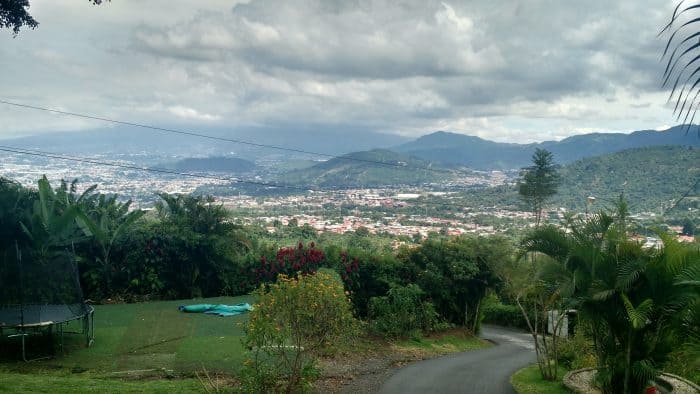 When we arrived at the makeshift parking lot at Parque Acuático Los Sueños in Aserrí after the harrowing 30-minute drive south, I realized mine was the only car parked here.
We paid ₡4,000 each for our entrance tickets, and I asked the guy at the front desk how anyone gets to this place. He just laughed and ignored my apparently dumb question. He then pointed us to the two different sides of the "park," which really just looked like someone's back yard. There was one side with a "warm pool" and the other with two "cold pools" that each had slides leading into them.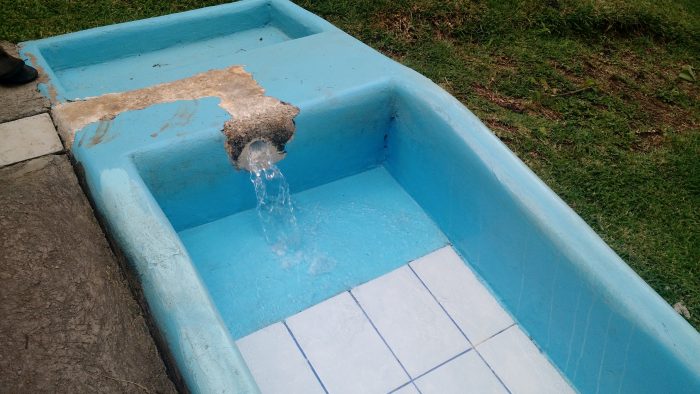 What kept sticking out to me about the place, beyond the shoddiness, was the spectacular view of Aserrí below. The chain of green mountains, though neighboring San José, conspired to block off everything but this sun-splashed valley in front of our eyes.
Like the scary but scenic drive, this view possessed that power so emblematic of Costa Rica that can make you feel as if you have just woken up in a fairy tale.
To cool off from the surprisingly sunny day in October at the height of rainy season, we jumped into the "warm pool," which felt like a relatively cold pool. After some time, we went over to try the slides in the "cold pools" and when I got to the top of the first slide, I was hit with the split emotion of wanting to laugh out loud and wanting to shriek in fear.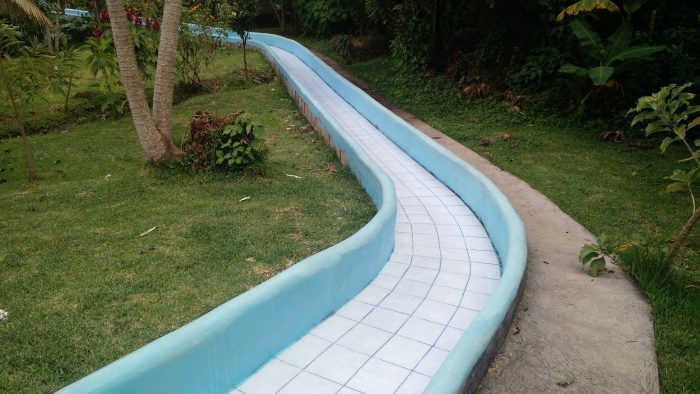 There were red smears on the concrete atop the first slide, which was essentially a descending line of bath tile with rock barriers and water running out of a hole at the top to make this thing slidable. I don't know if the red smears were blood, but I can say for sure that after I went down this supremely precarious contraption, I was bleeding.
I said my final words to my girlfriend, shot down the slide much faster than I was expecting and ended up being thrown into a frigid pool three feet deep that felt like it had literally just been melted out of ice. I cracked my finger on the concrete bottom, which is how I started bleeding.
My girlfriend came racing down behind me on the slide, crashing into me and laughing hysterically. I told her that was the scariest thing I'd ever done, and that was just a few minutes after the previous scariest thing I had ever done by taking my car up the steepest incline it's ever climbed. We shrugged and laughed a little before getting our things and leaving early. We didn't even bother with the second slide since the dirty pool looked like it legitimately could have had a swamp monster living in it.
Though this may sound like an anti-travel travel story, my point in retelling this strange journey is to actually encourage people to get out and go places they've never been or even heard of in Costa Rica.
I can't really recommend this water park. But Costa Rica seems to always have this awesome dichotomy of beautiful scenery to go with the experience of one of those strange or trying days that seem like they can only happen here.
Whether it be the landmark directions on the way there, the incredible hillside homes slicing through green mountains, or the shoddy infrastructure among all of it, Costa Rica always makes you feel like you're on some great adventure.
One way or the other, you'll get there.