MANUEL ANTONIO, Puntarenas — In an effort to find some cool things to do here besides take a walk in the park, I went on two great adventures — mangrove kayaking and a waterfall tour.
I got a bit wet on both of them. But if I'd wanted to stay dry, I could have stayed in bed.

________________
Costa Rica's Greatest Places
In this series, The Tico Times Travel section takes an in-depth look at some of Costa Rica's greatest destinations, with multiple articles exploring the attractions of each. For the first three weeks of October, we'll visit one of Costa Rica's finest gems, the hillside enclave of Manuel Antonio and its seaside neighbor, Quepos.
PART I: Valle del Sol
PART II: Quepos/Manuel Antonio
• Oct. 3: Overview
• Oct. 6: Hiking
• Oct. 10: Marina
• Oct. 13: Adventure
• Oct. 17: History
• Oct. 20: Hospitality
________________
Manuel Antonio and Quepos offer just about every tourism activity imaginable by air, sea and land. There is the extreme (sky-diving, canyoning, rafting), the serene (bird-watching, yoga, sunset cruise) and the in-between (deep-sea fishing, horseback riding, ATVs).
We couldn't do them all. But here are two we would definitely recommend.

Mangrove kayaking with monkeys
I never worried much about white-faced monkeys until I went mangrove kayaking in the Río Cañitas and floated within 10 feet of an alpha male who thought I was invading his space.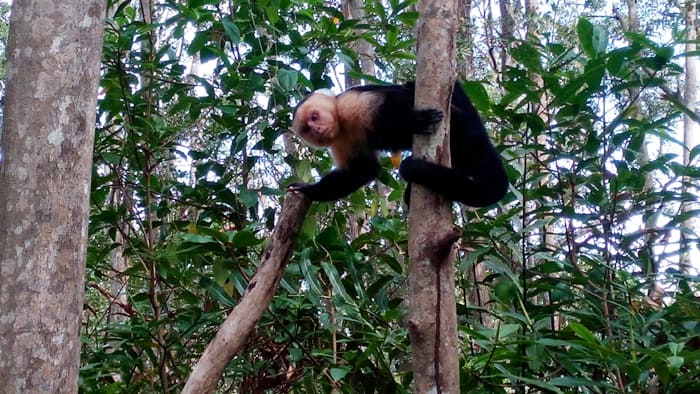 He glared at me, none too happily, like he was thinking of jumping onto my kayak and biting off my nose. Which he very easily could have, judging from his skill at jumping and the size of his teeth.
He started angrily shaking branches to show me how powerful he was, to let me know that he was the jefe here and that I came uninvited.
The delightful guide behind me in our two-person kayak, a woman named Mile, said, "Look, that's an alpha male, and he's showing us how powerful he is."
Mile, who usually spoke like a professor of biology, started using the kind of baby-talk that people use on puppies: "He's shaking the branches, saying, 'Don't mess with me. Look at what I can do!'"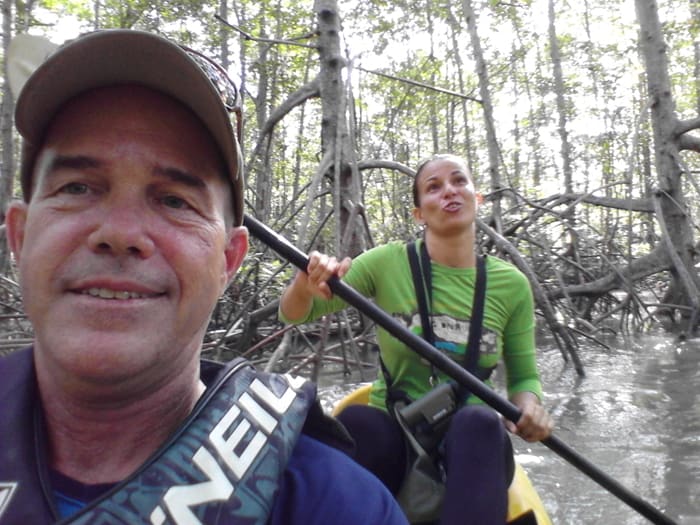 Our up-close encounter with this huge troop of monkeys (she estimated 50) was all in a day's work for the experienced and erudite Milenlli Araya Masís. She is certified by the Costa Rican Tourism Board in two specialties and normally guides tourists on foot through Manuel Antonio National Park.
"Capuchin monkeys can eat anything, and they can survive anywhere," she said. "They're very successful for that reason."
They're also very territorial, she said. "And their life is very difficult. The alpha males have a lot of scars. They fight a lot. I would not want to be an alpha monkey."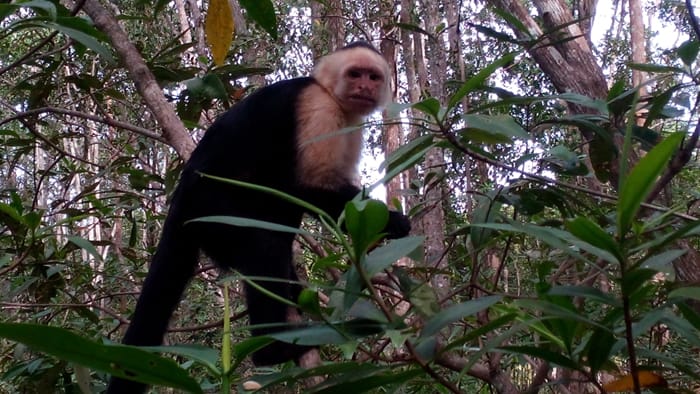 I would not want Mile to be a monkey either, as she is so well suited to her role in life as a human tour guide.
She told me all about how mangroves have evolved to thrive in swamps, with the roots jutting above the water to enable the exchange of carbon dioxide and oxygen that is part and parcel of the process of photosynthesis. It's kind of amazing to think that animals breathe oxygen and exhale carbon dioxide, while plants do more or less the opposite — and without this exchange, this would be a very dead planet.
Mile said there are seven species of mangrove trees in Costa Rica, and here we would see four. She pointed out some pretty crabs, orange and purple. She said we wouldn't run into anything dangerous here, though if I pushed too hard against a branch coming at my face, we would tip over and get wet.
We ended up doing a lot of "limbo" under low branches, but I remembered her warning.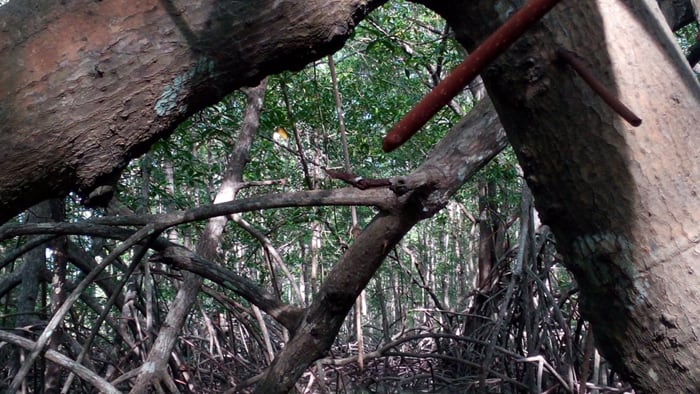 "The tall one with the big obvious roots, this is called white mangrove or gentleman mangrove, el caballero," she said in excellent English, switching to Latin to recite its scientific name. "This is the one that grows the tallest. … This one receives the impact of the tropical storms, hurricanes, and it buffers that impact and protects areas behind it."
She said people on the nearby Isla Damas cut down the mangroves to build houses, but without this protection "erosion ate their island," and then storms destroyed it.
"People lost their houses," she said. "I have a friend who lost their beautiful house in front of the ocean. He used to look at the sunset every evening, and now everything is gone."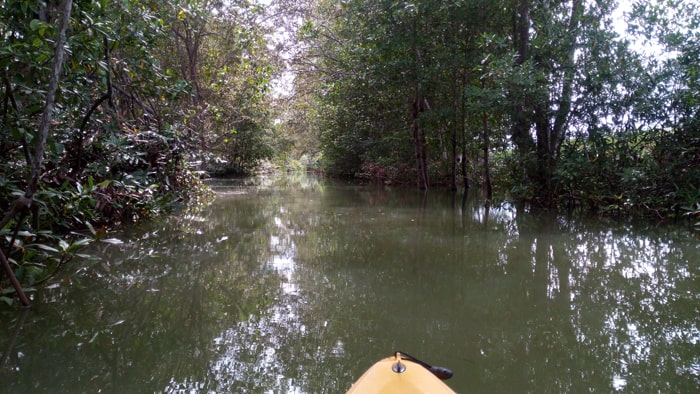 She interrupted herself to point out a spotted sandpiper.
"Another function of the mangroves is it's a filter," she went on. "Because everything that ends up in the rivers — seeds, coconuts, branches, everything … the roots capture that, decompose it and make sediments. So some plastic sediments, like plastic bottles or human trash, the mangroves will stop it from going to the ocean."
She showed me a species of mangrove that had flowers, which most don't. She said mangrove trees are really old, having originated in Indonesia, Malaysia and Africa. They spread to the Americas by floating across the ocean.
She said this is the only species of mangrove here with a real flower, and with a pollinator other than the wind — the tiny mangrove hummingbird, which is endemic to this area.
Another local treasure is the silky anteater, a rare species with golden fur that she is an expert at spotting. Alas, we searched but saw none.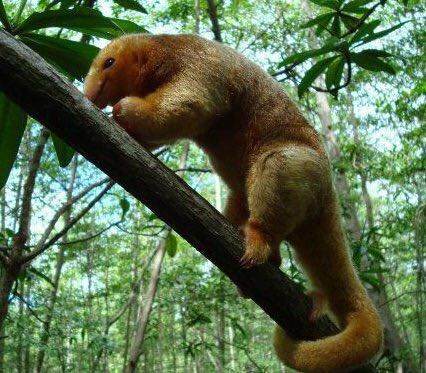 She showed me another mangrove species called a pineapple, because the leaves grow in spirals. It was used for lumber before that was outlawed, but outlaws still use it for the same thing today.
"This is a dynamic ecosystem," she said. "It's changing all the time, moving. Canals bring sediments from the rivers, deep canals became shallow, shallow become deeper. Most of the time these trees are falling in rainy season. Because that's their function: Receive the impact of the rain, of the wind, buffering those impacts, and protect the community of Quepos. So these trees don't last too long."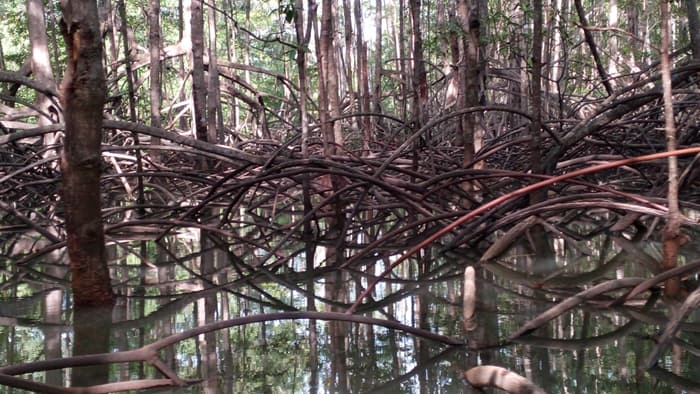 As we reached a place with boats lining the shore, I asked about fishing, and she said you can catch snapper and seabass here at high tide, big fish looking for little fish or baby crabs.
"Many years ago, all the people that used to live in this area were fishermen. Now, with the times, they're thinking about conservation, and they change their big boats for fishing to small boats for tourism."
Judging from Mile's excellent tour, it looks like it's working.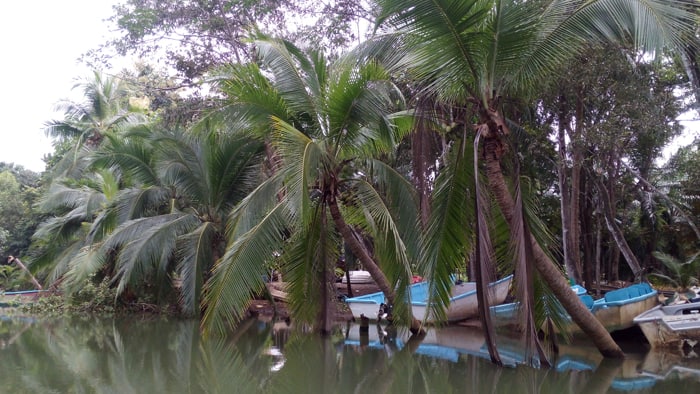 A wet and wild waterfall tour
The call from Erik at Paddle 9 came at 9:30 on a Sunday morning, saying they would pick me up in 15 minutes for the all-day waterfall tour.
Unfortunately, nobody had informed me the night before that this trip was a go, so I was enjoying the decadent luxury of sleeping late, with nothing to do today.
Quick change of plans. Very quick. Wake up, stuff backpack with dry bag, dry clothes, mini-towel, two phones, wallet, keys, notebook, Dave Barry book for the road. Put on swimsuit, T-shirt, flip-flops, sunglasses, brush teeth. Wait, brush teeth first, then put on sunglasses.
Despite my no-warning morning, I really liked Paddle 9's 9:45 start time, a welcome relief from the 5, 6 or 7 a.m. tour departures that are common in Costa Rica. Nobody on vacation should have to go anywhere at 5 a.m. unless a tsunami is bearing down on them really fast.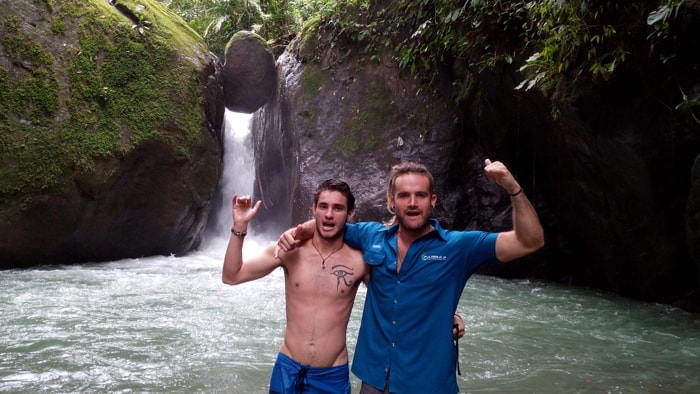 The Paddle 9 van pulled up and I greeted adventure guide Matt, who is from the Philadelphia area, and his Tico partner Erik. Inside the van was a family of four from New York, with 7- and 3-year-old girls who were remarkably well-behaved throughout the day and never cried once except in abject terror, which I'll get to in a minute.
We first visited Poza Azul in Dominicalito, where the waterfall pool had a nice rope swing. I tried it and apparently landed with my mouth and esophagus wide open, because a bunch of water shot inside and went straight to my stomach. I just hoped no children had been peeing in the water, and that it didn't have fish, because I realize that fish have nowhere else to pee.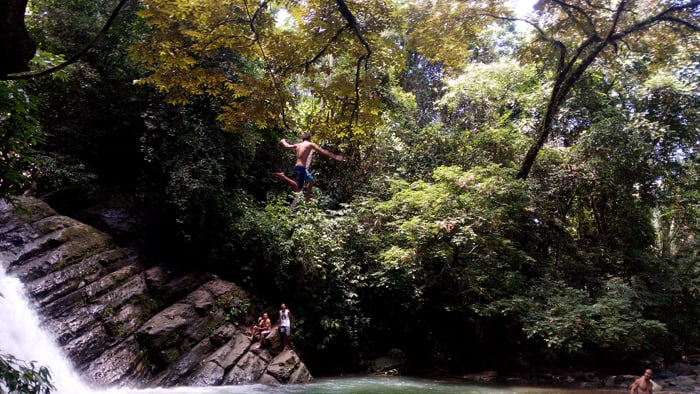 Next was Cascada El Pavón in Punta Mala, where an egg-shaped boulder is wedged between two rock faces over the huge falls, convenient for those daring enough to clamber onto the mossy rock and jump off of it.
Erik showed us how it was done, and then Shane, the buff husband and father from New York, bravely followed suit. I opted not to for personal reasons related to my retirement plans, namely that someday I hope to retire, and to do that you have to live long enough.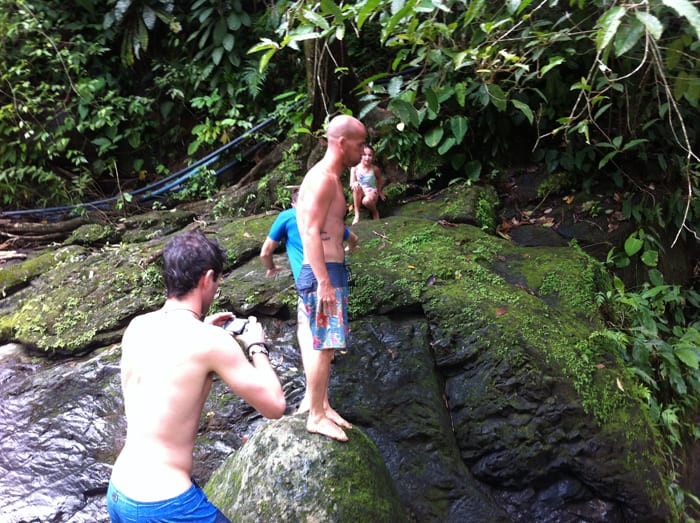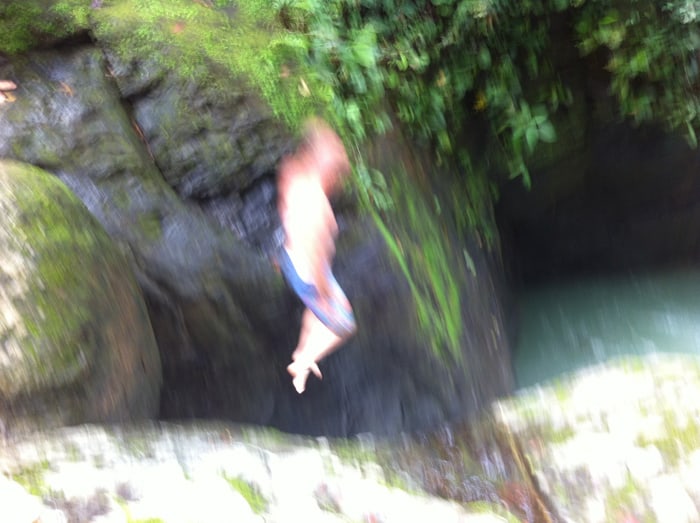 Later Shane explained how he mustered the courage to jump: "Once I got on the rock, I couldn't get off."
We ate lunch at a nearby tilapia farm, where the adults had whole tilapia pan-fried in coconut oil and the girls had chicken nuggets. I observed that little girls do not eat salad, yucca, rice or patacones. Even chicken nuggets they mostly moisten with their gums without actually eating them. Yet sometimes their parents actually finish off the pre-moistened leftovers.
After lunch we proceeded to Playa Ventanas, a beach I had never heard of with an amazing feature: two side-by-side tunnels through a cliff, with surf that races from end to end at roughly the speed of a locomotive, colliding with your body as you wade inside.
We were able to wade about halfway down the wider tunnel on the right, laughing uproariously as we got roughed up by big waves. The current in the narrower tunnel to the left is even stronger, and even if you brace your arms against the walls, it will sweep you off your feet and wash you away.
This was the most fun I had all day, and the views of the palm-fringed beach and misty hills behind it were fantastic.
Finally, we cruised up the road to the waterfall in Uvita sometimes called Cascada Verde, where nature has thoughtfully provided a fun and safe but somewhat scary waterslide. The erosion of the water from the fall has carved out a smooth, rounded slide in the rock, like a luge course.
I had to try this, so I climbed up to the top with Matt and Shane, settled into the rushing water and nudged myself forward until the water took care of the rest, sweeping me down the rock.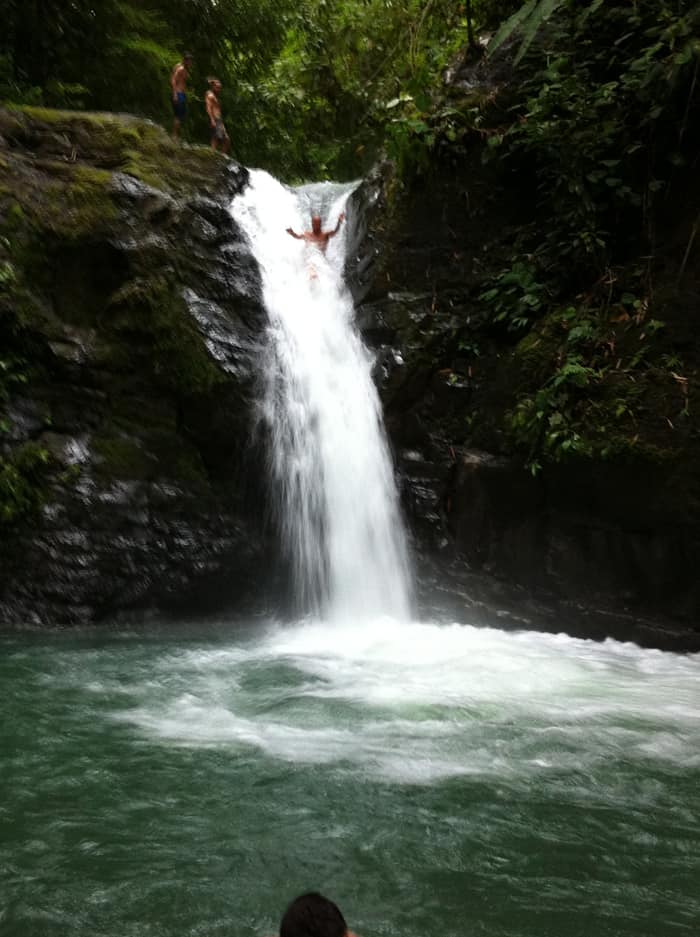 It was more intense than I expected: first the bumpy slide, then a breathless free fall, then a hard plunge into the pool below, where the water that shot up my nose gave me a sharp headache that would last almost a minute.
Also, I plunged so deep into the water that I started wondering when the miracle of human buoyancy would kick in and return me to the surface. Between my bursting head, beating heart and depleted lungs, it happened a bit later than I would have liked, but of course it happened.
Then came our "No way!" moment. One of the little girls, 7-year-old Lucy Foley, wanted to try it too. Matt fetched a pint-sized life jacket for her (nobody told me there were life jackets!), and she bravely put it on and climbed to the top of the steep hill with her father and Matt.
She's going to cry, I thought. I'm amazed that I didn't cry. It's scarier than it looks. And yet that's one of the great things about adventure in Costa Rica — you do things that may be too scary to enjoy at the time, but you'll never forget the triumph of having done them.
Shane went first, to be in the pool to welcome his daughter, while Matt coached her from the top.
And then, tracked by multiple phones, Lucy launched.
The pale little girl in the colorful life jacket sluiced down the slide, plunged into thin air, splashed deep into the pool, and shot to the surface bawling.
The two dozen people watching exploded in applause, cheers and hoots. Lucy kept crying as her father swam to her, comforted her and helped her back to shore.
She stumbled into her mother's arms, cried some more, and finally sniffed back the tears as a stream of people came up to congratulate her, to tell her how great she had done, to agree that it was scary but that it was something she would remember proudly for the rest of her life.
Lucy's 3-year-old sister, Penny, decided against trying the waterslide, though Matt had a tiny life jacket ready for her.
There's always next year.
IF YOU GO
Avenatura
This husband-and-wife company provides mangrove kayaking, guided tours of Manuel Antonio National Park and many other adventures.
Phone: Call Mile at 8896-7699, Maurilio at 8384-4433, or the office at 2777-8973
Email: avenatura@racsa.co.cr
For more info: https://www.facebook.com/avenatura
Paddle 9
This small but hardy crew specializes in all-day and half-day waterfall tours, ocean and mangrove paddleboarding, and even stand-up paddleboard yoga.
Phone: Call 2777-7436, 8605-1990 or 6126-0145
Email: info@paddle9sup.com
For more info: http://www.paddle9sup.com