AMBERGRIS CAYE, Belize — The swarm of sharks seemed to be as curious about us as we were about them.
Twenty meters deep at the Tackle Box, a dive site off Ambergris Caye, dozens of nurse sharks of all sizes — some as long as me — swam with us four scuba divers for the better part of an hour.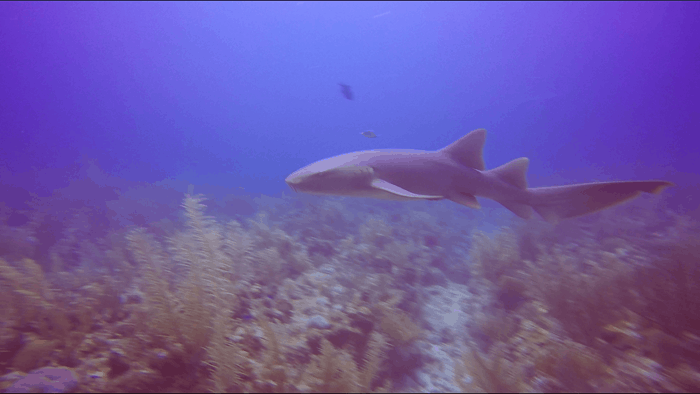 It's like we were thinking, "Look, sharks!" and the sharks were thinking, "Look, scuba divers!"
Sandy in color, with a hint of purple, the nurse shark has two rounded dorsal fins, a long tail, and milky-white eyes. I saw one who deliberately scraped a pectoral fin against the sand, as if scratching an itch.
https://www.youtube.com/watch?v=0DRR23_b8v8
(Video by Zander Wackler)
They move through the water gracefully, looking like some prehistoric predator, and sometimes they rest on the bottom, in rounded-out "nests." Unlike some sharks, nurses are able to breathe while motionless.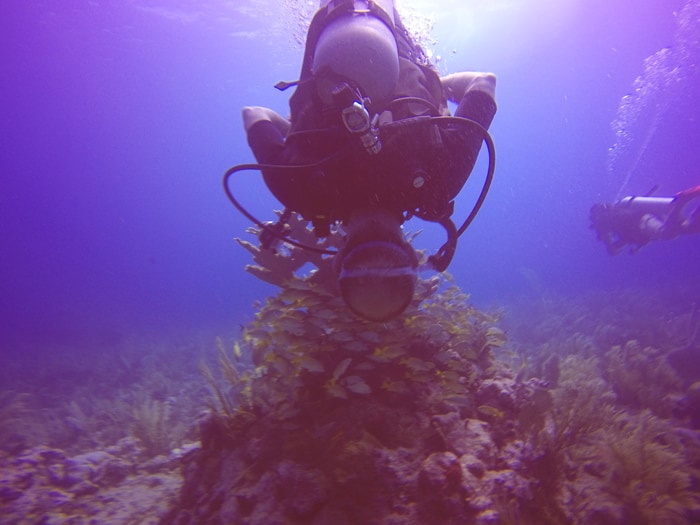 As the natural alpha of this environment, they swam fearlessly close, close enough for us to touch them.
"I had one come up to me so close I thought I would have to hit him," said my fellow diver Zander Wackler, 29, from Colorado. "He was right up in my face." But Zander thought the sharks were pretty friendly, and very curious, and he described one who swam with us a long time as his "buddy."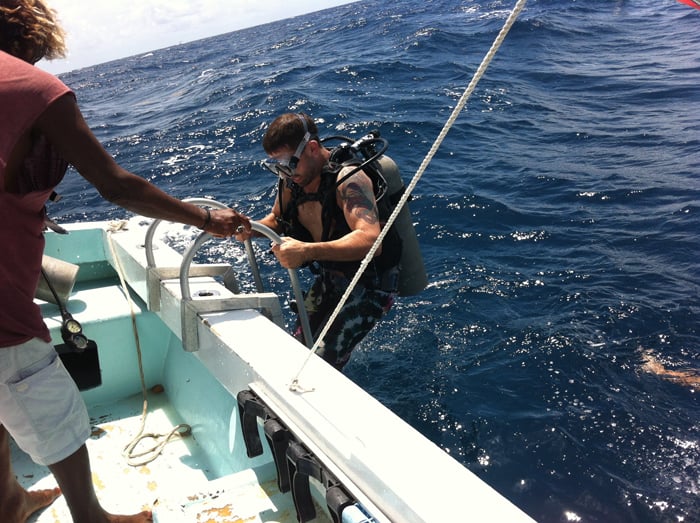 Fortunately, nurse sharks do not eat scuba divers.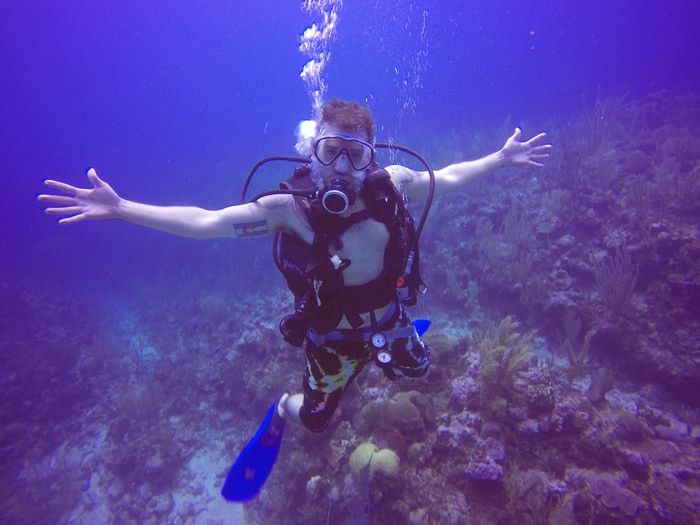 What scared me was a long, skinny fish I couldn't identify that reminded me of a barracuda, and two or three of them were showing an abnormal interest in me, darting toward my face. The tops of their heads were strangely corrugated, like a cheese grater.
Our divemaster, Ricardo of Blue Sea Diving Services, noticed that they freaked me out a bit, and he signaled that I shouldn't worry — if they bothered me I could just hit them. When we got back to the surface, he told me they were just remoras. He said they might nibble at you a bit, but they are easily swatted away.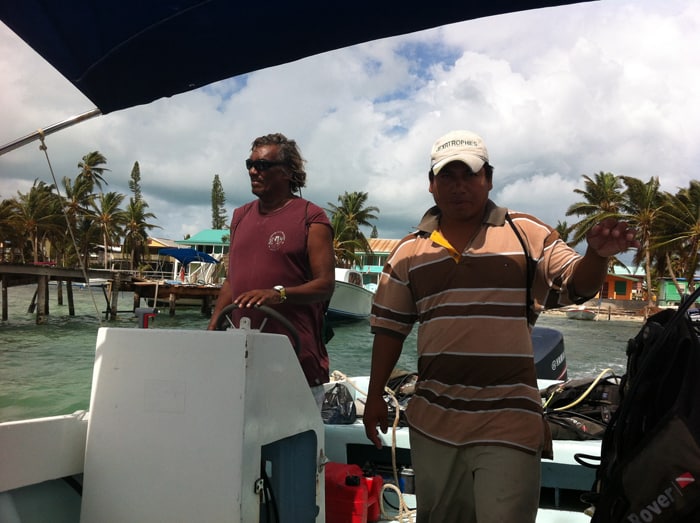 Between one dive at the Tackle Box and a second at Esmeralda, we saw a gorgeous green sea turtle, a green moray eel, some big crabs and even a spotted eagle ray, flying through the water like a creature from another planet.
Between dives we had lunch in San Pedro, where the Madonna song was running through my head, except I sang the "misheard lyrics" version, "Last night I dreamt of some bagels."
I stayed in Caye Caulker, a funky, colorful town with no shortage of hotels, restaurants, bars and shops. Belize loves bright colors, and the row of businesses lining the main street were a riot of oranges, yellows, reds, blues and greens.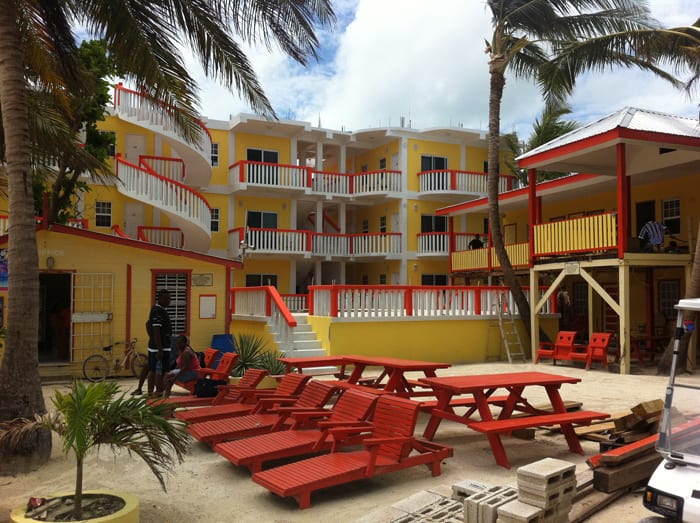 Just last month, Belize took a direct hit from the Category 1 Hurricane Earl, and damage was widespread. The dock at Frenchie's dive shop on the north end of town was destroyed, and was being rebuilt when I stopped by. In fact, both hurricane repairs and new construction were going on all over town.
I had been warned by a friend that he was robbed in broad daylight in Belize City, but I felt pretty safe in Caye Caulker. Then Zander told me that last night someone he knew was held up with a knife. The would-be victim responded with a vulgar version of "Get lost," and then the robber acted like he was just joking. Not my idea of a joke.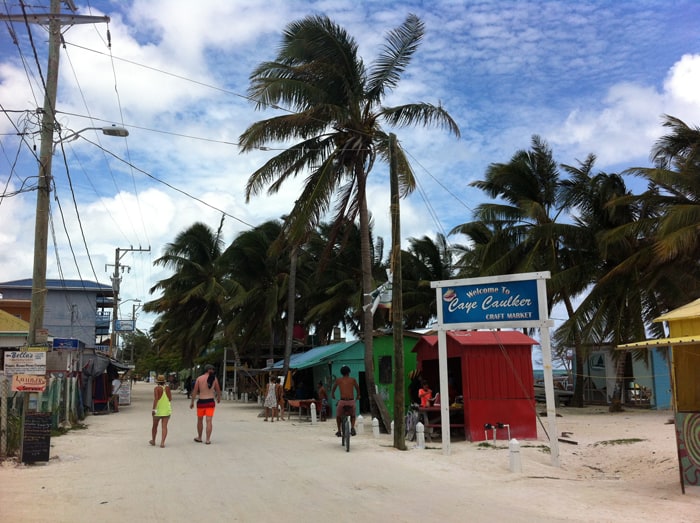 But if you like diving or snorkeling, the islands of Belize can be a great getaway. They're a couple of short flights away from Costa Rica, followed by a fast ferry ride. The Caribbean is beautiful, with vast stretches of light green water, and the visibility is incomparable.
Just watch out for those remoras, and get ready to punch them.
Contact Karl Kahler at kkahler@ticotimes.net