First things first: Lola is not the name of the designer behind Holalola, which is quickly becoming one of Costa Rica's most recognizable brands. Her name is Priscilla Aguirre. So who's Lola? Don't worry, we'll get to that.
Aguirre has been working as a graphic designer for many years, but it wasn't until 2013 that she started creating art inspired by the city she loved, San José. Holalola's prints and other products started as a quirky, fun, even naive take on daily life in Costa Rica's capital; now, the brand also captures the rest of the country.
Earlier in her career, Aguirre did more commercial work aimed at foreign tourists. The pieces people were asking for emphasized Costa Rica's famous beaches, toucans, red-eyed tree frogs and monkeys, but they were far from the everyday lives of Ticos.
During an exchange trip to France, a colleague there asked her if Costa Ricans lived in trees.
"What is the image that people have of us?" she asked. "I said, enough! I've had it with monkeys!"
Tired of the same old work, Aguirre used a severance check from a former client as a down payment on her new venture, Holalola.
"You have to be a little crazy" to start your own business, Aguirre said, thinking back on the pressures to make enough money, along with her husband, to make their house payment and take care of their son. "Maybe have a screw loose," she said, smiling.
Aguirre's first product under the Holalola imprint was a colorful poster of birds, but it wasn't until her second poster featuring San José's iconic red taxis that her artwork became a staple of trendy design shops and living rooms across Costa Rica.
"I was nervous about doing something different, that no one would buy it," she said. A former business partner had even decided not to continue working with her after she announced that she wanted to do more urban-themed work.
But locals gravitated to the brightly colored ink drawings of city life.
Aguirre's aesthetic inverts the typical image of Costa Rica promoted by the government and large tour companies, celebrating aspects of the country that tourists would typically avoid. Take, for example, another of her early pieces, "Llueve mucho en San José" ("It rains a lot in San José"). Figures painted in blue and yellow walk in the rain under umbrellas against a white background, capturing an experience we in Chepe have intimate knowledge of this time of year.
Soon, people were asking for their hometown to get the Holalola treatment. Today, Holalola sells prints, bags, coffee cups and other merchandise that feature all seven of Costa Rica's provinces. Aguirre's art resonates with locals for its attention to details they recognize, and offers visitors a unique token of their trip. After the series of provinces, she started drawing pieces based on attractions and more specific destinations around the country.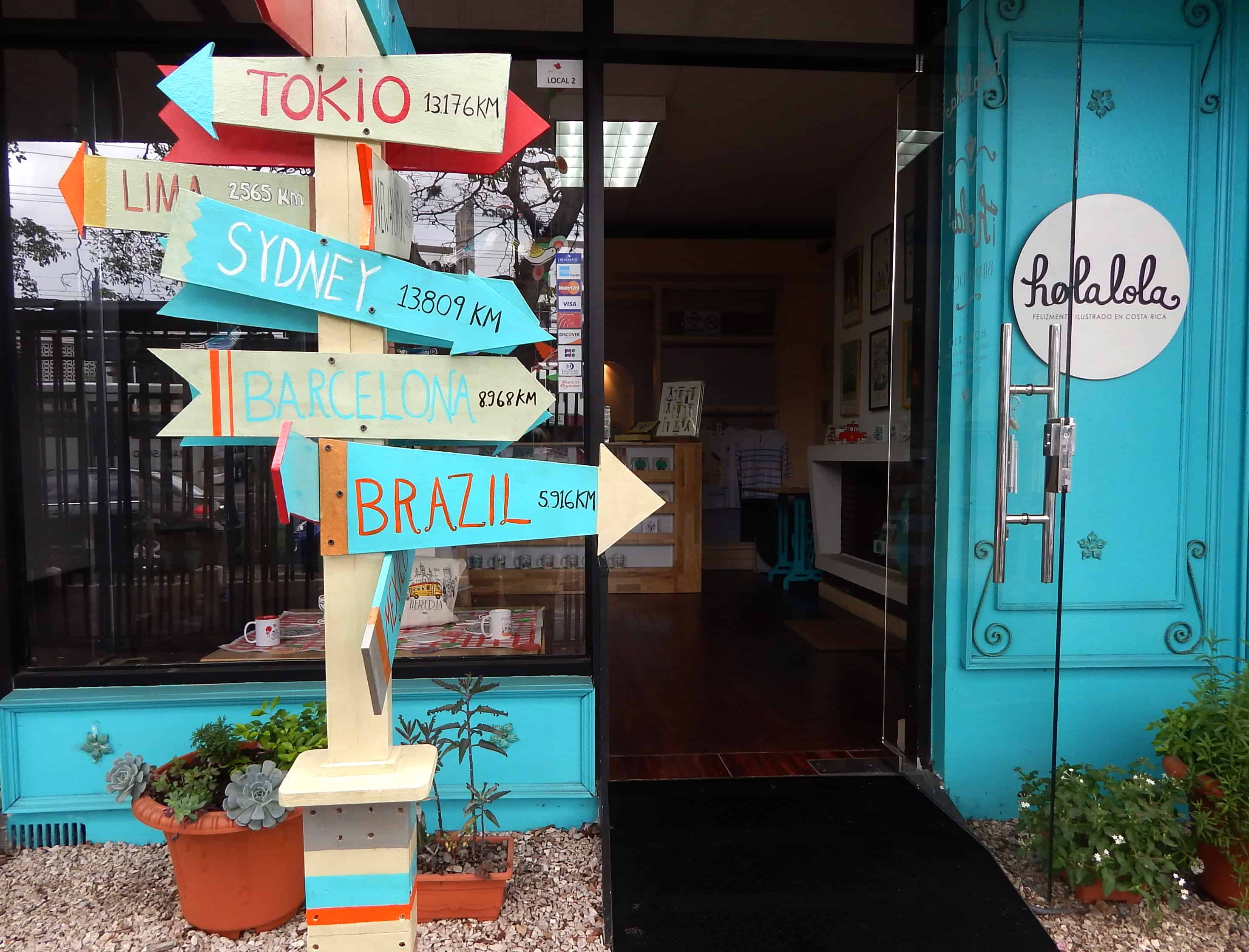 Aguirre loves to travel, especially to her favorite beach, Playa Chiquita in Limón. Building on that love of travel, she's found a way to embrace the monkeys and other mainstream images of Costa Rica, but on her own terms.
"I don't make anything that I wouldn't want in my own house," she said.
Arenal Volcano and Monteverde's cloud forests are popular destinations that got a clever new look as Holalola creations. Keeping up with her urban and people-focused perspective, Aguirre imaged the volcano as a factory, where dwarves brew lava and pipe it out of the top of the volcano. Monteverde is portrayed as a village full of birds and other animals that turn crank organs and other instruments to play bird songs.
As Holalola products got more popular, Aguirre decided it was time to invest in a storefront in 2014 in Los Yoses, just east of downtown. Before she had her own shop, her living room at home was regularly filled with posters and other products waiting to be delivered to whatever fair or event she was selling at that day. A signpost outside the storefront points to destinations around the world — Sydney, Beijing, Paris — as a welcome to the visitors from around the world who drop by.
Also right inside the shop's entrance is where Lola sits. Well, a statue of her, at least. Lola is Aguirre's cat, and the animal's playful attitude and swagger helped inspire the Holalola brand. Walking into the shop past Lola, shoppers can find all of Holalola's products: from posters, stationary, and framed pieces to postcards, tote bags and coffee mugs. For Father's Day, Aguirre designed a handsome navy denim apron perfect for the parrillada expert in the family.
Aguirre said that it's always been her goal to keep prices accessible.
"People are traveling," she said, "They already have to spend a lot on hotels, food, transportation."
Shoppers who can't make it to Holalola's flagship store in Los Yoses or Sin Domicilio Fijo, another store in Escazú that offers the entire Holalola collection, can find Aguirre's designs at the Britt airport shops in Juan Santamaría International Airport in Alajuela or Daniel Oduber International Airport in Liberia, and in gift shops around Costa Rica.
Holalola also offers online shopping at www.holalolashop.com. Shipping is available around the world.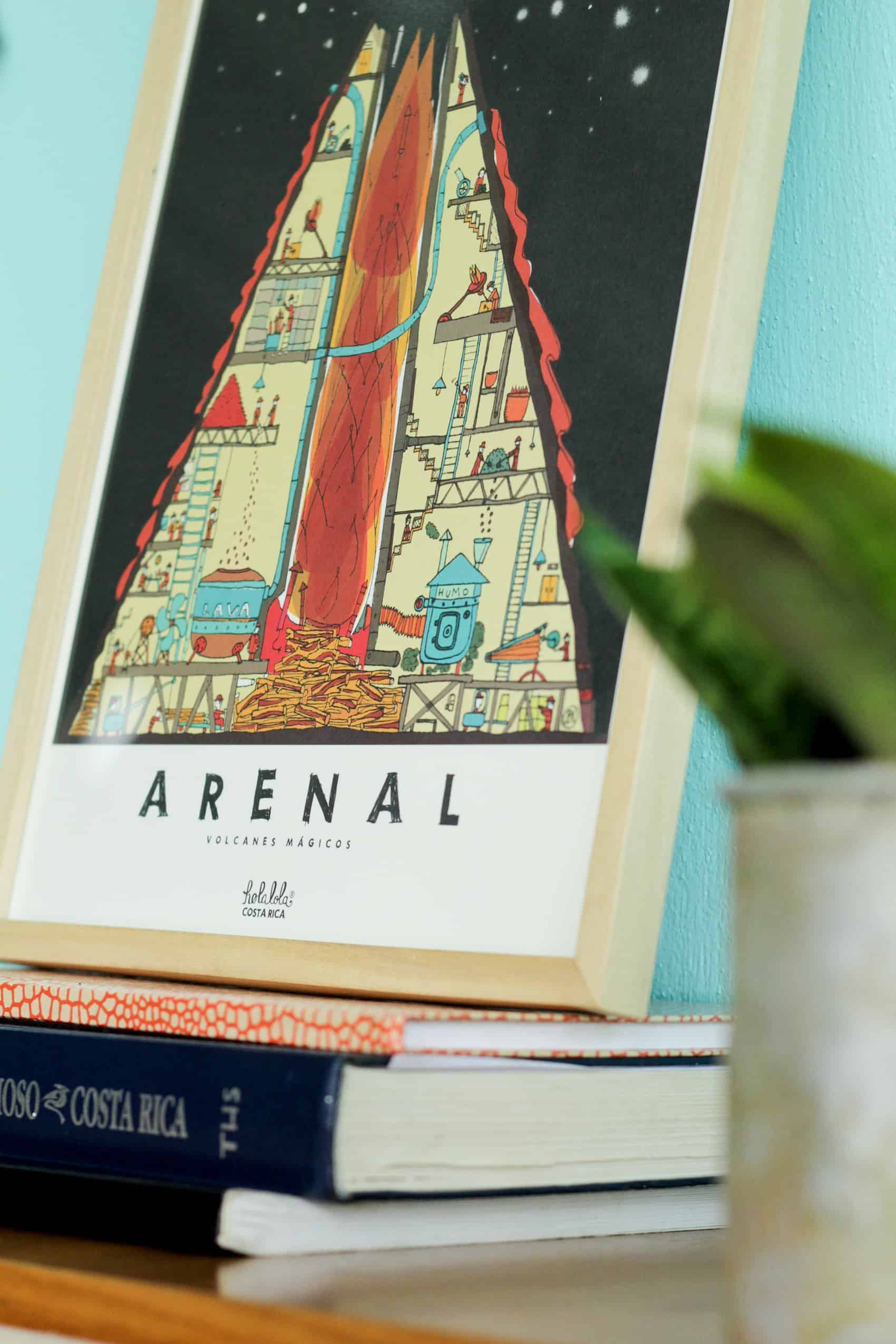 What's next for Aguirre? She said that after opening her own shop, she wants to go big. In keeping with her love of travel, Aguirre said one day she wants to expand into a bigger storefront with a café and event space that becomes a destination for locals and visitors alike.
If Lola is the symbol of her growing business, then Aguirre is definitely going to need that larger shop: "It's a cat that keeps getting bigger."
Shop the entire Holalola collection in person at these two San José locations:
Hola Lola — Los Yoses, San Pedro
Frente al Automercado sobre el boulevard
Centro Comercial Rosa del Este
Local color turquesa #2
Tel: 2234-5648
Sin Domicilio Fijo — Escazú Centro
Esquina sureste del Parque Central de Escazú
Costado sur de la iglesia San Miguel
Tel: 2289-9461
Click here to shop online (remember, they ship internationally) or to find an Holalola retailer near you.