See also: Why you should plant this multitasker in your tropical garden today
This week we celebrated Día del Arbol or Arbor Day in Costa Rica, so here's a selection of fruit and ornamental trees that top the list in beauty and usefulness. I hope this article inspires you to take some time this month to plant at least one tree to help change the world in the right direction. Trees are our evolutionary counterparts, and we can't live without them.
Powderpuff (Pon pon)
This gorgeous shrub-like tree is truly a world-class ornamental originally from Bolivia. It is related to the mimosa tree and royal poinciana. There are red, pink and white varieties, and it serves well as a free-standing specimen on lawns and patios to show off its attractive flowers, which attract hummingbirds.
The powderpuff is available in leading nurseries and can also be propagated from woody stem cuttings. Young plants are planted in well-drained soil with good sunlight for maximum flowering. It flowers for many months during the year; when it is not in its flowering stage, it can be pruned to maintain a compact shape. Caterpillars and other insects can eat the foliage and can be controlled with natural insecticides.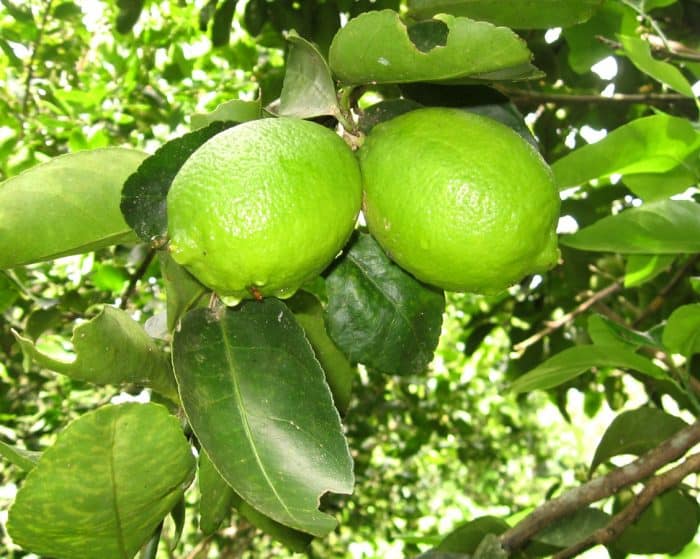 Lemon trees (Limón)
Citrus trees were originally from China. Marco Polo is credited for bringing them to Europe, and from there they were dispersed around the world in warm climates. Costa Rican nurseries have a wide variety of citrus to choose from, but I would recommend lemon and lime trees. Orange trees have been affected by several diseases, whereas lemons, limes and sour mandarins are hardy and resistant. Grafted fruit trees produce in 3 to 5 years, and the fruits provide vitamins C and A, as well as calcium. These citrus fruits alkalize the body and aid in elimination.
Lemons and limes do well in most areas of the country. Young trees can be planted in sunny areas with well-drained soil. Adding sand to hard clay soils improves their growth and production. Annual additions of limestone, ashes and rock dust also boost the health of citrus trees, and periodic spraying with an oil spray keeps the bugs away.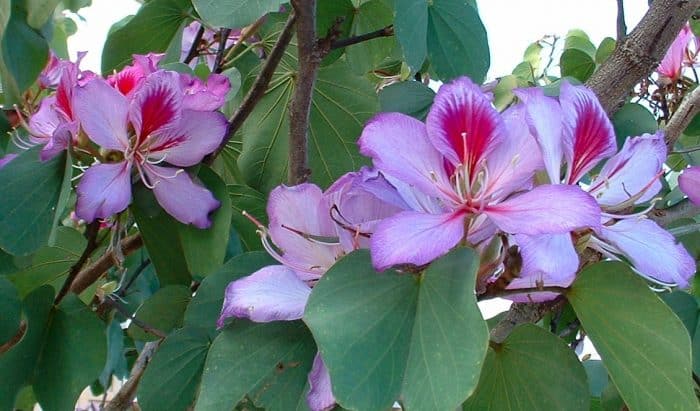 Hong Kong Orchid Tree  (Matrimonio, palo de orquidea)
This world-class ornamental tree grows to about 6 meters tall and can be identified by its flowers, which closely resemble orchids. The leaves are shaped like a cloven hoof. Orchid trees are originally from Asia and are now found tropical regions around the world. In Costa Rica they are found in the coastal and mid-range elevations. These beautiful flowering trees are used in landscaping designs for parks and avenues or at home as a free-standing specimen.
The trees are usually propagated by seeds, although it is possible to start them from branch cuttings. Seedling trees can be transplanted to permanent sites in full sun in well drained soils. Use good quantities of aged compost fertilizer and compost tea to help the young trees to grow well. Keep each tree free of weeds in their early years and check the young foliage for insect damage. Handpicking and natural insecticides can help to control these problems. Once established, the trees are very hardy and require no watering in the dry season.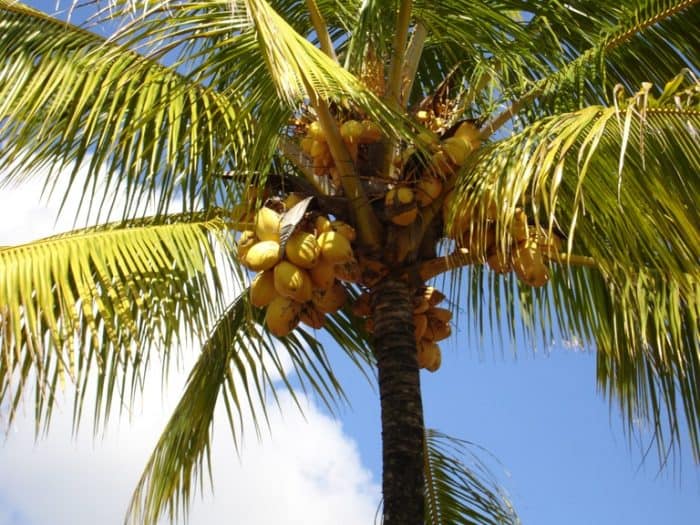 Coconut Palm      Palma de coco
Now's a good time to plant coconut palms as the soils become moisture-laden. This is a highly useful tree in the warmer regions of the country where it is used as food, oil source and building material. The young pipa is an excellent food and helps in treating indigestion, diarrhea, gastritis, ulcers, hepatitis and low energy. Agua de pipa or coconut water is considered a diuretic and is used for heart and circulatory problems. The meat is an excellent source natural oil and fiber.
You will find that nurseries stock dwarf Malaysian varieties and the larger variety, too – or you can go beach combing to find coconuts that have already sprouted to plant at home. The young palms need sandy, fertile soil and full sun to grow well and produce good coconuts. Locals say that adding a small amount of salt around trees increases their growth.
Read more of Ed Bernhardt's monthly Home Gardening columns here.
For more information on tropical gardening – naturally – visit Ed at http://thenewdawncenter.info/blog.html or contact him at thenewdawncenter@yahoo.com.