There are 915 species of birds in Costa Rica, representing almost 10 percent of the species in the world, and tourism officials are hoping to cash in on the rising market of tourists interested in observing them.
The Costa Rican Tourism Board (ICT) recently launched a National Birds Route, composed of 12 sites across the country where tourists can enjoy the high diversity of bird species here. The sites are also close to important tourism areas such as nature reserves or national parks that represent added value to the tourism potential of birding sites.
The 12 sites are distributed across Costa Rica's seven provinces: Caño Negro in Alajuela, Tapantí in Cartago, Puerto Viejo de Sarapiquí in Heredia, San Gerardo de Dota in San José, Santa Rosa and Palo Verde in Guanacaste, Monteverde, Carara, Corcovado and Coto Brus in Puntarenas, and Tortuguero and Cahuita in Limón.
ICT officials say these sites offer ideal conditions for bird-watching tourists, as they all have the conditions necessary, including lodging options, hiking trails, local tour guides, all basic services and access to information on local bird species, among others.
Tourism Minister Mauricio Ventura said Costa Rica created this new birding route with the goal of benefitting those locations, but also tourism businesses at about 80 communities located near them.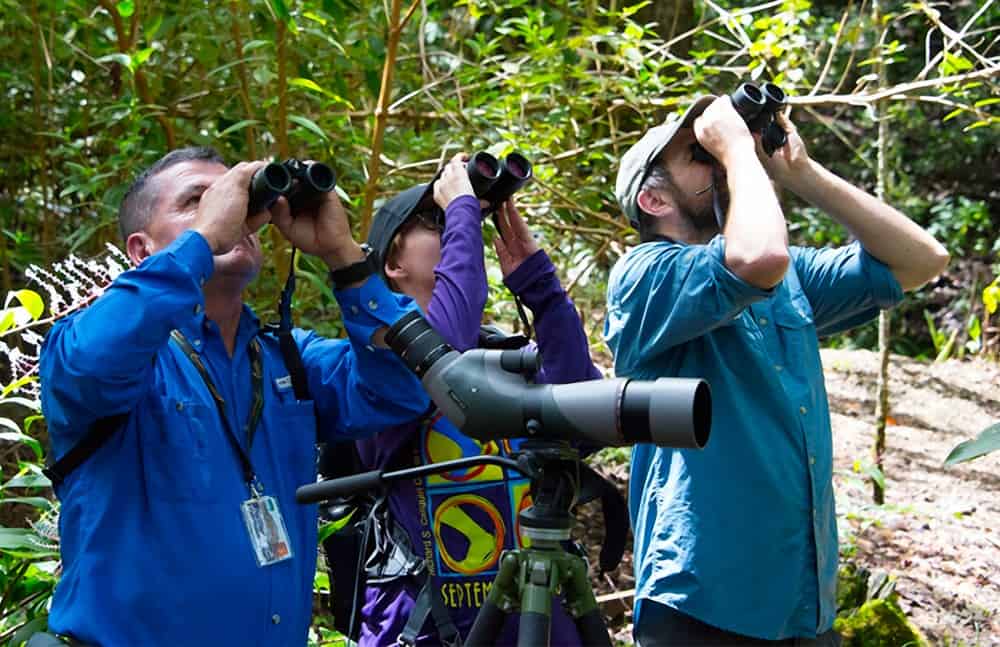 Rose Mary Menacho, a biologist and president of the Ornithological Association of Costa Rica, said her group first heard about the campaign earlier this year as ICT made a presentation to various birding groups, biologists and other interested groups.
Menacho said the birds' route is a good starting point, as most of these areas offer adequate conditions for a tourism product that can be further expanded to other areas.
"Bird-watching tourists vary from those interested in having quality tourism services to those who don't mind getting into rough and less developed locations where services are minimal," she said.
The main strategy for Costa Rica, Menacho thinks, should be reminding tourists that thanks to Costa Rica's size and diverse climate conditions it allows tourists to find many bird species in a small area.
The country's tourism infrastructure, as well as the access to a high number of professionals with appropriate experience and knowledge about birds, are both key factors, she said.
Menacho, however, believes ICT should take into account in its strategy that many tourists come to Costa Rica to watch birds that exist only here or in just a few other countries.
"There are three species that can only be found in Costa Rica, plus three others that only exist at Cocos Island. Plus there are another 49 that only can be seen here or in Panama," Menacho said.
Ventura said ICT research found that there are 9 million people enrolled in birding associations worldwide and just over 3 million of them travel abroad to enjoy their passion.
Bird-watching is among the fastest-growing tourist activities in the world, according to ICT research. Bird-watching tourists traveling outside their countries spend on average $3,000 in a usual stay of some 15 days, ICT found.
The agency also reported that a recent study by Peru's Tourism Ministry says Costa Rica ranks fifth worldwide as a preferred site for bird-watching.
The study found Costa Rica stands out for its biodiversity, the quality of its tourism infrastructure and the accessibility to many bird-watching sites.
Ventura said the launch of the new National Birds Route is one of ICT's main strategies to achieve the goal of boosting the economy by developing tourism across the country.
Menacho said she hopes ICT follows recommendations about promoting bird-watching in a responsible way, mostly by avoiding large crowds or behaviors that might affect birds' habitats, feeding or breeding.
ICT planning director Rodolfo Lizano said the agency will be providing training to business owners, community leaders and others on environmental issues, ethics, service, gastronomy, business and other matters, in order to help them get the best results in the marketing of this tourism product.
Contact L. Arias at larias@ticotimes.net