An organization in the town of Atenas, west of San José, is using old tires to beautify gardens and improve lives along the way. It's a small solution for recycling and helping the disabled, but creates joy for the 42 participants in the program and brings beauty to the neighborhood.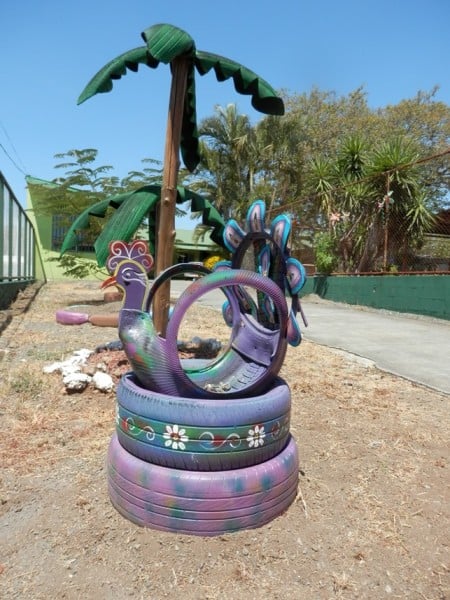 Swans, palm trees and garden borders are some of the products made at the Atenas Association for the Disabled (APRODISA), an organization founded in 1993 to help those with mental or physical challenges. According to the group's blog, APRODISA was created by a group of Atenas residents who saw that special education students from the local schools needed continuing support and opportunities after leaving the school system.
The school and yard serve as both a day center and training center to help them to live more independently. Students learn basics of housekeeping, simple cooking , gardening and physical fitness. Academic classes to fit their needs are also offered. Students include older adults burdened with depression, autism, physical problems or other disabilities.
Organic and hydroponic gardening stimulate and teach and also bring in some income. Lettuce and cilantro are growing in raised beds prepared by students. Arts and crafts produce knitted shawls and caps.
The most fun project, however, is the tire sculptures.
Teachers help with designs and see that students take care in using the equipment and don't cut themselves or paint more than the tires.
A positive side effect of the sculptures: by transforming old tires that might otherwise be sitting in yards, collecting water, the organization is eliminating a breeding ground for the mosquitoes that transmit dengue, Zika and other diseases.
The center is located along with health service organizations Red Cross, the EBAIS clinic and nutrition center and close to the popular Kay's Gringo Postres. For more information or to see tire sculptures that have been offered for sale in recent months, visit the APRODISA Facebook page.