Update: Tuesday, 12:35 p.m. In a right of reply to this story, Daniel Woodall Zimmer said he has never been associated with David Strecker. See the entire right of reply below. 
Original story:
Florida native David Strecker, who goes by the moniker "Cuba Dave," has a story from when he was in the sex offender's block at San Sebastián prison in Costa Rica's capital, San José. One of the inmates went around asking the other prisoners why they were behind bars.
"They said I raped a minor," one inmate said.
"I killed my two children because they wouldn't stop crying," another confessed.
"I had a website," Strecker said.
Wearing a white Imperial beer tank top that reveals a New York Yankees logo tattooed on his upper right shoulder, and a matching Yankees cap that hides his whitening hair, Strecker told the story from the courtyard of the senior wing of La Reforma Correctional Center, a prison north of the capital where he was transferred on Feb. 10.
Beginning in 2005, "Cuba Dave" gained notoriety in San José's sex tourism scene after websites and social media accounts donning his brand offered advice on the area's bars and hotels that cater to prostitution, which is legal in Costa Rica. Through a book and blogs on other Latin American and Caribbean sex tourism destinations like the Dominican Republic and Cuba, Strecker's erotic adventures earned him Internet fame and a steady following of curious, and envious, male admirers.
He was arrested by Costa Rican authorities on Sept. 4, 2015 at Juan Santamaría International Airport under suspicion of violating a law that prohibits promoting the country as a destination for sex tourism.
Strecker still awaits a possible trial that could land him in prison for up to eight years if he is found guilty.
From sex tourist to sleeping by a urinal
In a recent interview with The Tico Times from La Reforma, Strecker called himself a "political prisoner" and claimed he's being discriminated against because he's from the United States.
"This is a country where if you happen to say the wrong thing, you're going to end up paying for it," Strecker said. "Truthfully, I really believe I'm just being made an example of."
Like most other prisoners, the 65-year-old Strecker says he doesn't belong in jail. He recalled the dismal conditions at the overcrowded San Sebastián prison, where during his five months of preventive prison he said he slept on cold concrete with his head next to a urinal.
After continued protest from the defense team, judges agreed to transfer Strecker to La Reforma's senior wing, Strecker's attorney Alfredo Núñez said. Under the Costa Rican penal code, prisoners aged 65 or older are supposed to spend their time behind bars at La Reforma's special area for seniors.
Núñez told The Tico Times last month that Costa Rica has a problematic trend in its preventive prison system, which is applied to persons under investigation and foreigners like Cuba Dave who are thought to be flight risks.
"The illegality to me of preventive prison is when the judges choose to put a person in preventive prison and fail to take into account that person's rights," Núñez said.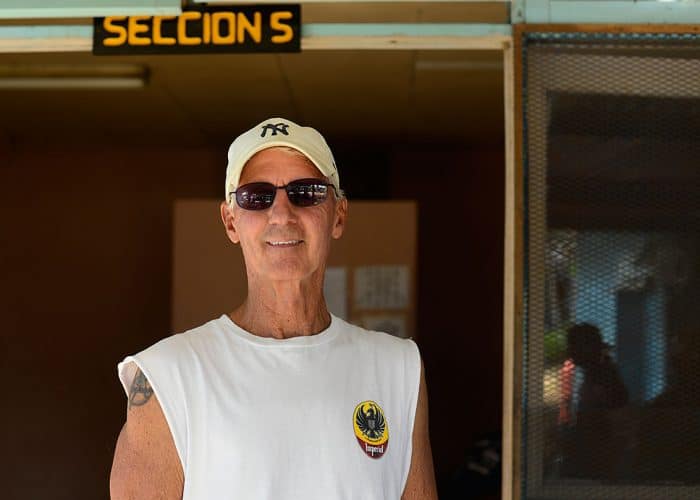 No trial date has been set for Strecker's case. A spokeswoman from the Prosecutor's Office said the government is still readying evidence and focusing on a hard drive confiscated from Strecker the day he was arrested.
The Prosecutor's Office has declined to comment on the actual investigation or a potential trial, and would not say who filed the criminal complaint against Strecker.
Thousands of photos
Strecker said he carved out his niche in the legal sex scene in Costa Rica as a photographer, amassing thousands of photos he took of prostitutes with their consent.
"I didn't make prostitution legal," he said. "It's here. These people created this."
In preliminary hearings, prosecutors have focused on a pair of blog posts taken from the domain www.cubadave.com that they believe illegally advertised San José as a pay-for-sex destination, according to Strecker.
Strecker said he never posted anything to the cubadave.com website, and that he didn't even know it existed until a prison guard in San Sebastián showed him the page. The content of cubadave.com was deleted shortly after Strecker's arrest, and the page is now dedicated to giving updates about his case and soliciting donations for his legal defense.
Besides saying that Strecker wasn't involved with the website, his defense team also claims to have evidence that Strecker never posted anything to the Cuba Dave Facebook page, from which prosecutors are also gathering evidence in the case, Núñez said.
Former partners Daniel Woodhall and Henry Allen were in charge of the Cuba Dave Facebook page and website, Strecker said, adding that he was a face for the recognizable brand that updated followers on Strecker's apparent conquests in Costa Rica and other Latin American countries.
In a right of reply sent to The Tico Times on Tuesday, following the publication of this story, Woodhall said, "I have never been associated with Mr. Strecker or the activities of Mr. Strecker in publications on social media or websites."
Strecker said YouTube videos in which he was seen discussing the state of affairs in the prostitution-friendly bars and hotels in San José's downtown area known as "Gringo Gulch" were purposefully vague and never mentioned specific women. The videos were meant to advise men against going to places in unsafe neighborhoods and warn of common pitfalls, Strecker said.
"Every single thing I'm being charged with is legal," he said. "They should actually be patting me on the back for warning some of the guys about this stuff."
Lawmakers who helped sponsor the Human Trafficking Law, which includes the prohibition against promoting sex tourism, have said that the law is designed to not only protect the country's image, but also to deter any trafficking organizations that are linked to prostitution. Specifically, the law prohibits promoting Costa Rica "as an accessible tourist destination for the exploitation of sexual commerce or for the prostitution of persons of any sex or age."
It is unclear whether or not prosecutors intend to accuse Strecker of being linked to human trafficking.
Strecker is quick to point out that he didn't profit from the Cuba Dave media franchise and that hotel owners sponsored their businesses for free on his sites.
As one of the most recognizable figures in the sex tourism world, Strecker's extended stay in preventive prison and possible conviction could deter his former readers and other sex tourists from entering Costa Rica, he said.
"This is going to be a landmark case and I think it's the worst thing that could happen to the tourist industry," Strecker said. "Gringos might be scared to come here."
Strecker was called to an appellate hearing last Thursday where he declined to appeal his preventive prison sentence. He said that when he entered the hearing he was optimistic a plea bargain would be reached and that he denied the appeal because of monetary concerns.
He has used thousands of dollars donated through his website to cover his lawyer bills, as well as financial help from friends and owners of gentlemen's hotels, he said.
Strecker said he plans to write a book about his experiences in prison and produce a video to explain to followers what has happened since his arrest. He said if he is freed, he'll go directly to the airport.
Cuba Dave also said not only was there no indication from authorities that he was entering a gray area of the law, but that he had been encouraged by locals to promote sex tourism.
"Ticos that knew me and that lived here looked at me as a guy who was going to help them out," he said.