ATENAS, Alajuela — "Miller?" a woman holding a long list called out.
"They're here somewhere," a voice called back from the dense crowd. "I don't know where exactly though."
"Miller?" the woman, Chris Poindexter, called out again.
"Oh look, there they are," someone answered.
Dozens of couples huddled around Poindexter under the shade of palm trees in a corner of Atenas' central park as she performed a pseudo roll call. Men donning short-sleeve, floral shirts stood next to women in bright summer dresses and raised their hands once they heard their names or numbers called.
Poindexter rushed through the list as fast as she could. She wanted to make sure everyone who had signed up to get married on Valentine's Day was accounted for.
"Remember you're still in Costa Rica so it shouldn't be a surprise that we're a bit disorganized," Poindexter said to one of the two large groups that she was set to help wed on Sunday.
In total, 73 couples got married — or, in most cases, remarried — in a mass wedding ceremony Sunday that was part symbolic protest, part practical chore. A recent change in Social Security System (Caja) requirements has made it harder for foreign dependents to apply for Caja benefits if a couple was married outside of Costa Rica, according to event organizers Pat Wegner and Rafael Valverde.
"We all have the same problem," Wegner said. "It's very common if you're a foreign national living in this country."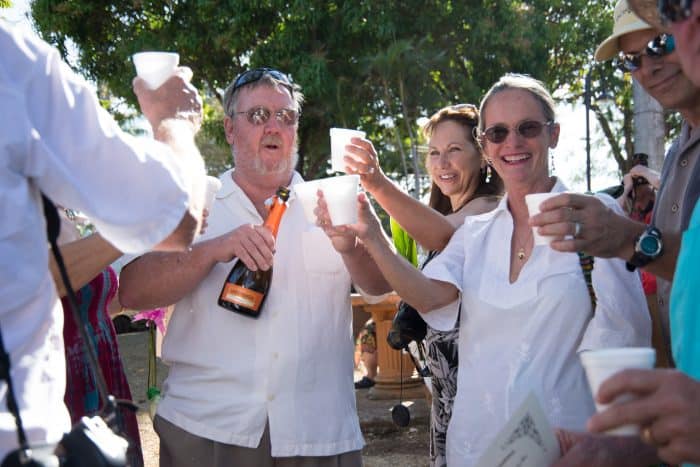 The Caja requires foreign residents who are applying for social security benefits or renewing their benefits to present a copy of their marriage certificate emitted and authenticated within the past month. Valverde, a lawyer and owner of the firm Outlier Legal Services, says it's nearly impossible for foreigners to get that paperwork from abroad, have it authenticated in their native country and sent to Costa Rica within such a short timeframe.
"We think it's discriminatory," he said. "While for Costa Ricans it's very easy and inexpensive to go to a local registry office to get a marriage certificate, it is not the same for foreigners."
Sunday's mass wedding was intended to help foreigners — from the U.S., Canada, Holland, and Belgium, among other countries — avoid having to get a marriage certificate sent from home. Now, they'll be able to go to a local registry and get a copy of their Costa Rican marriage certificate almost immediately.
"By having it done here, you avoid [having to get your marriage certificate from abroad] and you can press the button and print it out the next day with no hassle," said Bill Cahill of Mississippi, who remarried his wife Jean on Sunday.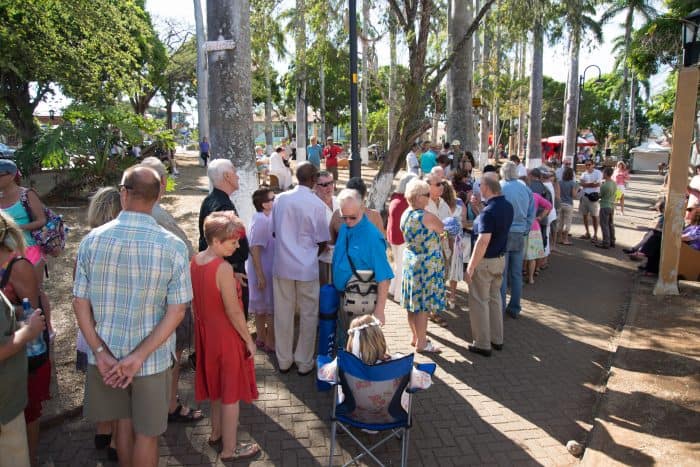 Event co-organizer Wegner, who has lived in Atenas for the past five years as a retiree, said she came up with the idea when she realized her husband's Costa Rica ID expired in May. She knew how nightmarish it could be to try to get all his paperwork signed by authorities in the U.S. and then sent back to Costa Rica in time. But she also knew how expensive the process could be here to get married as a foreign national. (Valverde said the set cost for lawyers to perform a marriage here is at least $200.)
So, two weeks ago, Wegner posted a proposal on Facebook to have an informal wedding service among friends, to split the costs. Word of the event snowballed and couples from all over the country — from as far away as Guanacaste — signed up to take part in the ceremony.
"Our IDs expire at the end of June and we were surprised by this new law because initially we had gotten our [marriage] license apostilled so we're not sure why they need it," said Wegner's friend Tom Duffy, who renewed vows with his wife of 31 years, Dina.
Though the couples who participated in Sunday's wedding think they've solved one of their major issues with the Caja, the larger legal battle is just beginning. Valverde said he plans to file a complaint before the Costa Rican Supreme Court this week denouncing what he calls a "literally impossible" requirement to get marriage certificates on time in order to enjoy dependent benefits from the Caja.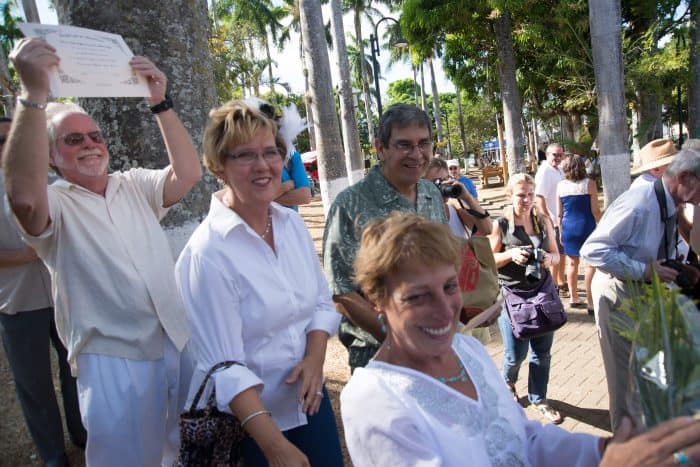 Valverde, who is working on the issue pro bono, pointed out another aspect of the law that he says is discriminatory towards foreigners: unlike Costa Ricans, they can't apply for common law benefits with their spouses.
In the meantime, at least three other mass weddings are planned for the near future in different parts of the country.
Many of the couples who were married on Sunday, mostly U.S. citizens who have residency here, said Costa Rica had made it increasingly harder for foreigners to comply with legal requirements for residency and benefits.
"We appreciate that someone organized all this for us because it's going to make life a lot easier," said Jean Cahill. "Plus it's nice to do it on Valentine's Day."
And for the honeymoon? A quick stop at the registry to pick up the marriage certificate.