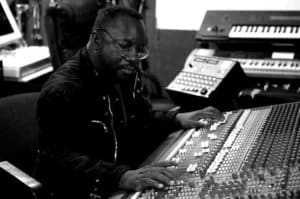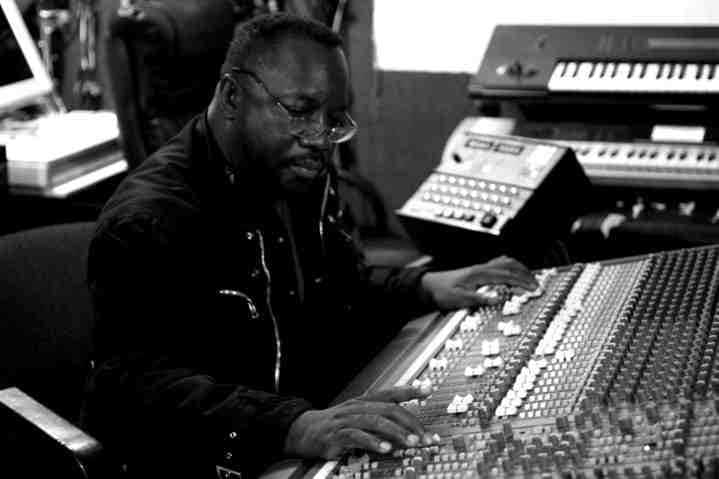 When I sent a note to the artist known as Mad Professor on his Facebook page asking for an interview, I expected to get a response from an intern sitting in front of a computer at Ariwa Sounds, his studio in London, England. Instead, Mad Professor responded himself.
Why was I so surprised? Well, we're talking about someone who has made more than 300 albums – a scientist of sound who travels the world supplying dance floors with a magic that sweeps you up, takes you out of your body and into your soul. Mad Professor, who will be performing in Costa Rica from Dec. 11-18,  brings with him a deep sense of groove rooted in the reggae tradition and constantly expanding to embrace new styles. He was born in Guyana, a country that has produced creative minds like those of activist Walter Rodney and poet Martin Carter: men who combine a Caribbean sensibility with a global consciousness while keeping Africa in the heart.
Mad Professor has brought his production, mixing, dubbing and engineering talents to collaborations with artists such as Lee Scratch Perry, Luciano, Sade, Massive Attack, Sly and Robbie, Depeche Mode, Beastie Boys, Jamiroquai and many others. He has an enormous discography that continues to grow and touch multiple generations. As I prepared for the interview, I listened to hours of Mad Professor's music, and my body never stopped moving. In "Solar System," Mad Professor uses violins playing Eastern scales, mixing elements of classical music with roots reggae and jazz. "Ska Land" is a downtempo ska tune that kept me bouncing from the first to last note.
Joining Mad Professor on the Costa Rican tour will be Mad Elaine, an artist based in Italy who has been working with Mad Professor since 2005, as well as with talented Costa Ricans; she recently collaborated with one of Costa Rica's favorite reggae bands, Un Rojo. I spoke with both in separate conversations. Excerpts follow.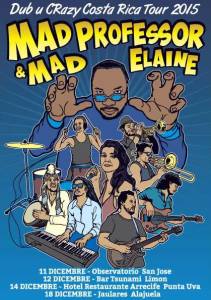 What is it in your approach to music that has allowed you stay relevant since the 1980s, when you music first appeared on the scene?
MP: I try to keep my mind in tune with technology while also tuning into social problems.
You make music with your sons. How have you managed to create that kind of relationship?
MP: Yes, I work with Joe and Kamal. Both of them were visiting the studios from when they were months old. It's the natural thing to work with your sons.
Marcus Garvey's first stop outside of Jamaica was Limón, Costa Rica. You are very dedicated to the concept of returning to Africa both physically and mentally. Why is that important to you?
MP: My generation, when we were kids, was the first to embrace Africa as our homeland. This gave us a lot of strength when dealing with the day to day racist London.
You have new music out with Lee Scratch Perry on your Ariwa Sounds label. The album is called "Black Ark Classics in Dub." Can you tell us a bit about your connection with Lee Scratch Perry as fellow artists and the evolution of your work together over the years?
MP: We first met in 1983, and we meet every few years we to come up some fresh ideas. Lee is a very creative person.
Mad Elaine, sometimes your name appears as Mad Elaine and other times as Madeline. Is this the name of an individual, a band or both?
ME: Mad Elaine is my artistic name and the name of my musical projects.
You have a great new song out called "Roots Man" with Kumary Sawyers and Un Rojo. Is this your first collaboration with them, and can we expect more?
ME: All the musicians in my band are Ticos. I recorded an EP called "Roots Man;" some of the musicians are from Un Rojo.This was an opportunity to bring them to the studio to record. Kumary participated in all of my songs as a backing vocalist and is featured on the song named "Yemanjay Oxun."
What is the greatest lesson you have learned working with Mad Professor?
ME: The greatest lesson for me was to remain humble. I tried to do my best in a relaxed way. Before, I just sang over tracks that were created by other producers; now I produce my own music with a proper sound. I learned that from Mad Professor. He taught me the importance of having proper sound.
Mad Professor will be performing with Mad Elaine on Dec. 11 at El Observatorio, San José; Dec. 12 at Bar Tsunami, Limón; Dec. 14 at Hotel Arrecife, Punta Uva; and Dec. 18 at Jualares, Alajuela. For full details visit the Costa Rica Tour 2015 Facebook page.
Masauko Chipembere is a singer-songwriter who was born in Los Angeles while his parents were in exile from Malawi. He is  best known internationally for his work as part of the acoustic duo blk sonshine. He is a Nelson Mandela 46664 ambassador and was nominated for a South African music award in 2010. In 2014 he was given a Limón Roots award in Costa Rica for his unique musical contributions to the local scene. He lives in Heredia with his family. Check out his music here, or reach him through Facebook.