Cartoonist Arcadio Esquivel, who has been part of the team at The Tico Times since 1983 with his editorial cartoons, is the subject of a new exhibit at the University of Costa Rica (UCR). The exhibit showcases "Wences' World," one of his longest-running projects.
Arcadio, as the cartoonist is best known, studied Humoristic Drawing at the CEAC School in Spain. Only one year after graduation, he began working with The Tico Times, which he says has been an ongoing education. He is a co-founder of the Costa Rican Cartoonists' Asociation, and served as its first president from 1992-1996.
In October 2001, his work jumped into the world of television when became the producer of his own educational program "Arcadio's World" ("El Mundo de Arcadio"), which is still broadcast on Costa Rica's Channel 13 every Tuesday and Thursday at 10:30 a.m. The show demonstrates simple drawing and painting techniques, from cartoons to landscape to portraiture.
Arcadio has also taught a cartoon workshop at the UCR for approximately 30 years. During those workshops, he developed "Wences' World."
"We are doing this exhibit here at the UCR because this is the place where this comic was born," Arcadio told The Tico Times. "During my classes we always analyze other comics, but once I said, "Let's do our own comic." And we did it! At the very beginning [in 2001], we started with three other comics as well, 'Tico El Tucán,' 'Isaac,' and 'Matita.' But with the passage of time, we only kept 'Wence's World'."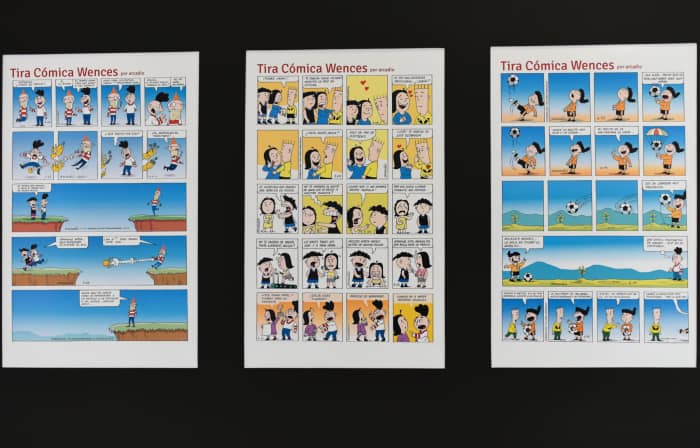 The comic features 17 different characters, including Carilo, a child obsessed with soccer; Jimmy, who believes in aliens; Artur, the villain, who is also a magician; and Dalila, who exercises constantly and worries about her physical appearance. Another character, Mariela, is an environmentalist, and ever since the death of sea turtle conservationist Jairo Mora, she has worn a heart on her chest on his honor.
"I love all the characters," said Arcadio. "I love Wences' dad, who is an old man who spends the whole day watching watching violent shows, or news about violence, on TV; that creates problems in their house, and Wences is the one who tries to keep him away from that. I love the two puppets, "The Talking Hands," who are abandoned at a party so they create their own theater, but no one ever attends. Wences is the most 'normal', but Mariela has a modern issue: she must fight to protect the environment. Those are my favorite characters, actually.
"'Wences' is published in five different countries: Spain, Norway, Brazil, the United States, and here in Costa Rica," the artist added. "We just signed a contract with a North American company that will sell the cartoon, and we hope it will be a success."
Check out Arcadio's Tico Times cartoon archive here.
The "Wences' World" exhibit will be open to the general public at the School of General Studies at the University of Costa Rica in San Pedro until Oct. 28. You can find more information about Arcadio and his work on his Facebook page.